My Current Favourite and To-Go Products
Wednesday, December 01, 2010
I noticed I haven't really done a post which consolidates all of my favourite products. Hence, I am doing one now since a lot of you girls have been asking me to share my skincare regimen.
Just to share my skin type, I have normal to combination skin. I always have to blot my T-zone because it always shines! ): Other than that, my skin is fairly normal and I seldom experience any skin allergy (am quite lucky for that) even though I seldom stick to one product because I like to alternate between a few.
So basically, these are the more frequently-used items among my whole lot of skincare and makeup stash.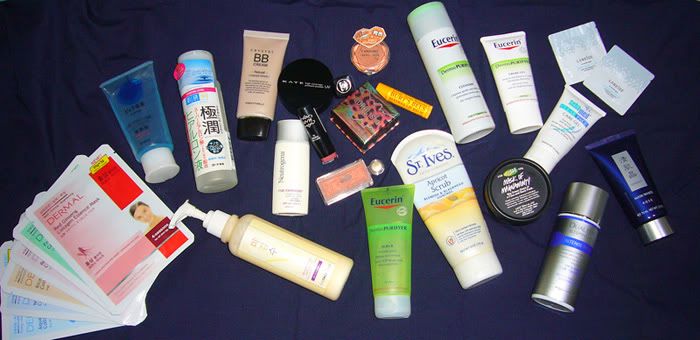 You girls should probably be very familiar with this product by now and how highly-raved it is by girls in Japan!
Sunblock:
♥
Neutrogena Fine Fariness Brightening UV Lotion
The good thing about this sunblock is that - you can use it as a make up base too. Its very handy especially when you run out of primer or make up base.
BB Cream:
♥
Tony Moly Crystal BB Cream
in Natural *
Beauty Tip: For BB Cream that are too thick, mix sunblock and BB cream such that the ratio is 1:1. This would result in a more natural yet flawless finish.
Pressed Powder:
♥
Kate High Coverage Pressed Powder UV
I have a lot of blush. The latest addition to my collection is Benefit Coralista and I like it a lot because its kinda like a subtle coral pink. One of my girlfriend commented that it looks very natural when I met up with her. She even thought that cheeks look rosy naturally. As I met her up after work at night, she was amazed at the long-lasting staying power of Coralista and she said that she's going to get it soon.
Prior to purchasing Benefit's Coralista, Majolica Majorca Powder Blush in RD255 is my everyday to-go blush. I still use it every now and then. The downside is that it has been discontinued in Singapore - which is one of the reason that I got Coralista. I haven't had time to swatch them side by side but I presume that would look similiar, probably just that RD255 would look more rose gold and Coralista would look more pinkish.
For lazy days when I want to have glowly skin, I would apply Canmake Cream Blush in 06 on my cheek bones. It works out to be rather rose gold-looking rather than brown as seen in the pan. Cream blush are great especially for girls whom have dry skin as it will not emphasize the cracks or peeling.
Lip:
♥
Burt's Bees Beeswax Lip Balm
♥
NYX Round Lipstick
in Tea Rose
♥
Chanel Rouge Coco Lipstick
in Mademoiselle
As you all know, lip products are my favourite. I like to apply lip balm to moisturize my lips before I apply lipsticks. As I have a lot of lipsticks, I actually rotate among them. However, the two most commonly used lipsticks by me would be NYX Round Lipstick in Tea Rose and Chanel Rouge Coco Lipstick. They are both natural pink which looks like my lips but better, great for work or daytime use!
Lush Mask of Magnanimity is a wash-off mask. I really like how it has got little beads in it so you could actually use it to scrub your face while washing off the mask. I love multi-tasking items! (: Kose Seikisho Mask White is a peel-off mask. Whenever I use either of the two items mentioned above, I would apply moisturizer.
However, I would skip moisturizer if I am using either Tony Moly Dual Effect Sleeping Pack Intense Repair or Dermal Sheet Mask.
I hope you like this post. I am gonna work on a series of posts which you girls can relate closely to. Let me know if you have any requests or suggestions yea?
Love,
Patricia
Disclaimer: All products (except for those marked with an asterisk) are purchased by me.