Not-so-recent Haul
Monday, June 14, 2010
I realised that I'm not a huge fan of posting hauls. Mainly because one - it takes too much time or probably should I say I'm just plain lazy . Imagine having to take photos, editing it, uploading and posting.

I am happy to say that I haven't been spending much on makeup and skincare lately. Probably its due to the fact that I haven't been shopping much lately. Most of the time, when I head out with my lovelies, we are always dining and catching up on each other's lives.

So what made me do a haul post? One of my readers, Mia asked me if I could show my readers what I buy so that they could make reference to and better still, provide reviews on them. While I wasn't really sure that I could be so much of an influence or rather, opinion leader, I am still very happy to know that there are readers whom purchase products after reading my positive review. Mia told me that she got Chanel Rouge Coco Lipstick and Koji Double Eyelid Glue after reading my review on it. While I do blog about beauty products for the fun of it initially, I wasn't really expecting that much. But I am certainly happy to see an increase in visitors to my blog, as well as the number of beauty questions you girls have asked on my FormSpring. Keep it going girlies! Thank you for your support!

So these are a few items which I hauled (not so) recently but still, its definitely one of the most recent one.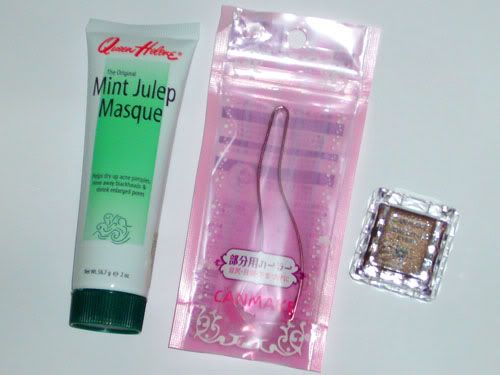 1) Queen Helene Mint Julep Masque
I had wanted to get this from Drugstore.com a long time ago but I hated the waiting part. So guess how excited and delighted I was when I saw this while I'm out shopping with my Mom. It might cost a little more than if I were to get it from the US. But wait, who cares when there is instant gratification? Plus, I wanted a smaller tube to try out first.

According to Makeupalley.com, this masque reduces swelling of pimples and lightens pimple scars.

What I liked about it was that it is very cooling and refreshing. However, the texture felt like clay. I would have to try it a few more times to give a more comprehensive review though.
2) Canmake Eyelash Curler
I tend to get very frustrated when my normal eyelash curler cannot reach all of my lashes. And so I bought this hoping that I would be able to curl all of my lashes, including my lower lashes. I haven't really gotten down to using this because I am always in a rush and when I am, I just apply my Maybelline Unstoppable Mascara and curl my lashes with a heated mascara which saves much more time.
3) Canmake Jewelstar Eyes in 09


I love neutral colored eyeshadows so imagine how excited I am when I saw this. I might be more into matte shadows, but the glittering effect this eyeshadow had just caught my eye. Its so pretty. I always wear this shadow alone, or with MAC Powerpoint Eye Pencil in Engraved.





4) Hada Labo Super Hyaluronic Acid Hydrating Lotion
I bought this because my Mom said that she needed a new bottle of toner and also partly because, I kept reading that its a major hit in Japan with one bottle being sold every 4 seconds. Wow, that's impressive, ain't it? Plus, I have heard and used Hyaluronic Acid Masks from The Face Shop before and I know how moisturizing it is.



Its definitely not your usual toner, because its much thicker and it takes more time for it to be absorbed into your skin. However, if you do slowly pat it on with your hand, it would make your skin very soft.

I like the fact that it is alcohol-free. No more tightness!
5) Canmake Cream Cheek in 06
Cream blushers really fascinates me. After how the Canmake cream eyeshadow impressed me, I am even more determined to try out their cream cheek. I had wanted to get a more coral looking one initially but when I swatched all my hand. Canmake Cream Cheek in 06 which looked very brownish actually gave a golden coral glow and I knew I had to get it for it was so pretty. I am alternating this and my Majolica Majorca Blush in 255 currently. Yet another favourite of mine.

After doing this post, I realised that I am really getting into Canmake. First, it was their nail polish, then lipgloss, eyeshadow, eyelash curler and now blusher. I wonder what's next!

I hope you girlies liked this post! Feel free to ask me any questions and I will try my very best to answer them.

A question for you (my readers) before I end my post-

How to make my blog a more interactive one?