Watsons & NYX Haul
Tuesday, January 12, 2010
So I went to Watsons ytd with the intention to just get the Rimmel Kohl eyeliner which is highly raved. Then I saw the mascara aid thing which I saw at another Watsons and didnt get so I got it since its way easier to apply mascara that way instead of relying on business cards (cuz you might nv know if they are not clean or smth). I'm real meticulous when it comes to anything related to my face. And guess what? I happened to saw a Revlon lip liner which is in a pretty shade of nude pink &before I left for the cashier, I saw the new Sally Hansen quick dry series nail polish and they had this color called Blush Rush which is really pretty. Its kinda like coral pink. It differs under light. Gosh, and I went out with these..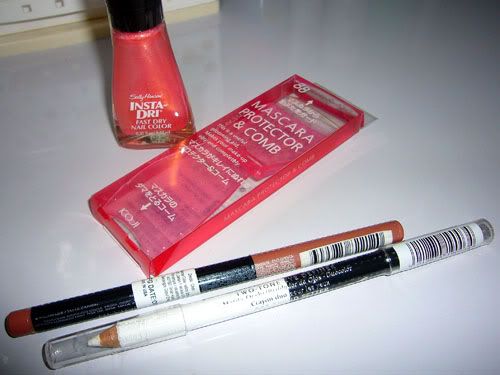 And my newly-painted nails! It does look prettier in real life. Speaking of which, I am starting to doubt the ability of my camera. It is starting to fail me. Could it be planned obsolesce? I certainly hope for because I wouldnt want to get a new camera for the decision making process can totally kill me. I want a DSLR. But but.. its too heavy for me. I cant even take the weight of a few more books, let alone a DSLR and lens.
So here they are..

My nails in Sally Hansen's Blush Rush (:


And today.. I went to Sephora wanting to get Too Faced Shadow Insurance. But they run out of it. Can you believe it? I was so so so sad. Both outlets. Can you imagine it? They would be restocking soon so I think I'm gonna lay my hands on it soon, hopefully. Tried the Paul&Joe eye base but it was so cakey. Its more like concealer. I like the Too Faced one because it glides on smoothly. Matt and neutral color finish. Blends well with skin tone.

And, guess what? I finally received my NYX purchase! YAYS. All the way come Uncle Sam. Am so so so happy and excited when I received it.



All of my current NYX
Okay, something happened while I was trying to get the lipstick out. Because normally if you take out the cap, you should be able to see the lipstick. But on my first attempt, this was what I saw.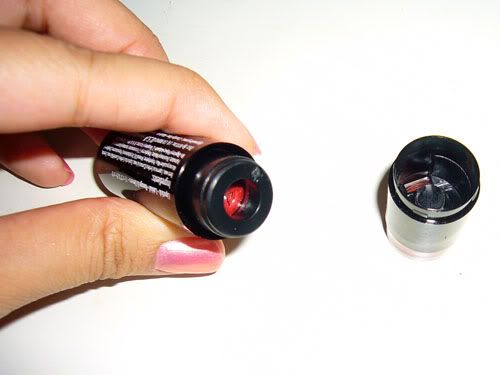 So I thought maybe I should twist and see if anything would happen. &Indeed it smudged and broke the top part of the lipstick. And gosh, I was so sad. Before you start saying that I am stupid by breaking the top part. But mind you, i kept tugging and twisting but the top part just wont come up. Other that than, I was very satifised with all of the products. Luckily the lipstick which I broke was in deep red with shimmer. Its one of the colors which I like the least among all but still favoured because its highly-pigmented plus the shade did look good.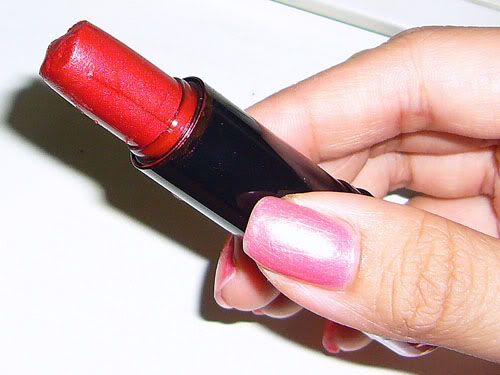 This was how my poor lipstick looked.
Swatches of the NYX round lipstick. Its scary how much fine lines I have at the back of my palm. :X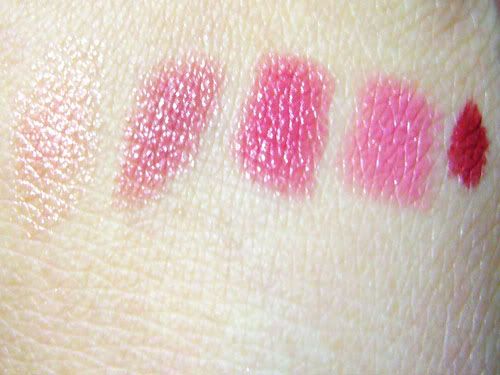 From Left to Right:
Ceto
Doll
B52
Tea Rose
Hebe
The lip glosses were pretty too. However, I was a little disappointeed in the nude pearl shadow. It was more gold than beige or neutral. But otherwise, I think I would be ordering from them again.

Lastly, I get so fascinated that none of my lipstick colors look alike. I cant imagine how did they do it. They may look similiar but are not 100% identical.