Benefit Coralista and Daiso MultiCheek Beige Blush
Tuesday, November 09, 2010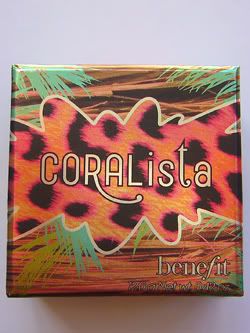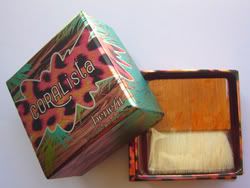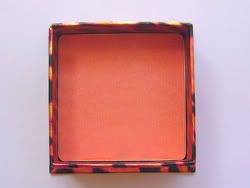 Have you girls felt like getting something, but after much consideration, you gave up the idea of doing so? I did and that is the way I felt about Coralista. I had wanted to get it when Benefit first came to Singapore but after much deliberation and considering the hiked up price in Singapore, I convinced myself not to. However, every time I pass by Sephora, I would swatch it on the back of my hand and look at how pretty it is. It was like a love-hate affair. I liked how coral-looking it is for it suits my tanned skin, however, I was skeptical of how shimmery it would look on my face as shimmers would translate to oily-looking face, not that my face isn't oily-looking enough now. However, I couldn't resist the temptation so I went ahead and got Coralista.
When I first got it, I couldn't help but to compare the packaging with the vintage Chinese brand loose powder as shown on the left in the picture below.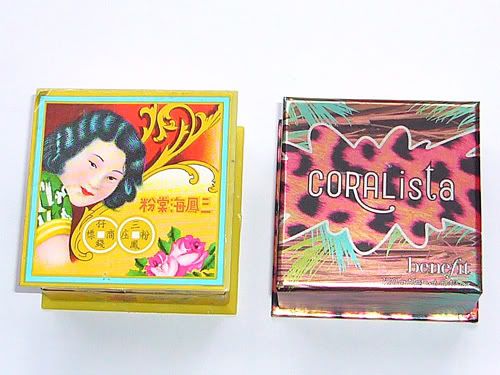 Don't you think that they strike some sort of resemblance to each other? The design of the latter was probably inspired by former.
I remember my Grandma would apply the vintage Chinese brand powder all over her face before she does face threading. FYI, she threads her own face! She's so talented right?

I don't know but I think the older generation (our moms, grandmas and great grandmas) have got better skin compared to us even though they didn't have easy access to various skincare or makeup products back then. The products that they used were merely Hazeline snow, Olay Moisturizer and loose powder back then. But one thing that they made sure that they had on was - lipstick contrary to the modern ladies whom now opt for lipgloss or even without putting any lip products.
I ran out of kelp at home and I couldn't make soup without them so I headed to Daiso to stock up. And then, I chanced upon....
MultiCheek Beige Blusher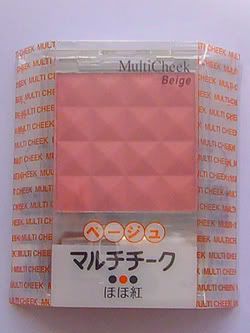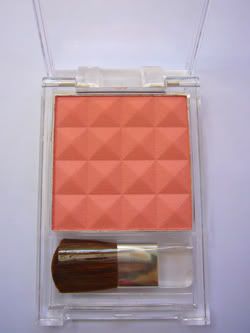 This has got to be the prettiest blusher I have seen in Daiso. I don't know but this is the first time I came across this. I got it because it was in a pretty shade of coral. And partly because, it somehow reminded me of my Benefit Coralista and I wanted to be able to compare and know how similiar they are. And no, I didn't have any intention to apply it on my cheeks, wait till I muster enough courage to. Anyway, its just $2 so I don't have much to lose.
So here are the two blushes side by side.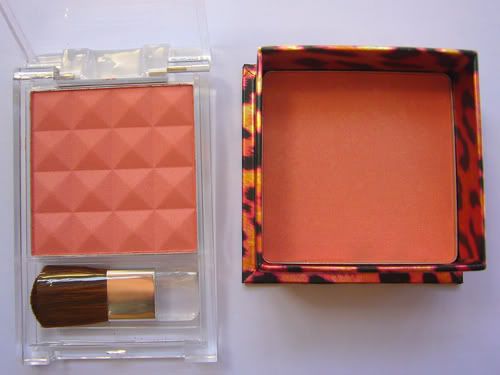 And the most exciting part.

SWATCHES!!!
Top: Daiso MultiCheek Beige Blush swatch
Bottom: Benefit Coralista swatch
While the Daiso blush ain't exactly a dupe for Benefit Coralista, it is quite a value for money. The texture was less chalky than I expected and it looks more pink than coral. Nevertheless, it is still a pretty blusher. I think it would be great for beginners whom want to experience with blushers but yet don't want to spend a bomb.
However, if you're a makeup fanatic like me, go for Benefit Coralista. It provides a subtle glow which is very natural looking. In fact, I think Benefit Coralista reminds me so much of my Majolica Majorca RD255 blush which has been discontinued in Singapore.
What are your favourite blushers? Do share with me, I would like to know (;
Love,
Patricia