Cleansing oil and milk
Friday, August 13, 2010
I was running low on my Eucerin Gentle Cleansing Milk and I had to get a new one.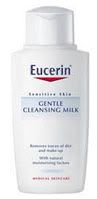 Eucerin Gentle Cleansing Milk
And I was torn between sticking with Eucerin which I have been using for about 2 years (ever since my skin took a turn for the worse during my senior year) or to get another brand. As you all know, I love trying out new brands and products. So I walked into Watsons and checked out the options I have. It was definitely not Eucerin because it was out of stock. Nivea Cleansing Milk was one of the most affordable at only $9+ for 200ml! To me, Nivea has always been known for their body lotions and I was definitely surprised when I realised that they do have cleansing milk. Checked out DHC Deep Cleansing Oil again, but was skeptical because I prefer cleansing milk to oil. Following which, I checked out Aqualabel too but they only had cleansing oil as well.

Feeling disappointed, I headed over to The Face Shop and went straight to the section where they placed their cleansing products. And something caught my eye.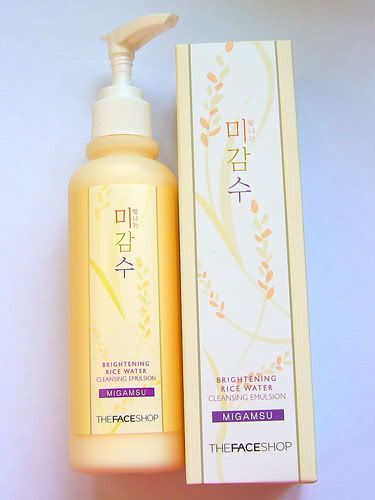 The Face Shop Brightening Rice Water Cleansing Emulsion,
available at all TFS branches at $22.90
You might be wondering why did it captured my attention. Well, because it says rice water. And we all know that rice water is beneficial for youthful looking skin. Try and recall SK-II commercials where the grandma's hands look as though as it belonged to a young lady because her hands were soaked in rice water all day long.
Furthermore, the sales associate told me that this is their best selling cleansing milk. Even though most of the time I don't really believe them, I only trust my own judgement. Why do I say so? Well, because I came from a retail background and I know how pushy sales associates will get just to make you buy so as to fulfil their sales targets and therefore it spells commission for them. So girls, we must not just be shoppers, but smart shoppers!
After using The Face Shop Brightening Rice Water Cleansing Emulsion thrice, I find that its comparable with my Eucerin Gentle Cleansing Milk. I really like the smell of it, its very light. I also like the fact that it felt very gentle on my skin and at the same time, its able to remove all the impurities of my makeup. In fact, I think it made my skin looked better. I don't know if that arises due to the switch of cleansing milk, or the fact that I switched my cleanser.
Previously, I was using my Vichy Normaderm Deep Cleansing Gel which worked very well for my skin which was prone to breakouts then. But recently, I felt that its a little too drying for my skin even though I still experience oiliness in my T-zone. I did not have time to shop for a new cleanser, hence I just grabbed whatever I have in my bathroom. FYI, I have a lot of cleanser in my bathroom ranging from Nivea Deep Pore Control Cleansing Foam, Sebamed Liquid Face and Body Wash and Bio-essence Deep Cleanser (just to name a few).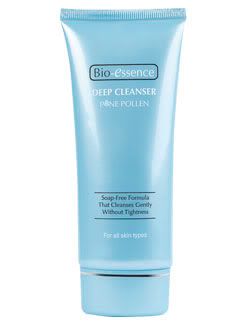 Bio-essence Deep Cleanser
I was surprised that Bio-essence Deep Cleanser does the trick by not stripping off the natural oil in my face by making it feel tight which most cleanser does. And it did keep my face moisturized after I washed it. I was surprised because I did not think highly of Bio-essence previously. I always thought that it caters more to mature women but boy, I was wrong, so wrong. In fact, I am impressed with another two Bio-essence products which I tried recently as I had samples of it.

The first one is

Bio-essence Bio Multi-Effect BB Cream
This BB cream is a little thicker compared to the rest of which I have tried before. In fact, the shade was a little too light for me when I first put it on. But after a while, it looks more natural.
As this BB cream has pink undertones in it, it makes one look more radiant. I remember a friend commented on how radiant I looked when I used this BB cream when I met her early in the morning.
This is like the first product which I want to get from Bio-essence badly and totally changed my perspective of the brand.
The second item is..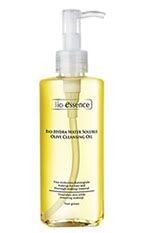 Bio-essence Hydra Water Soluble Olive Cleansing Oil
Wow, this is really something I have never come across before in my entire life. Yes, I have tried cleansing oil and cleansing milk. But the both of them together? No, never.
This cleansing oil turns milky after you massage your face with wet palms. Isn't it amazing? I did not like cleansing oil because I prefer the texture of cleansing milk. But now, this is an evolution by combining both of them together. And I can remove my mascara with this without having to use a separate eye makeup remover.

Lastly, do check out Yiruma playing love me. He's really good at it.