Recent Beauty Haul (from Watsons)
Wednesday, August 25, 2010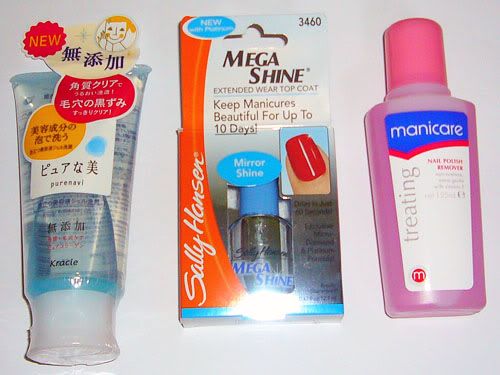 purenavi Foamy Beauty Essence Gel Facial Cleanser, Sally Hansen Mega Shine Top Coat and Manicare Nail Polish Remover
I was looking for a new facial wash because my previous Vichy one is drying my skin out badly. It used to work rather well for me and I have been buying and using it for more than a year.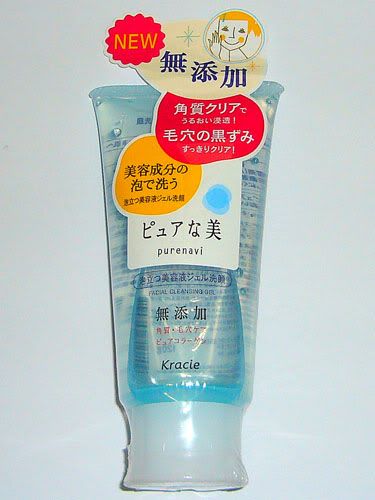 I was looking though different brands and this caught my attention because it says,
Cleanse your skin thoroughly with soft, gentle foam, enhanced with beauty essence for dewy, smooth skin.

- Formulated with Grapefruit extract and Lemon extract to remove keratin and dead skin cells.

- Enriched with Pure Collagen to lock in your skin's moisture while you cleanse.

- Free of artificial fragrances, coloring and preservatives (Paraben). A formula of specially selected ingredients, with no additives to ensure its mild on the skin
Those words in bold are the ones which caught my attention. As you all know, I love dewy skin so much. A while ago, I was trying to achieve the dewy skin look. Turns out that its so easy. You just need to apply BB Cream alone, without loose powder or pressed powder and use a cream blusher. Furthermore, my other areas of concern includes moisturizing and preservatives free. Apart from Fancl which does the preservatives free part very well, I do not really see other retailers doing it. Hence, without further ado, I placed that into my shopping basket.
After using it for close to 2 weeks, I really like the facial foam. It keeps my face clean after washing yet it doesn't strip the natural oil off my skin. I feel that it does sort of 'plumps' my face up a little, like how your face would feel after using The Face Shop yogurt mask pack. I also really like the fact that my skin does not experience tightness after using it which I had experienced while using ROHTO Mentholatum Acnes Medicated Cream Face Wash.
Overall, I would rate this product 4/5 because I would very much prefer the packaging to be in a pump bottle due to hygiene purpose.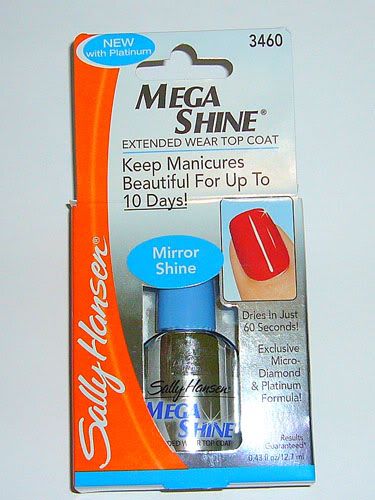 I got this because I left my The Face Shop top coat over at my cousin's place after doing a manicure for her. And also because the Like-Gel top coat which I got from Daiso dries real slow. And also because I read about it being raved as a HG item over at MUA. As you know, I frequent MUA and I would say the reviews do play a part in my buying decision. Its pretty informative and you could read about others opinions before deciding whether to get a product. I think it helps especially when getting a product online which ain't available in your country.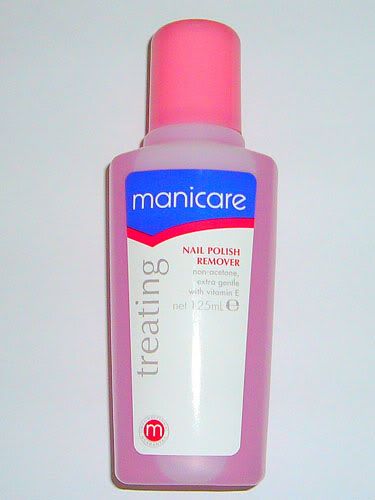 And lastly, I got this nail polish remover from Manicare. Its my favourite and you could probably say, HG. I have been using it since 2005. It smells better than most nail polish remover out there. And no, I am not telling you to smell it though! I just meant that it doesn't stink your nails after removing the polish like other brands do. Plus, its enriched with Vitamin E.
Don't scrimp on nail polish remover girls! I remember there was once when I ran out of nail polish remover and I was at a place which doesn't have Guardian or Watsons but I needed a nail polish remover badly so I grabbed one of those unknown brands. It stung my nail badly and I had so much trouble removing the polish unlike the one from Manicure which would probably take a swipe or two to remove it.
Does anyone watch Glee? I'm currently on Season 1 - Episode 19. Its just so inspiring and I feel that it relates to society and life really well. Especially when its a mixture of school, relationships, family etc. I can't stand Rachel Berry at times because she always think that she's really awesome and good in everything but I love her vocals! Quinn's a real beauty though. I really like Mr Schu though. He's kind of cute.
Before I end this post, I would like to share with you - a current favourite hit of mine.
I hope you enjoy this post and the song as much as I do!

Till then.

♥
Patricia