Yes, haul again.
Tuesday, August 31, 2010
I know you probably got sick of my haul entries. I have been haul-ing too much lately, yes I know. Let me know what kind of posts (Tutorials/FOTD/OOTD) you would want to see over here at SweetestSins yea?
And yes, I totally cannot wait for Season 2 of Glee to be released!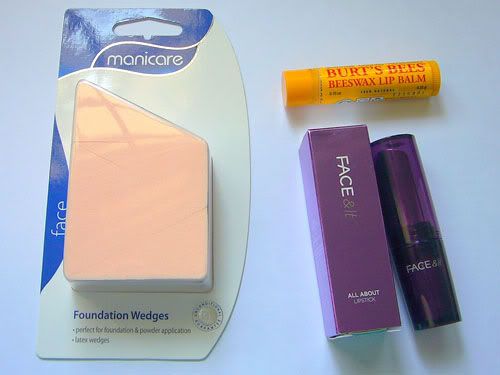 Manicare Foundation Wedges, Burt's Bees Beeswax Lip Balm
These foundation wedges from Manicure are like my favourite! I have been buying and using them for at least 3 years, ever since I got my Lancome liquid foundation. I don't know about others, but I love using these foundation sponges for liquid foundation. I feel that it blends out evenly compared to a foundation brush. The only downside that most beauty gurus would say about foundation sponges are that they absorb or rather 'eat' up your foundation rather quickly. But that doesn't really matter that much to me for I have never ever hit pan on any makeup items until recently when my Majolica Majorca Powder Blush in RD255 hitted pan! Its a really lovely peachy pink shade and in my opinion, a natural flush of color to the cheeks.
What do you do when your makeup sponges is covered with makeup? DON'T CHUCK THEM AWAY! You could wash them like I do in the video below. Each makeup sponge has a lifespan of probably 2-3 washes before they are worn out and cannot be used anymore.
And so, I finally gotten my Burt's Bees Beeswax Lip Balm as well. I have been comtemplating whether a not to get it since I didn't really like any of the previous lip balms which I owned and I ended up switching to Palmers Lip Butter Dark Chocolate & Peppermint instead. Palmers Lip Butter Dark Chocolate & Peppermint is really tasty, so much that you cannot resist licking your lips. It provides more of a glossy look. The Burt's Bees Beeswax Lip Balm is rather minty too. For a lip balm, I would say that it does its job rather well as it does moisturize my lips. Not too bad for the price tag of $6.
I was watching a recent Korean Marine look by Tuniez83 on Youtube and I really liked her lip color. Its a very sweet hot fuschia pink, but yet subtle because of the glossy look.
Hence, I went out shopping for a dupe of it. I was browsing randomly in The Face Shop and I tested out several colors which might like look it. And I ended up walking away happily with Face&It All About Lipstick Glossy in PK102.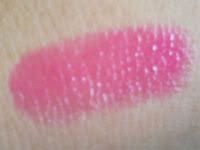 Face&It All About Lipstick Glossy in PK102
I like the fact that its super glossy and it doesnt exaggerate lip lines or dry lips. I think this would be my to-go lipstick from now on!
Stay tuned for upcoming posts!

- OPI Over The Taupe swatch
- Laneige Mystic Veil Collection swatches or probably an FOTD along with it
- Daiso Haul
XOXO,
Patricia