Tony Moly Reviews (Part 1): Tony Moly Crystal BB Cream in Natural and Party Lover Silky Perfect Primer
Monday, October 18, 2010
Hi lovelies, remember my
post
about receiving various products from Tony Moly?
As promised, I am going to review Tony Moly Crystal BB Cream in Natural and Silky Smooth Primer in this post. Aren't you ladies excited? Well, I am definitely! Because, I know you ladies have been waiting for this post judging from the comments in my Cbox. (:

Tony Moly Party Lover Silky Perfect Primer
Available in Tony Moly Stores at $49.90
Prior to Tony Moly Silky Smooth Primer, I have not tried out any primers before, at least on my face. I was using make up base (the Japanese equivalent of a primer) all along. And boy, I was sold when I discovered what a primer could do.

Basically, a primer preps the face so that foundation would go on smoothly. Besides, it allows your makeup to stay on throughout the day.



Tony Moly Party Lover Silky Smooth Primer swatch
I like the fact that the primer is transparent, as some make up primer or base which are beige in color tends to be too light or pinkish for me and it looks very unnatural by the time I finish off with liquid foundation and loose powder.
And I was sharing with you girlies earlier that I was amazed by what this primer could do. So what is it that this primer could do? Upon application, it makes my face really smooth and it makes any application of products be it BB Cream or liquid foundation glide on so well! It really lives up to its name - Silky Smooth Primer! It is also slightly moisturizing as well and gives my face a bit of the dewy look which I like!
Besides, it made my makeup stay on for the entire day till early evening, even though it was a really hot day and I was out since early in the morning. It would really good for work/school since you girlies will be out for almost entire day and great for clubbing as well since all those moves/dancing is likely to make you perspire and you need not worry about your makeup melting away.
Tony Moly Crystal BB Cream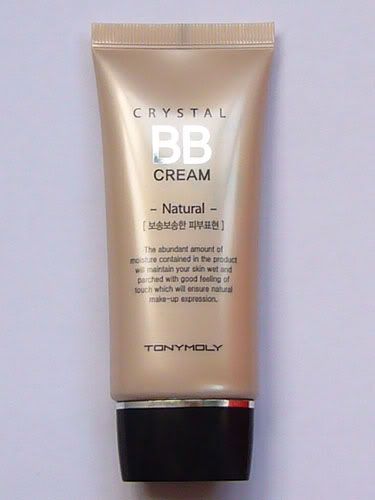 I love BB Creams. I have 4 of them, with Tony Moly Crystal BB Cream being the 5th one as well as my latest addition to my collection.

We all know that some BB Creams are so thick that it looks very unnatural after applying it. And I dread that, because I am not a

geisha!
Even though Geishas are flawlessly beautiful, but yours truly prefer a natural, dewy look! So, imagine my delight when I realise that Tony Moly Crystal BB Cream isn't that thick in terms of texture as compared to other brands.


Tony Moly Crystal BB Cream swatch
In fact, it is kind of between 2 of my BB Creams with one being very moisturizing and the other having a good coverage. So now I guess, I wouldn't have to mix those 2 BB Creams together anymore because I found my new HG BB Cream which is none other than Tony Moly Crystal BB Cream!

Just to re-highlight what a make up primer could do for you girlies.
Judging from the photo, you could see that the part where I applied primer is much smoother and has a more consistent finish compared to the part without primer.
So, make sure that you girlies apply make up primer so ensure a smoother finish as well as to ensure that your make up stays on longer!
Different ways to wear BB Cream:

1) You could just apply BB Cream after your 3-step skincare (cleanse, tone, moisturize).
2) Apply BB Cream as a primer before liquid foundation and loose powder
3) Apply BB Cream and finish off with loose/pressed powder

There is no best way to wear it. You just have to try and experiment which is the best for you. For me, its the 3rd. I normally apply BB Cream and dab a little of pressed powder to set it.
Before I end this post, here is a face swatch of me wearing Tony Moly Party Lover Silky Smooth Primer Crystal BB Cream as well as a FOTD (it was scotching hot when I took this picture!).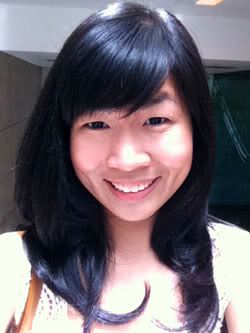 Products used:

1) Tony Moly Party Lover Silky Smooth Primer
2) Tony Moly Crystal BB Cream
3) Kate High Coverage Pressed Powder UV
4) Oriental Princess Popping Cheek Blush Puff in Peachy Red
5) Revlon Color Burst Lipstick in Peach
6) NYX Round Lipgloss in Sorbet

I hope you girlies liked this post! Do leave a comment if you have any questions and I will respond to you shortly.
Love,
Patricia