Phyto Hair Spa
Friday, October 22, 2010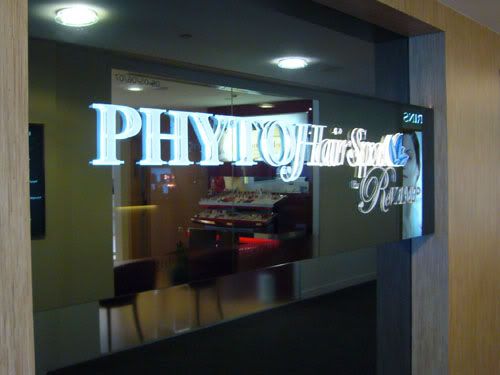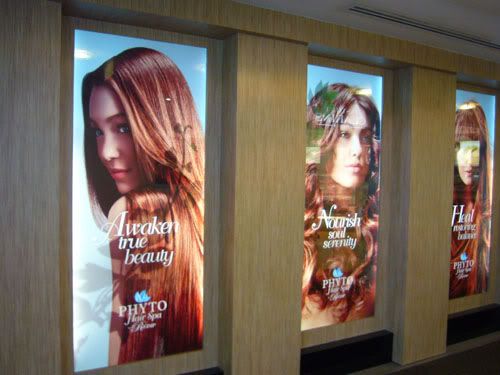 Last Friday, I was invited to Phyto Hair Spa for a pampering hair spa session. I have seen Phyto products around in places like John Little and Robinsons but little do I know that they have a hair spa.

It was my first time being in a hair spa and I was overwhelmed by it! Read on to find out more.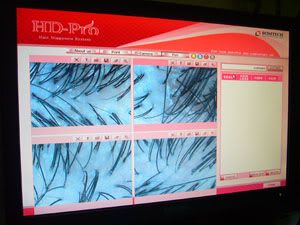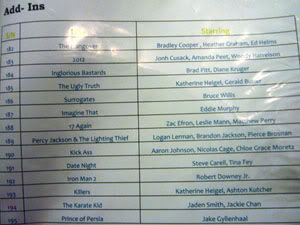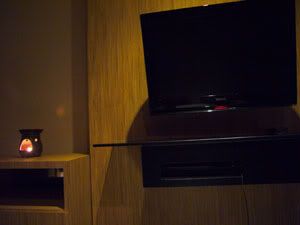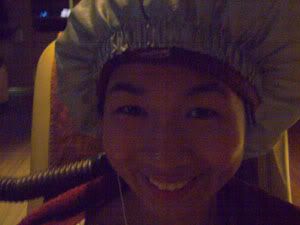 I was first brought in to a room where my scalp and hair condition was examined. And I could see my hair follicles really upfront (it was in HD). The hair specialist told me that as I have dry scalp, those dead skin on would become dandruff in time to come. Eeks!
Furthermore, she explained that for Asians, we are likely to have 3 strands of hair in one follicle. But there are certain parts where I do not have any hair which would possibly lead to hair loss! She explained that she understood my anxiety and that a hair treatment which stimulates hair growth would take care of it. But she told me that it would be better for me to go through the Dandruff Detox Treatment first because beautiful hair starts from a healthy scalp. She also shared with me that its best to alternate shampoos like what I am doing now. One for the scalp and one for the hair.
After which, I was brought into the hair spa area where I was attended to by Coco whom is really sweet and attentive. She made sure that I was well taken care of and took care of even the tiny details.
There is a personal LCD TV which one could watch movies on. And boy, I was spoilt for choices as they had several latest movies ranging from Iron Man 2 to The Karate Kid. Needless to say, I chose to watch Iron Man 2 because I hadn't watched it yet and partly because Tony Stark is so charming and he still is! (;
Coco was really nice to show me each of the products which she is going to apply on my hair/head/scalp before doing so. And she also explained the benefits of each. When I asked her how to reduce scalp dryness and dandruff, she told me to avoid using silicone-based shampoos and to use organic or shampoos made from plant-based extracts. If you don't know any brands which uses plant-based extracts for their shampoo, Phyto is one of them!

I wasn't really expecting a half body massage because the seat which I was sitting was already a massage chair. And Coco is really good in giving massages, it really did smoothed my nerves and made me feel so relaxed!

While I liked the fact that Coco isn't of those super chatty type, I did liked the fact that how we managed to 'bond' while she styled my hair for me because we were talking about Japanese girls and Popteen models. When she realised that I really adore Popteen models hairstyles, she attempted to style my hair like theirs and I think she really did a great job in it! Especially making it look so bouncy and soft! Thanks Coco!
The trick is to use a round hair brush and blow dry it and apply some serum or hair oil as hair sprays/mousse would make it look stiff.
Here are some pictures of my hair after the session.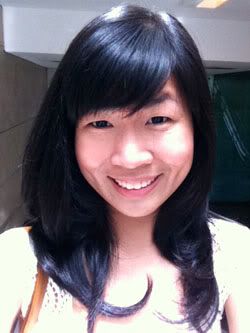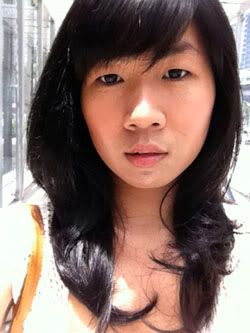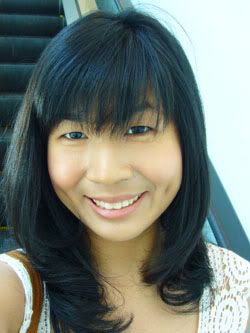 Alright, I wasn't trying to be narcissistic, but I just wanted to show you lovelies the end result of my hair. I couldn't stop looking at it because the bouncy curls looked so pretty, its something which I wouldn't have been able to achieve on my own. Plus, my hair was super soft after the treatment.
If you look close enough, you would probably realized that there is a replicated picture identical to my Tony Moly post because I took it on the same day itself. Just to share some photography tips with you girlies because some of you asked about it. In order to take pictures like the first and second picture, take it under natural light and outdoors. It looks better than the glow enhancement tool in any photo editing programs. You could compare and see the difference between those two pictures and the third picture which was taken indoors.

Needless to say, my head felt a lot lighter. And of course, I felt rejuvenated, so much that I could shop continuously for 4 hours.

Here is the detailed information of the hair spa session which I went through.
5-Step Dandruff Detox Treatment

1. Scalp Cleansing:

Beginning with the scalp, a thorough cleansing will be done to prep the hair follicles for the treatment, using Phyto's botanical extracts.

2. Scalp Stimulation:

An anti-dandruff ampoule will be used and massaged to the scalp to stimulate better absorption and promote hair growth.

3. Oxygen Therapy:

A 20-minute process that involves the opening of hair pores through the oxygen therapy, that aids in better penetration, detoxification and ensuring healthy scalp for healthier hair growth.

4. Aromatherapy Oil:

Prior to washing the scalp and hair, an aromatherapy oil massage will be done to the scalp, providing hair and scalp with the essential oils that will penetrate deep to work on prevention of dandruff and encourage growth.

5. Phyto's Dandruff Prevention Ampoule:

After the cleansing and rinsing of hair and scalp, an anti dandruff ampoule will be massaged into hair, sealing scalp with the protective guard that aids in prevention of dandruff in both men and women.
Last but not least, shampooing and styling.
I would definitely recommend Phyto Hair Spa to everyone (be it you ladies, your sisters or your moms). In fact, they have different treatments tailored for different conditions. Check out the price list which I have kindly provided for you lovelies (you ought to love me for that)!
Or alternatively, you might want to visit
http://www.phytohairspa.com.sg/
to find out more! (:
Special thanks to Melissa for the invitation.