Looking for the perfect nude nail polish? FOUND!
Monday, November 01, 2010
Hi lovelies, I apologise for the hiatus. I was rather preoccupied lately. Now that I have more time on hand, I just want to do more beauty posts because you girls are really awesome, being supportive and all. And I really do seek gratification when you girls commented that you liked my posts and when some of you even emailed me to check if I was alright due to the lack of updates, which was really sweet! FYI, I didn't really expect that there are guys reading my beauty blog and they actually benefit from it. I only realised this when I got a few emails regarding products which I would recommend for guys.
With that aside, you know even though I love funky and bright colors, but at times, what I want is really a understated nude nail polish that is appropriate for everyday use. However, I just couldn't find the perfect nude nail polish as some of them look too yellow or beige. But that was before I found my HG nude nail polish in Daiso!
Winmax Light Color Nail Enamel in #3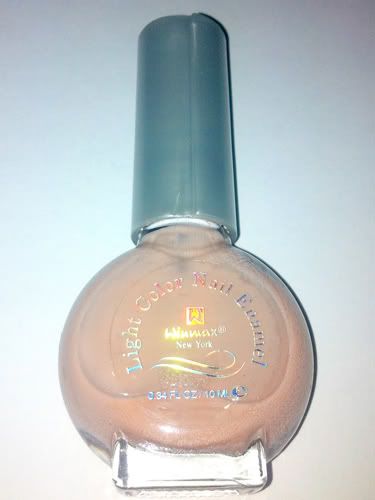 Here is a nail swatch of it.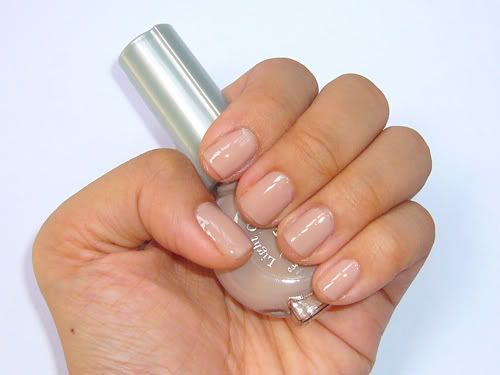 Doesn't it look lovely? I merely applied 2 coats. Its look like my natural nail color yet it has a subtle hint of color. I couldn't help but to keep looking at how reflective it looks. FYI, I haven't applied top coat when I took this picture so you can probably imagine how reflective it would be if I were to apply my Sally Hansen Mega Shine Top Coat.
I haven't tried nail polishes from Daiso before prior to this, but I must say that I am rather pleased with it because its so affordable and the results did not disappoint me. Somehow, this reminds me of the customer satisfaction process. When expectation is lower than perceived performance, it brings about satisfaction which relates to this case. Haha.
I wanted something different. Hence, I did gradient nails again. This time round, I used Missha Nail Polish in BL03 to create the gradient using a make up wedge. I love Missha a lot but ever since they closed down all the stores in Singapore with the exception of one store situated at Orchard Central, I rarely get stuffs from them anymore until a few weeks ago. I will post my Missha haul soon.

Here is my NOTD.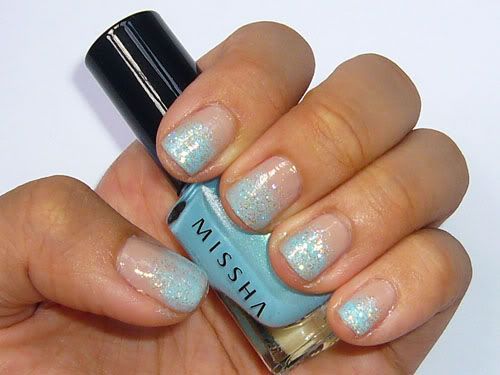 And of course, what's a manicure without some bling? Hence, I added my favourite glitter nail polish, Sally Hansen Hard as Nails Xtreme Wear in Disco Ball before I applied Like Gel Top Coat.

I really like Like Gel Top Coat because it makes your nails look so thick that it really kinda resembles gel-nails. However, the downside is that it takes a long time to dry. Hence, you must be really careful while drying for it to dry.
Here are all the products used in case you are wondering.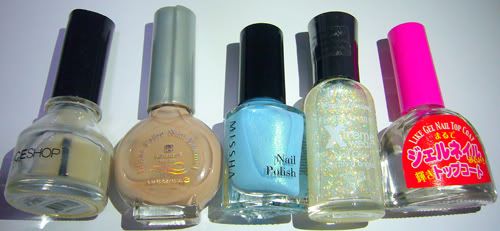 Products used in order:

1) The Face Shop Nail Base Coat
2) Winmax Light Color Nail Enamel in #3
3) Missha Nail Polish in BL03
4) Sally Hansen Hard as Nails Xtreme Wear in Disco Ball
5) Like Gel Top Coat