Holy Grail Foundation + FOTD + Watsons Haul
Tuesday, March 23, 2010
In my previous post, I mentioned that I got a new Fancl liquid foundation. Today was my first attempt using it on my face. FYI, the beauty advisor merely tested it on my neck the other day to show me which I couldnt understand why because normally people test it on the jawline or the face itself. Hence, I was skeptical because it wasnt identical to my skintone but its the closest shade of all.
Guess what? When I was about to apply it today, I realised that it was more fluid-like instead. Somehow it reminded me of the La Roche-Posay sunscreen I used after my laser surgery. In case you are wondering, I did not test the texture of the liquid foundation on the back my hand. But I did tested the milky one. I liked the texture of the milky one. However, when the beauty advisor applied both on my neck, I liked the liquid one because the milky one felt sticky. And she said that the milky one provides a thicker coverage (which I am not looking at).




While applying the foundation, I was shocked at how yellowish it was (refer to the picture above), which I am so not used to, because Lancome foundation has a pink undertone unlike Fancl's which has a yellow undertone.

Nevertheless, it looked more natural and well-blended compared to Lancome Teint Idole Ultra after I set it with Lancome Mat Finish

What I liked about Fancl liquid foundation is that that it feels very light on my skin. I feel as though as I am not wearing any makeup and yet it provides light-to-medium coverage. Plus, it doesnt cake/melt at all after I perspire! I say.. Fancl Liquid Foundation is my Holy Grail Foundation! In fact, the fact that I am so impressed with this product makes me so tempted to get more products from there. There they are, my wishlist/to-buy list:


1) FANCL Cover Face Powder


Should I? Should I? But I have yet to finish my Lancome Mat Finish.


2) FANCL Skin Care Base Liquid




3) FANCL Eyelash Curler (Small)


I think this is a good alternative to Shu Uemura mini curler since it ain't available in Singapore.
I had readers requesting for reviews of the Fancl liquid foundation. So I am gonna show you how it looks like on me.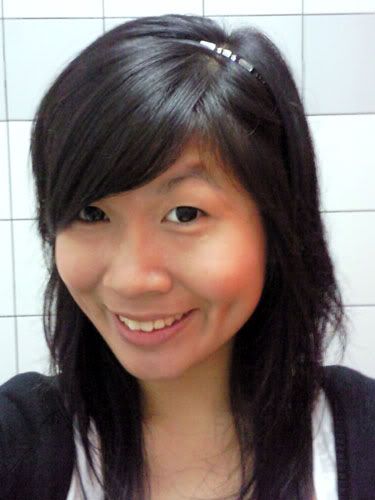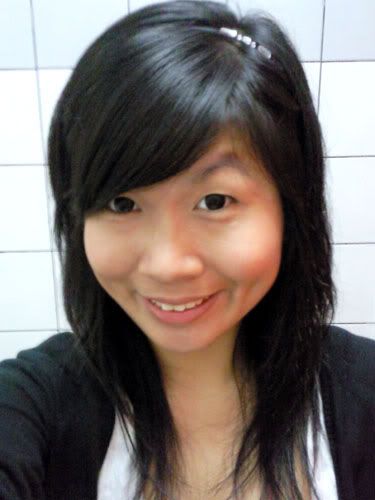 FOTD (Products used):

1) Fancl Liquid Foundation
2) Lancome Mat Finish
3) Lancome Blush Subtil
4) NYX Round Lipstick in Tea Rose (yet another favourite of mine!)
No concealer used because there isn't a need to while using Fancl liquid foundation.

My colleague dropped me off at Choa Chu Kang today after work. It was still early hence I thought I would shop around because I havent been shopping much lately due to my full-time job which takes up so much of my time. First stop was SASA. Went to check out the make up but nothing caught my eye. Second stop was Watsons. BAD MOVE I say. Because I blew $50+ on these. Yeah I know you would say, "What? Makeup again?" How can you resist them? Especially the pretty packaging!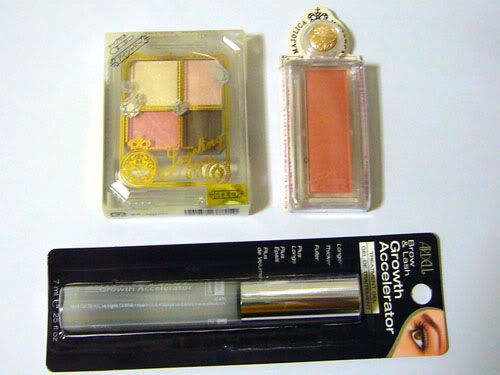 Nevertheless, I am very happy still because I found Majolica Majorca Powder Blush in RD255 which is said to be a close dupe of NARS Orgasm! I had searched high and low for this product but the SA told me that it was discontinued. I even resorted to emailing their head office Shiseido and they replied me saying that its discontinued. And I was so so so sad. But to my delight, I found it! YAYS! I was uncertain when I found it. I was like, "Was it 255 or 225 that I am looking for?" Haha. Grabbed Jeweling eyes in PK785 too, the colors are so pretty! When I was about to go, I saw Ardell lashes and I was reminded that I need to order the Ardell lash growth accelerator either from DS or ask Pris to get it for me. To my amazement, they had it there too. I was like, "Patricia, just get it!" Who cares about it being cheaper buying online than offline. Yours truly doesn't like to wait for shipping! Grabbed that as well. I got myself the Watsons card too. I should have gotten it way earlier since I get my skincare and some makeup items there frequently.
Meeting my 6 lovelies for dinner tmr. Because work is really draining me out. Not that I have a lot to do, but my job is like either I am very busy that I have to work overtime or that I really have nothing much to do.
Hope you liked the post. Do leave your comments, questions at my tagboard and I will answer them accordingly. (: