Christmas Presents and Recent Hauls
Tuesday, February 07, 2012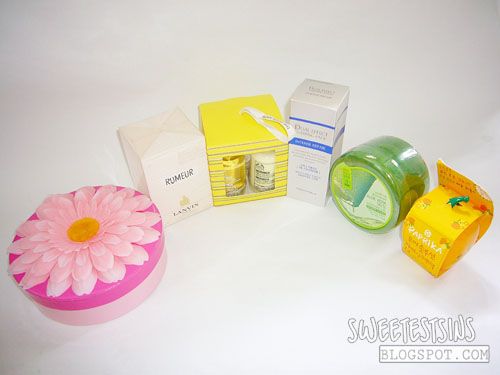 I know the first thing that you probably gonna say is, "Christmas Presents during February? You gotta be kidding me!"

I had wanted to blog about this earlier but somehow it just slipped off my mind.

Last Christmas, coincidentally, I received beauty and skincare products as well as fragrance from my family and my boss.
Elizabeth Arden perfume set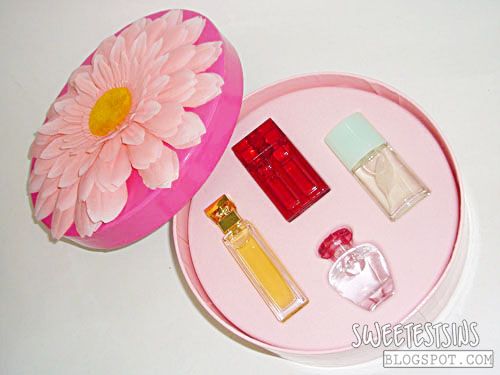 This is a gift from my Aunt.
It contains Elizabeth Arden Green Tea, Elizabeth Arden Red Door Eau De Parfum, Pretty Elizabeth Erden Eau De Parfum and Elizabeth Arden 5th Avenue Parfum.

While I have tried any perfume from Elizabeth Arden before, I think that this is a good way to try out different type of perfume from Elizabeth Erden! Who doesn't love variety? I love variety for sure!

Coincidentally, another Aunt of mine gave me Lanvin Rumeur Eau De Parfum.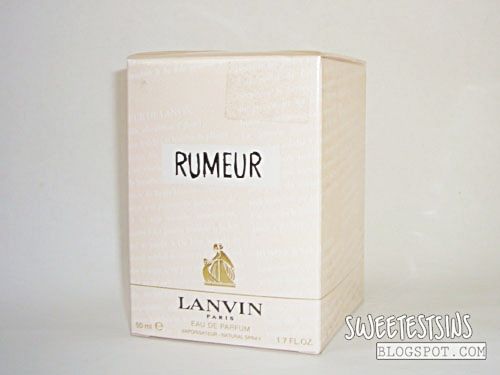 I have yet to open up any of the fragrances as I still have about 5 fragrances that are opened and I haven't finished using them.

Word of caution: it's not advisable to open up a few fragrance at one go because they tend to lose their smell after a while.

The next item is Moringa Gift Cube from The Body Shop. This is from my boss.
My first impression of this gift cube is that Moringa smells really good.

My only concern would be whether it would make my skin dry as previously, The Body Shop Mango Shower Gel left my skin feeling a little dry after each bath.

The 3 products below are from my cousins, Li Xuan and Li Bing. And all of them are Korean skincare which is my favourite! Yays!
Nature Republic Soothing & Moisture Aloe Vera 90% Soothing Gel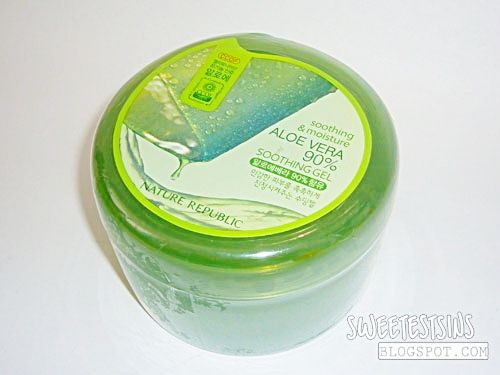 This aloe vera gel from Nature Republic is highly-raved by Si Ling. She said that it is really gentle on the skin and yet it doesn't break a big hole in your pocket.
I have yet to open this out to try because I haven't finish my current aloe vera gel from Fruit of the Earth. But so far, the best aloe vera gel that I have used is from Jorubi but it is slightly more pricey.
I still remember the first time that I got aloe vera gel was to tame the redness of the pimples on my face. I came to know about the goodness of aloe vera gel after reading that Sebamed Clear Face Care Gel (a holy grail of mine) contains aloe vera gel and after doing the maths, I realised that it would be more economical to get aloe vera gel as it would last longer compared to Sebamed Clear Face Care Gel. I was still a student back then and every penny counts.
While I haven't tried Nature Republic Soothing & Moisture Aloe Vera 90% Soothing Gel, I am sold about its goodness because almost everyone that have tried them couldn't stop raving about how good it is.
Tony Moly Dual Effect Sleeping Pack Intense Repair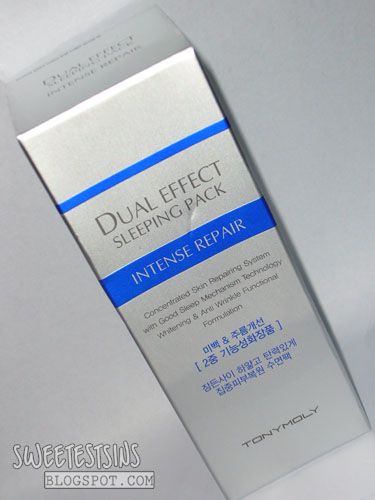 Baviphat Paprika Pore Solution Tightening Sleeping Pack

Yet another cute sleeping pack from Baviphat! Li Bing and Li Xuan have given me Baviphat Apple AC Therapy Sleeping Pack previously and I have reviewed it before at http://sweetestsins.blogspot.com/2011/10/sleeping-packsmasks.html.

Don't you lovelies think that Baviphat products are all so cute? I love their cute packaging, especially their facial mask, http://sweetestsins.blogspot.com/2011/08/korean-beauty-haul-recent-hauls.html!
Freshel Whitening Lotion (L)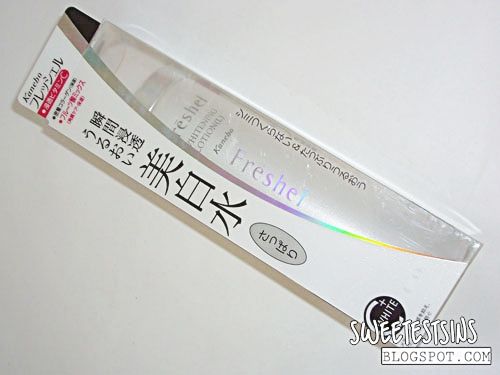 Veet Rasera Bladeless Kit
Got this along with my Mom's holy grail moisturizer from Olay as well as my contact lenses solution when I went to Watsons sale sometime in late December with Joanna. And to think that nothing was on sale except for my Mom's Olay moisturizer. -.-" It was also the first time that I met Michelle!
I'm actually thinking of doing a post on my Mom's favourite skincare. What do you all think? Yay or nay?

Sasa Haul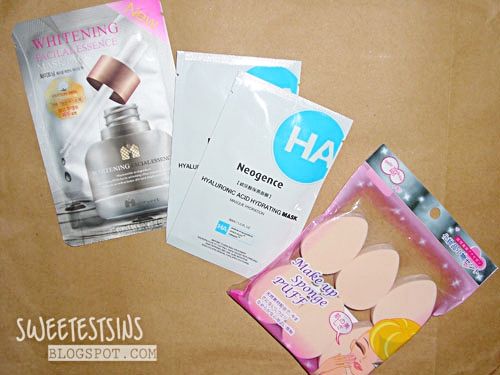 If there's one place that I have to ban myself from going, it has got to be Sasa. I never fail to leave Sasa without purchasing at least one facial mask.
To think that my intention was to get some makeup sponges since I threw away my Manicare makeup wedges due to wear and tear.
Neogence Hyaluronic Acid Hydrating Mask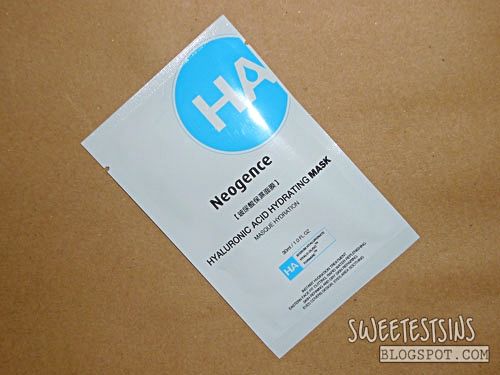 $2.95
I usually don't use 2 way cake foundation unless I am in a rush because it tends to make my face look patchy/dry. However, if I apply Neogence Hyaluronic Acid Hydrating Make Up Serum prior to 2 way cake foundation, it doesn't make my face look cakey which I love!
Back to Neogence Hyaluronic Acid Hydrating Mask, I just love this facial mask. It is so moisturizing and it plumps up my skin. In fact, it reminds me very much of Hada Labo Super Hyaluronic Acid Hydrating Lotion,
http://sweetestsins.blogspot.com/2010/06/not-so-recent-haul.html
except that the texture is much lighter than Hada Labo Super Hyaluronic Acid Hydrating Lotion.
The other mask that I got from Sasa is:
Montvert Whitening Facial Essence Mask Pack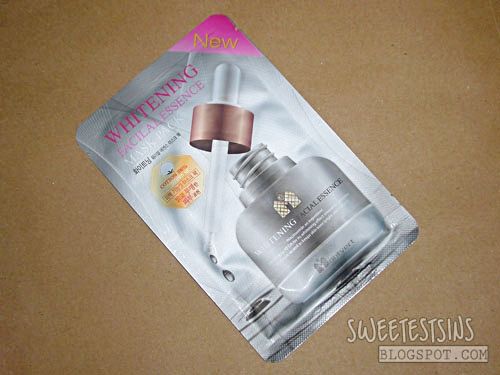 $3.90
Got this because I was drawn to the word 'essence' and the ampoule picture on the facial mask pack as well as because its WHITENING! You should know by now that I am very into whitening products.
Quite a fair bit of people have asked me, "Why are you so into whitening products for your face? What about your body? Won't it look weird if your face is fairer than the rest of your body?" Well well well, to answer all of you at one go, whitening products doesn't make you fairer overnight! In fact, I have been using whitening products religiously for almost one year, all that I have noticed is brighter and more even skintone. And no, the color of my face doesn't differ much from my neck such that its of two different colors. Even for the strongest whitening product that I have used, at the very most, the whitening effect lasts for one day.
I have yet to use Montvert Whitening Facial Essence Mask Pack as I am experiencing a slight breakout at the moment. Normally when I have breakouts, I try to steer clear of whitening products because the ingredients are normally quite rich and moisturizing which tends to trigger more breakouts. Whenever I have breakouts, I usually use facials masks such as
My Scheming Diary Herbal Anti-acne Mask
or My Beauty Diary Aloe Vera Mask to tame the redness and dry those spots.
The last item that I got from Sasa during my recent Sasa Haul is:
Belle Madame Make Up Sponge Puff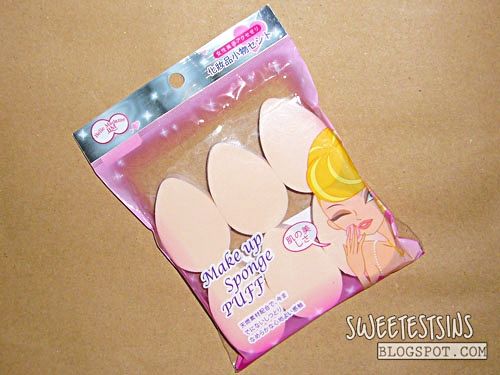 Belle Madame is the brand that has Belle Madame All in One Blender Sponge which is similiar to Beauty Blender.
I usually use make up sponge wedges from Manicare to apply my foundation but it wasn't available at Sasa Causeway Point hence I bought Belle Madame Make Up Sponge Puff instead which was something that is in between Belle Madame All in One Blender Sponge and normal make up wedge as it is in the shape of an egg.
It took me a while to get used to it as its much bulkier than normal make up sponge wedge. But I really like how the tip of it allows me to reach my undereye areas, the sides of my nose and my mouth and it makes application so much easier!
Nail Polish Haul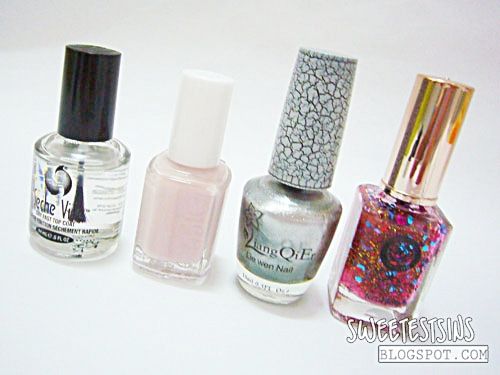 From L to R: Seche Vite Dry Fast Top Coat, Essie Miss Matched, Liang Qi We Lie wen Nail D1 and Needme 51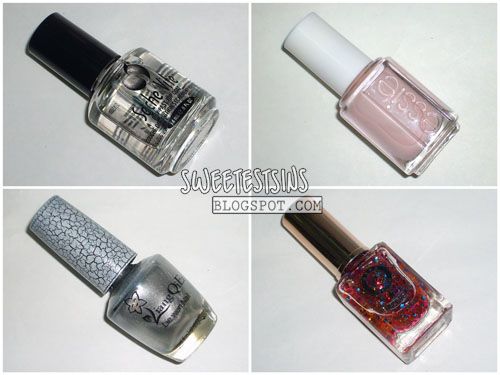 Click to enlarge!
Got the first two bottles from Far East Plaza while the bottom two are from a random beauty supply shop near my place.
The crack polish was only $5 bucks and the glitter polish was only $3! Such a steal, isn't it?
Nivea Body Lotion Whitening Night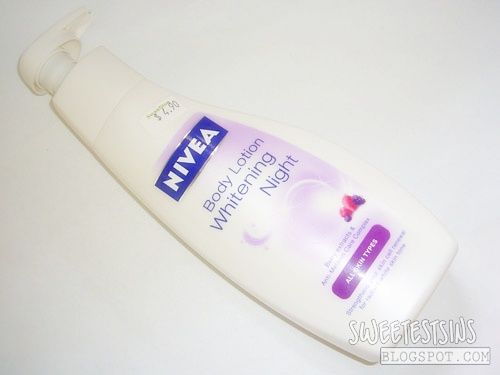 Got this from Swanston over at People's Park, Chinatown when I went there for some pre-Chinese New Year shopping with my Mom.

Got this again because I still prefer this compared to other body lotion because it is easy to absorb and its rather moisturizing plus it makes me fairer after prolonged usage. And best of all - it doesn't have that stickiness feeling after application.
RMK Haul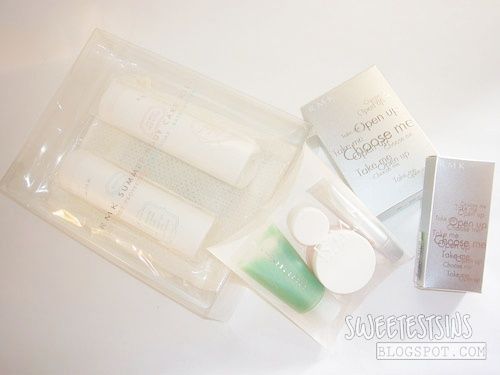 Got these RMK products last December when I was out with Emily. She was very kind to share with me her 20% birthday discount for members upon knowing that I want to get the creamy base.
These are the gift with purchase (GWP) that I received with our combined purchases. Once again, Emily was very nice to give me the following GWP because she said that she have tried them before already. Thanks lovely!
RMK UV Body Protector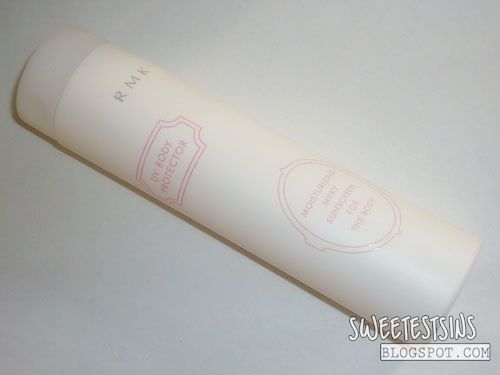 RMK Body Soap N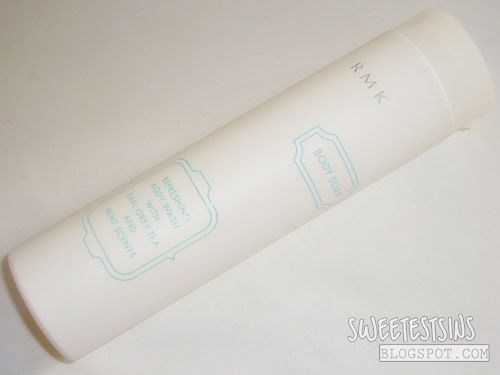 I have just started using this a few days ago after finishing up my lavender shower gel. It is rather refreshing I would say and I really like how soft my skin feels when I use RMK Body Soap N with RMK Original Bath Mitten.
RMK Trial Kit/Travel Set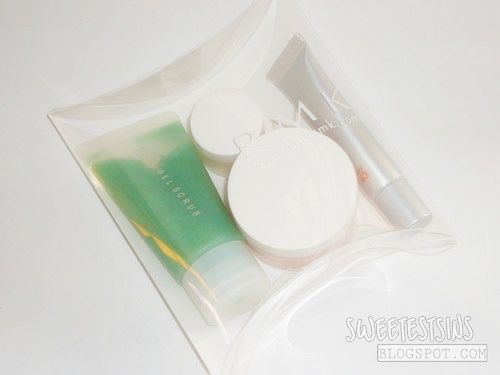 I have yet to try out any of the products below so I can't comment much on them.
RMK Gel Scrub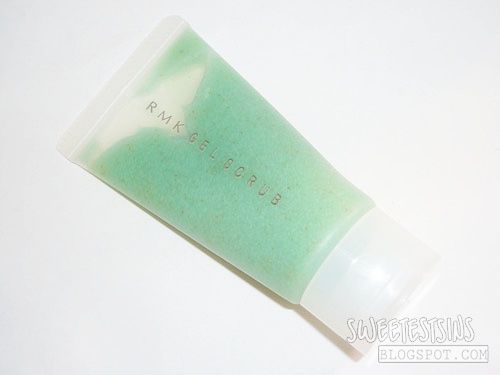 RMK Fruit Barrier Cream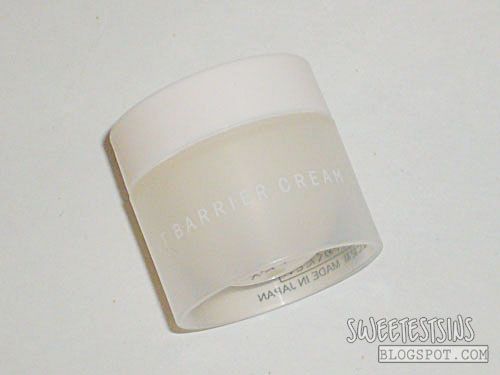 RMK Cleansing Balm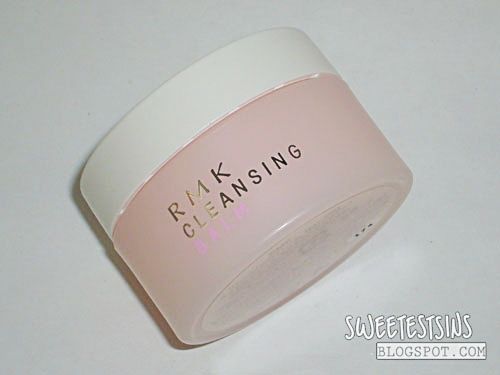 RMK UV Face Protector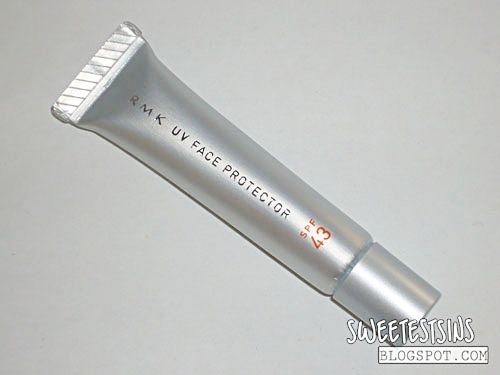 This reminds me so much of Biore UV Aqua Rich Watery mousse Water base SPF 50+ which is a holy grail of mine and I have been using it daily!
And now, the highlight of my RMK Haul...!
RMK Creamy Polished Base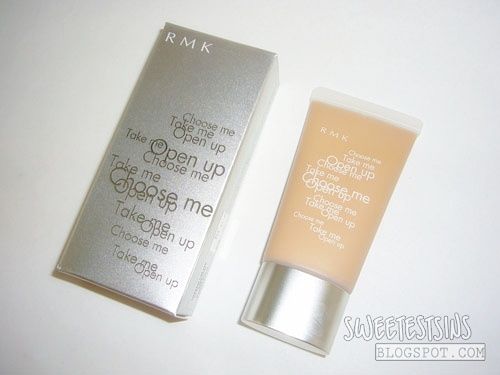 Check out the exterior of RMK packaging! It says Open up, Choose me, Take me. Seems that the marketing team are playing the game of consumer behaviour huh?
- Tinted = more coverage
- Help foundation glide on better
- Make my face look very smooth
- Keeps makeup mat (only require blotting once on the nose area for the whole day) and longer-lasting
Cons:
- Have to use more compared to the amount when I use Chanel Sheer Illuminating Base
Apart from that, I caved in and bought RMK Gel Emulsion Compact. Its a gel foundation and its texture is somewhat like a BB cream pact.
I have yet to open this so I will leave the review till next time.
RMK Gel Emulsion Compact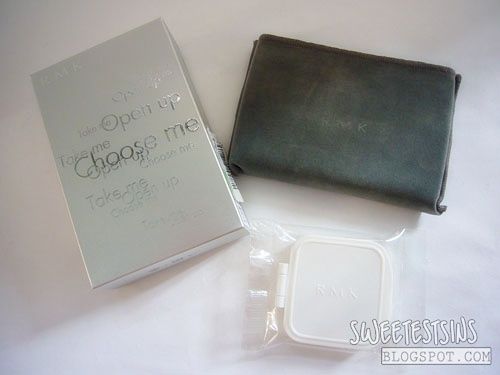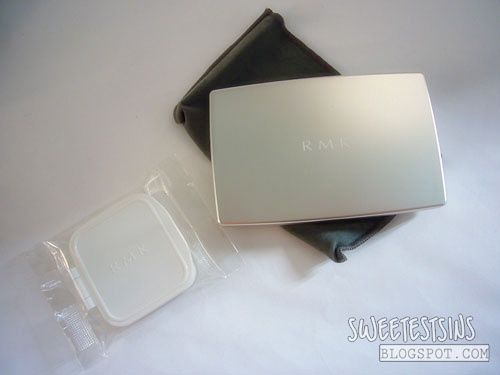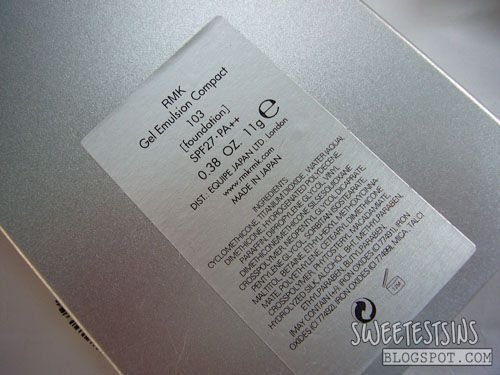 That's all for now. I hope you like this post! Thanks for reading.
Love,
Patricia