Hankook Cosmetics: Ossion and Ekanava
Sunday, February 05, 2012
Hi lovelies, today I'm gonna share with you a few new favourites of mine from Hankook Cosmetics.
If you're quick enough, you should be able to spot them from the picture above.
Thought that I would provide some information on Hankook Cosmetics for those whom are unfamiliar with this brand.
About Hankook Cosmetics

Under Hankook Cosmetics, they have Ossion, Sansim, Beautri, Ekanava, Idem, Flannche and Carri just to name a few brands. Sansim is No. 1 in Korea and very popular with Indonesians while Ossion is no. 1 for export.
Hankook Cosmetics does OEM which means that they do R&D for other companies whom wish to launch new skincare or makeup. Apart from that, They also have agreements on technical cooperation with Juju Cosmetics in Japan as well as Loreal and Lancome in France. They are also the first to use Ginseng as one of the ingredients in their skincare and cosmetics line, Sansim. Ginseng has healing properties.
Here are the products that I received from Hankook Cosmetics.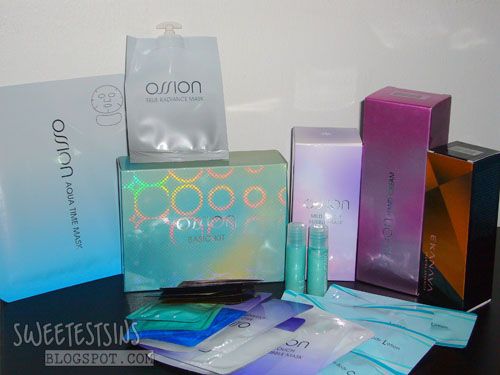 There were actually more samples but I gave some of them out to my family and friends. My Mommy is currently using the Time Curator Eye Cream, Toner and Emulsion sample from the
Time Curator series
.
While I have yet to try out all of the products given, I must say that I am very pleased with those that I have tried! I will be giving out some samples at the end of this post so make sure you stay right till the end.
For now, I'm going to share with you a few products from Hankook Cosmetics that I have been using recently which are my current favourites!
The first product would be:
Ossion Mild Touch Bubble Mask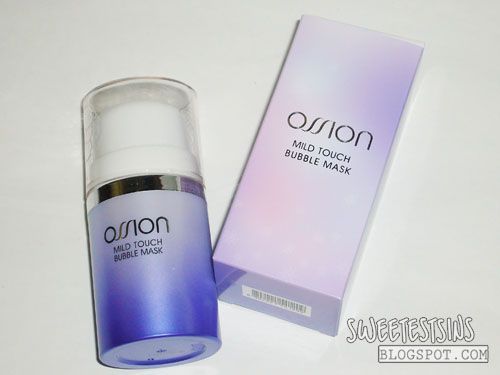 This is like a massage pack to me. I use this about 3-4 times a week at night after cleansing and toning. Because I desire a V-shaped face and I want my jawline to be more obvious, I would massage my face in upward motions from the chin area.
Word of caution - you have to be really quick when you massage your face using Ossion Mild Touch Bubble Mask because it will form bubbles rather quickly.

Tip: Let Ossion Mild Touch Bubble Mask foam on your T-zone but don't let it foam on your face before you massage it.
You can rinse it off after you see the bubbles forming on your face. I usually let it on for about 2 minutes before rinsing it off.
My thoughts:
After using Ossion Mild Touch Bubble Mask, I feel that my skin feels very smooth after that. I also realised that my pores appears to be smaller. Apart from that, it makes my skin so much brighter! Besides, this smells really good and I really like the scent of it!
Tried this on my mom at one of the weekly facials that I did for her and she loved it! She was so amazed at the bubbles forming after application.

Before I forget, after the bubbles form, you could massage the bubbles away and it would form the second time! You could rinse it off after that. This is a little trick that my cousin, Si Ling taught me. She is also a Korean skincare fanatic and yes, she's the one whom introduced me to a whole lot of Korean skincare brands.
The next product that I have incorporated into my daily regimen is..
Ekanava Opening Enhancer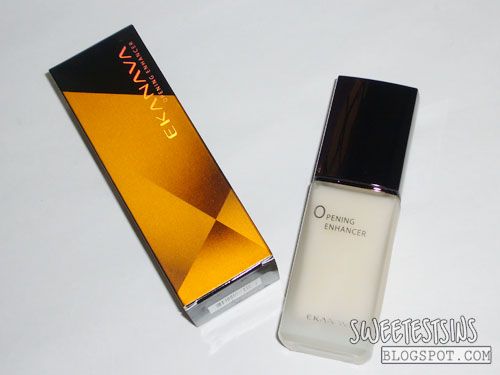 This is not an ordinary primer because... it feels a little bit cooling when you first apply it onto your skin.
I like it because it is non-sticky and that it makes my skin very smooth which ensures a smooth application of foundation thereafter.
It comes in a pump bottle which is more sanitary and easy to use.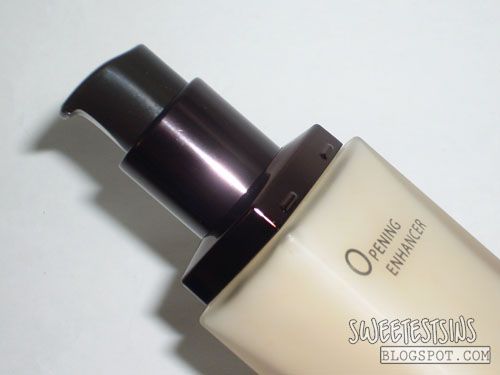 And it has got gold flakes in it!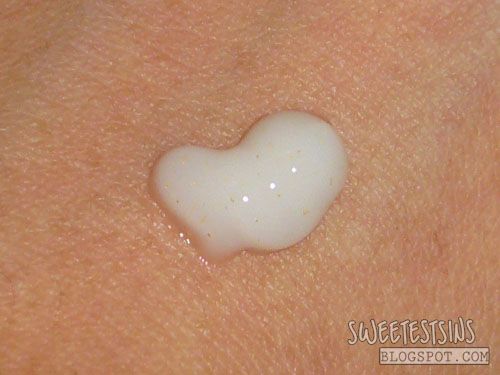 The picture below shows Ekanava Opening Enhancer before spreading it out and after spread it out on my skin.

You would notice that the gold flakes are more visible before I spread out Ekanava Opening Enhancer evenly on my skin. After spreading it out, you could hardly see the gold flakes. All you get is a slight dewy finish.
I usually apply it in the morning in the order of - cleansing > merdel toner > laneige essence > merdel emulsion > sunblock > Ekavana opening enhancer > makeup base > foundation and powder.
I find that Ekanava Opening Enhancer helps to prolong the staying powder of my makeup as I don't have to blot my face that often compared to when I am not using it.
The verdict is - I'm not gonna leave home without Ekanava Opening Enhancer if I know that I'm gonna stay out for the entire day.
Next, we have got:
Ossion Basic Kit
Ossion Merdel Toner and Ossion Merdel Emulsion
Another product that I love is - Ossion Merdel Toner and Merdel Emulsion. It is so moisturizing!
Besides the products that I have mentioned above, here are some of the products that were given to me by Hankook Cosmetics to try out.
Do note that I have yet to try out these products hence there won't be any reviews on them for now. But be sure to come back to
SweetestSins
to check out for reviews on them in future.
Ossion Hand Cream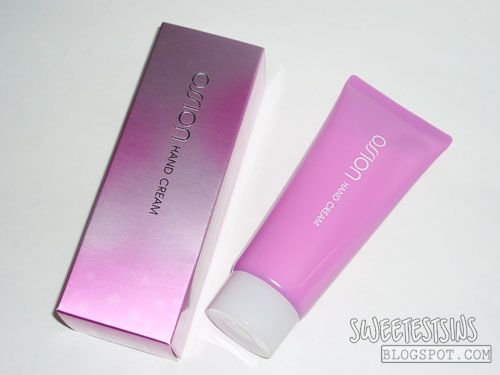 Ossion True Radiance Mask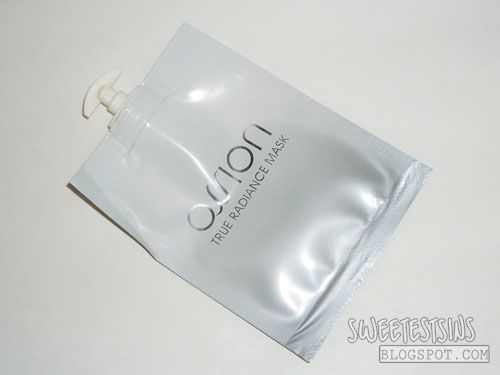 Ossion Aqua Time Mask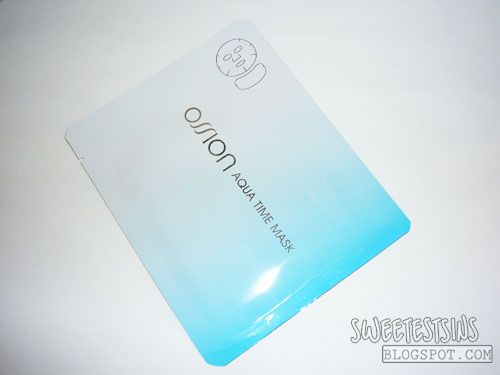 And now, its GIVEAWAY TIME!

I'll be giving out two mini goodie bags that consists of different samples from Ossion. They both contain the same products except that one contains sun cream and the other has BB cream in it.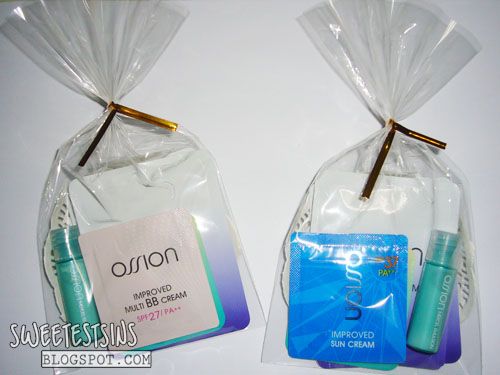 Here are the samples that you will get.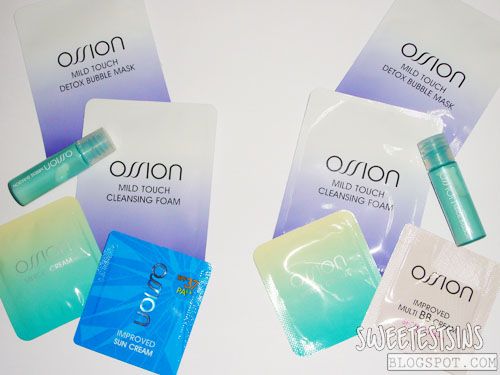 1) Ossion Mild Touch Detox Bubble Mask
2) Ossion Mild Touch Cleansing Foam
3) Ossion Merdel Emulsion
4) Ossion Merdel Cream
5) Either Ossion Improved Sun Cream or Ossion Improved Multi BB Cream
Here's how you can win the mini goodie bag.
Head over to SweetestSins Facebook, like the post on Hankook Cosmetics and leave a comment on why you want to win the mini goodie bag and state whether you prefer the sun cream or BB cream.

Faster fingers wins! Contest is open to everyone residing in Singapore! I will post it out via normal mail
On a side note, if you have been working hard either at school or at work lately and wish to pamper yourself or get a Valentine's day gift for your girlfriend, head over to hankookcosmetics.com now because there is a storewide promotion of 20%!
STOREWIDE PROMOTION TILL 16/2! 20%+30%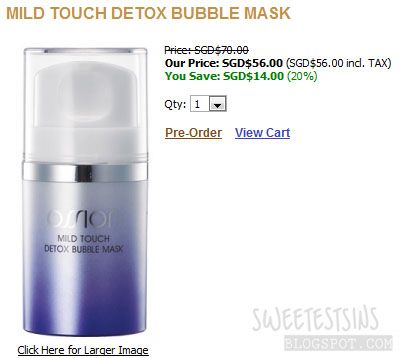 U.P: $70
NOW: $70 - 20%= $56
You save $14!
What's more, if you log in using my log in details,
Username: sweetestsins
Password: 300688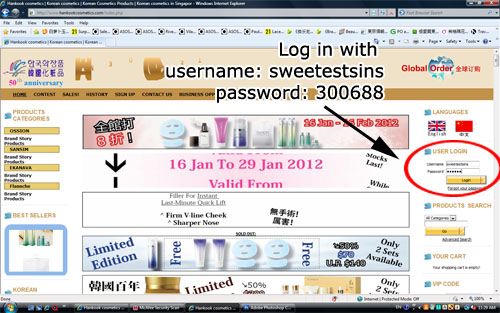 You get another 30% off!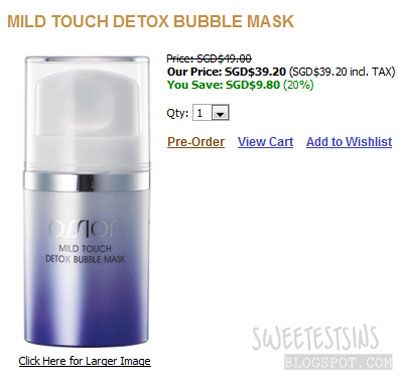 UP: $70
$70 - 30% = $49
$49 - 20% (storewide promotion) = $39.20
You save $30.80!!!
The storewide promotion of 20% off is now till 16 February while the 30% is ongoing forever if you log in using my username: sweetestsins and password: 300688.
Hurry now and make your purchases over at hankookcosmetics.com! Postage is free within Singapore. For overseas orders, you only need to pay for shipping!
I hope you like this post. Thanks for reading!
Love,
Patricia
To be notified of the latest beauty news, launches or events, follow me on


or like SweetestSins on