L'occitane Pivoine Delicate Collection: Eau de Toilette and Shimmering powder
Saturday, May 19, 2012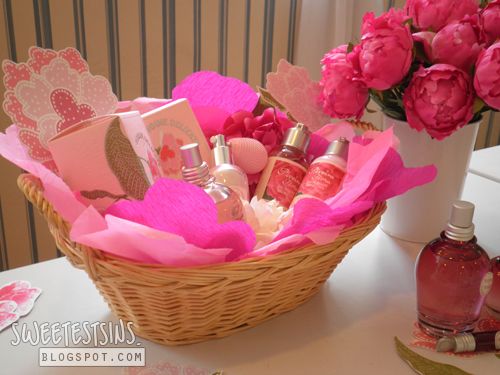 About Pivoine Délicate Collection
They call it the flower of a thousand petals... Every spring, the peony reveals its dazzling shades and subtle scents. With each flower as beautiful as the next, it is almost impossible to have a favorite. And yet there is a peony in Mr Rivière's nursery that is so exquisitely delicate, it stands out from the rest. As it comes into bloom, its soft pastel petals resemble a silky fabric complete with a pink trim. Dressed in subtle and changing hues, it delights anyone privileged enough to see it. This very flower inspired the L'OCCITANE Pivoine Délicate collection. Starting with a new Eau de Toilette, the range also includes body care products with a fine floral scent and make up products with the most tender textures.
** Make sure you stay right till the end of this post for an exciting giveaway! **
Two Saturdays ago, I attended L'occitane Blogger Party held over at Fullhouse Rendezvous Gallery. If you are following me on
Twitter
, you would probably have caught sneak peeks of the collection as well as
my customized notebook
which is too pretty to be used!
While I'm sure most of you ain't unfamiliar with the brand L'occitane, how many of you are 100% sure that you have been pronouncing the brand correctly all these while?
I was first introduced to L'occitane when my cousin, Si Ling passed me a
3 piece L'occitane lavender set
. Apart from that, I bought
L'occitane Vanilla Parfum Maison
because I was drawn to the vintage perfume pump! I was also gifted a couple of L'occitane hand cream from my friends as well, so you could say that I am not foreign to the brand at all.
But the truth is - even I myself pronounced it wrongly! Boo. I used to call it LOX-EE-TANE instead of LOX-EE-TAN. But now you know its LOX-EE-TAN! Make sure that you bear that in mind!
The two main products that I received are:
Pivoine Délicate Eau de Toilette
, 75ml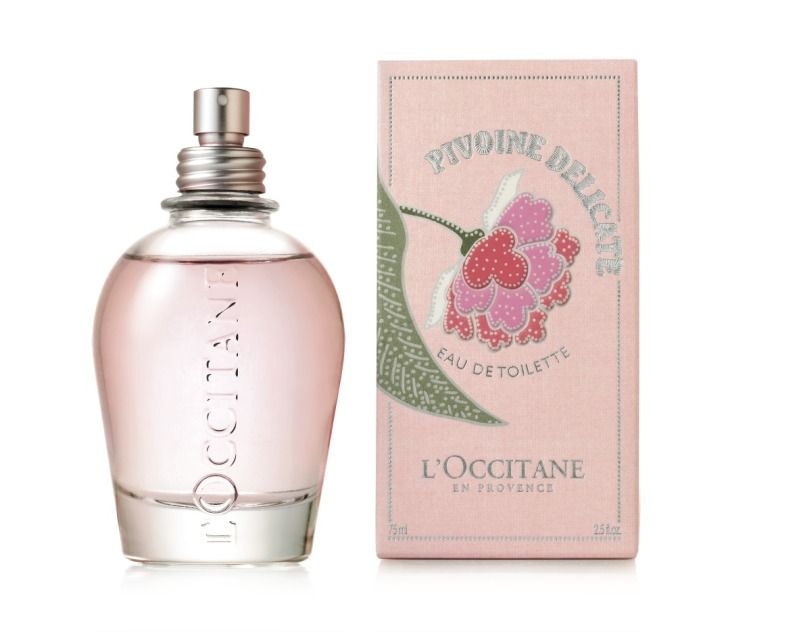 What is it:
Blends the silky softness of peony and rose petals with the green transparency of lily of the valley in a luminous floral accord with a soft powdery trail.
Top notes: the freshness of citrus fruits and velvety white peach
Heart notes: a delicate luminosity of rose, peony and lily of the valley
Base notes: the downy softness of white musk and light woods
My thoughts:
If you know me, I am quite particular when it comes to scents. I don't particularly like those that are overbearing or over the top (OTT). While I like floral scents, I can't take fragrances that smells too sweet.
I have been using Pivoine Délicate Eau de Toilette daily out of late. I must admit that when I first switched to this fragrance, I wasn't that used to it in the beginning as its slightly stronger than what I normally would use. But as time goes by, I get accustomed to it and in fact, you could say that I'm in love with it.
If you like the scent of The Body Shop moroccan rose body butter, I'm pretty sure you would like Pivoine Délicate Eau de Toilette.
Shimmering powder, 8gr bottle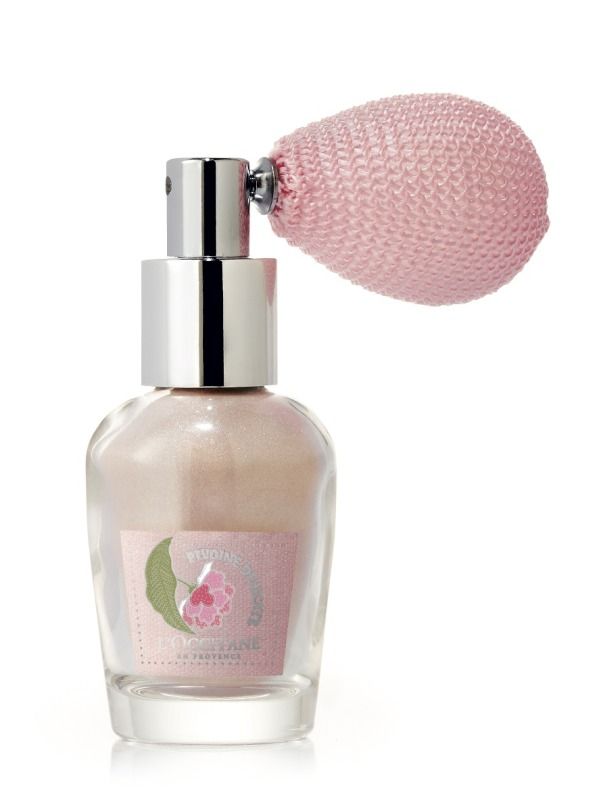 What is it:
Presented in a rounded bottle, topped with a vintage atomizer pump, the Shimmering powder releases a fine mist of pink and silver iridescence to beautify the body and hair and leave a silky, satin finish on the skin.
Since a picture speaks a thousand words, I thought I would share a swatch of L'occitane Pivoine Delicate Shimmering powder.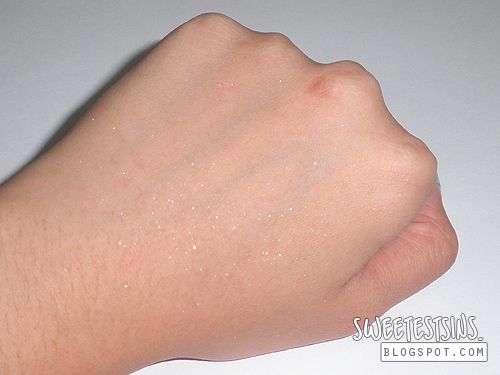 Look at how pretty the shimmers are! Don't you love them?
I think that L'occitane Pivoine Delicate Shimmering powder would be great especially for prom night, graduation dinner, dinner & dance or even to clubs! It just add that extra glamour! In fact, I have already have plans on when to use it. Plus, the vintage atomizer makes it much easier to dispense the product evenly and you need not worry about spillage compared to conventional shimmer powder puffs.
Apart from the products mentioned above, the other products that I thought was interesting from this range includes:
Hand cream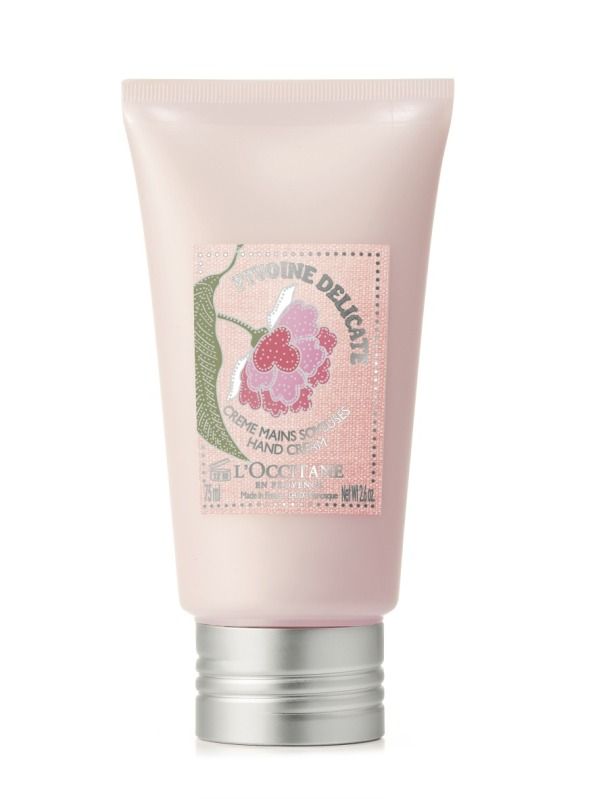 This comes with a twist cap which is very convenient. You just have to twist and squeeze the tube without even having to uncap the entire cap.
Eau de Toilette & Gloss Duo

I think most girls will squeal at this. This is such a lifesaver! I mean, I can just slip this into my makeup pouch and I need not worry about having to carry perfume and lip gloss separately. FYI, I can hardly fit anymore stuffs into my makeup pouch anymore. How I wish that there would be more multi-purpose products being developed so that we can travel as light as possible without having to worry that we missed out one or more products.
For more pictures on Loccitane products and event, head over to
SweetestSins Facebook page
. I'm sure the pretty visuals won't disappoint you, especially the decor of Fullhouse Singapore where the event was held at.
For now, I have got something exciting to share with you guys. Don't we all love giveaways? Do I hear you girls screaming yes frantically?
I have got 3 sets to giveaway. Each set consists of Loccitane Pivoine Flora Shower Gel, Hand Cream and EDT! Giveaway is open to those residing in Singapore only as you will have to pick it up from their outlet.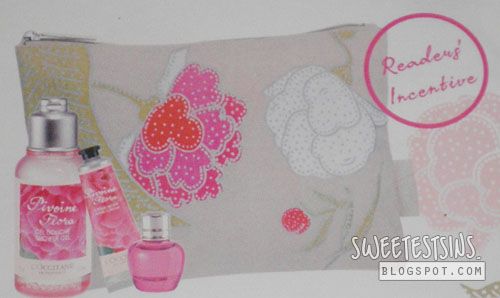 Ain't the pouch lovely?
All of us (beauty bloggers) present that day love how sweet-looking it is!
Here's how you can stand a chance to win them:
1) Like
SweetestSins on Facebook
2)
Email me
the following with the subject:
SweetestSins Facebook Giveaway
before 21 May 2012, 12pm.
- Your Facebook username
- Your favourite Loccitane product
- What would you like to read more on SweetestSins?
Don't hesitate, join my giveaway now! Good luck lovelies!
Love,
Patricia