My Travel Essentials
Monday, May 23, 2011
Hi lovelies, I'm back from my short trip. When it comes to packing my beauty and make up essentials for travel, I always have a problem of packing it light. In fact, I always overpack no matter how much I remind myself to pack less.
Skincare
For skincare, I would pack the basics, cleanser, toner, sunblock, makeup remover sheets and a few pieces of facial mask to keep my face hydrated because whenever I go overseas, my face would become very dry.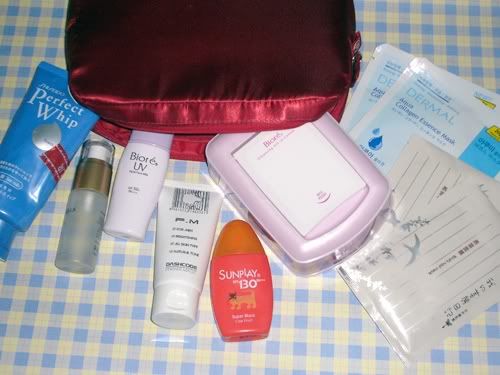 Cleanser: Shiseido Perfect Whip foam
Toner: Hada Labo Super Hyaluronic Acid Hydrating Lotion (that I depot from the original bottle because its too bulky to bring out)
Sunblock (for face): Biore UV Moist Face milk
BB Cream: Skin Factory Dashcode F.M
Sunblock (for body): Sunplay Super Block SPF 130PA+++
Makeup Remover Sheets: Biore Cleansing Oil Cotton Facial Sheets
Facial Masks: My Beauty Diary Bird Nest Mask & Dermal Aqua Collagen Essence Mask
Although Sunplay Super Block SPF 130PA+++ can also be used on the face, I still prefer Biore UV Moist Face milk for my face because it gives moist feeling on the face after application.
I had faithfully applied Sunplay Super Block SPF 130PA+++ on my body everyday throughout my trip. While I like the fact that Sunplay Super Block SPF 130PA+++ keeps my skin from getting burnt (although I seldom get burnt, I only get more tanned), it does leave a slight white cast and it makes my skin dry (not sure if the weather is the cause of it though). Apart from that, I could feel that the sunblock on my skin after applying which I don't experience when I apply Biore UV Moist Face Milk.
My lifesavers for this trip are Biore Cleansing Oil Cotton Facial Sheets, My Beauty Diary Bird Nest Mask and Dermal Aqua Collagen Essence Mask. The former because removing make up at night is a breeze, especially after a long day out shopping or sightseeing! The latter because they provide my skin with instant hydration for the weather over at Bangkok did dry my skin out.
Make Up
What I brought along with me: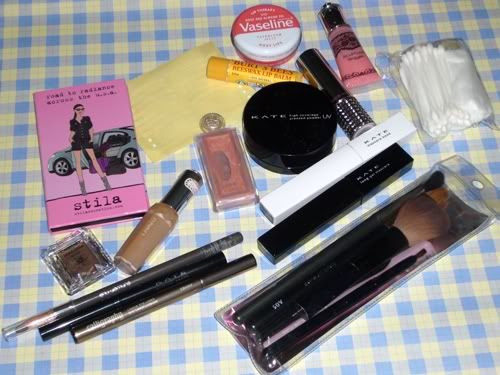 What I used during the trip: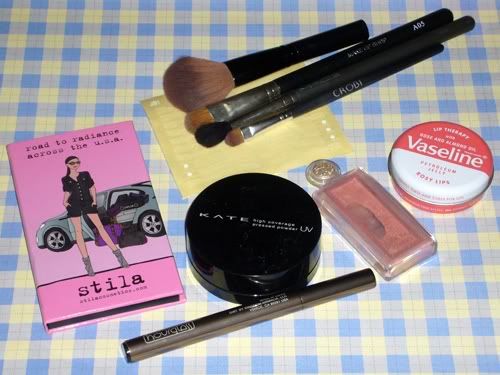 The first picture shows the makeup that I brought along with me for my trip and the second picture shows the makeup that I did use during the trip.
The idea behind taking the two pictures above is to remind myself not to pack so much make up for my future trips overseas and as a guide of what I should and should not pack.
Bangkok's weather is tremendously warm. I only managed to do a full-face makeup on the 1st day when I was there. On the 2nd day, I merely applied sunblock and BB cream and on the 3th and 4th day, I only applied sunblock. Hence, I think that sunblock, BB cream and perhaps blusher should be the essentials to bring along while traveling. The product that I used the most during this trip would be Vaseline Lip Therapy Rosy Lips. Prior to getting Vaseline Lip Therapy Rosy Lips, I would apply Vaseline Petroleum Jelly (the clear one) on my lips to moisturize it. I prefer Vaseline Lip Therapy Rosy Lips as it tints my lips to a sheer pink and it smells great too! Furthermore, its pocket size or handbag friendly compared to Vaseline Petroleum Jelly.
Body and Eye Care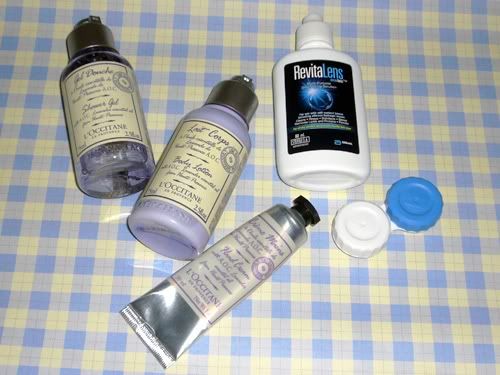 I brought along my 3 piece Loccitane lavender set which consists of shower gel, body lotion and hand cream. I prefer to bring my own shower gel and body lotion because Lavender can make me fall asleep better.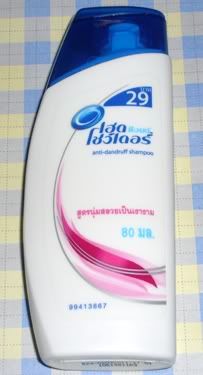 I forgot to pack my shampoo hence I bought this from the 7-eleven near Sanam Pao BTS Station that was near our apartment. The jasmine shampoo that the apartment provided made my hair so dry and tangled so I went ahead to get Head & Shoulders Smooth and Silky shampoo. Isn't it amazing that even though I can't read Thai, but I can identify the product brand and product line from the packaging of the shampoo? No wonder they say packaging and color is universal.
Fragrance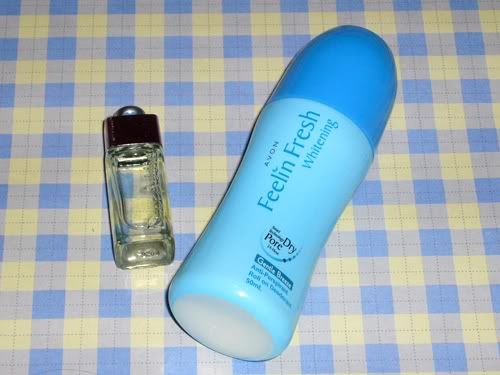 Miniature Dior Addict perfume and Avon Feelin Fresh Whitening Anti-Perspirant Roll on Deodorant
Oral and Health Care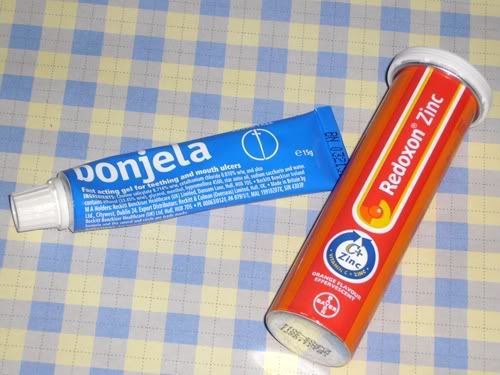 I think that everyone should bring along Bonjela and Redoxon Zinc Effervescent on their overseas trip.
I had two huge mouth ulcers and I forgot to bring Bonjela hence I went to Boots to get it. Picked up Redoxon Zinc Effervescent tablets as well because my mouth ulcers were getting from bad to worse by the day (blame it on the spicy and fried food that was available). Bonjela is really effective at subsiding mouth ulcers but when applying it to the affected area, the pain experienced could be unbearable for a while. I have been using it for a few years already and I am very pleased with it.
Whenever I think or feel that I am catching a cold soon, I would put a Redoxon Zinc Effervescent tablet into a glass of water and drink it. It helps in putting the cold away as it contains Vitamin C and Zinc.
That's all for my travel essentials.
Thanks for reading. I hope you like this post!
Love,
Patricia