Sunplay: Super Block SPF 130PA+++ and UV Body Mist 

SPF80 PA++
Wednesday, April 27, 2011
I remember that when I was younger, my mom told me, "The sun is your worst enemy". And I shrugged it off simply because I just love the sun too much. I used to spend a lot of time at the beach suntanning and I love swimming. My mom would always ask me to apply sunblock lotion which I did not because - I was lazy and I wanted to be more tanned. Thinking back, I was really foolish back then. It didn't occur to me the danger I was exposing myself to - the harmful rays from the sun!
Sunplay Super Block SPF 130PA+++ (#1 Sunscreen in Watsons)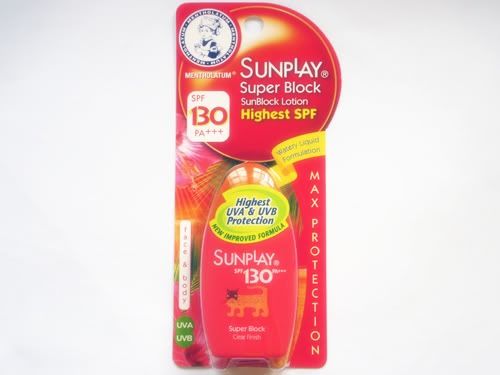 What is it:
- Highest SPF 130PA+++ for long hour protection against UVA and UVB
- Helps to prevent sunburn & premature aging
- Japan "Watery liquid" formulation is non-greasy. Its water-like texture is extremely light & smooth on skin.
- Super water proof formula which does not require frequent re-application.
- Non-comodogenic (does not clog pores)
- Ideal for long hour outdoor sports and water activities
- Dermatologist tested
Directions:
- Use as sunblock lotion alone or after moisturizer
- Shake well before use
- Apply evenly on face and body. Reapply as desired or after towel drying
- Remove with facial cleanser
My thoughts:

When I first tried it out, I felt that this sunblock lotion has a smooth texture which gives a powdery-feel finish. However, at the same time it does make my skin shine a little. I must say that it blends into my skin rather well though. As I have combination skin with especially oily T-zone, I doubt I will use this product on my face as I think it would make my face appear more oily-looking.
Apart from that, I think its a good sunblock lotion to apply on one's body especially if you were to be outdoors playing sports or swimming!
I suddenly recall that in a particular episode of Nu Ren Wo Zui Da, they did mention that most Taiwanese girls apply sunblock lotion everyday before they leave home! No wonder they are so fair! Singapore girls, we ought to be religious in maintaining and enhancing beauty as well!
Sunplay UV Body Mist 

SPF80 PA++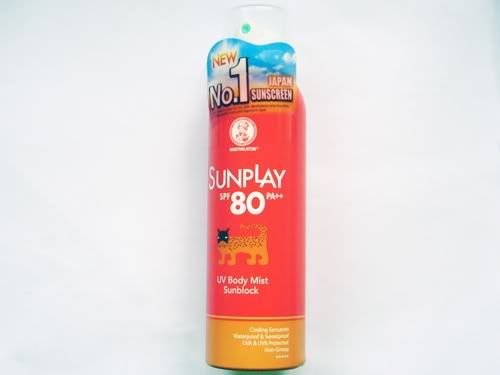 What is it:
- Provide high-level, full spectrum UVA/UVB sun protection.
- Waterproof, sweat proof, suitable for all types of outdoor activities
- Instant refreshing and long-lasting cooling sensation, non-greasy
- Contains Vitamin C & E to help reduce free radicals and protect skin from harmful effects of the sun.
Directions:
- Hold 6-8 inches away from body and apply evenly on skin.
- Do not spray directly on face. Spray onto palm and spread evenly on face.
- Reapply after swimming, perspiring or sun exposure to ensure maximum protection
My thoughts:
I was pretty excited about this spray because I have never tried a spray sunblock before. I have tried suntan sprays but they don't count because they ain't sunblock.
When I sprayed this on, it felt rather cooling. I think that this is rather convenient as one can just spray it on quickly and engage in one's desired activity. I also like the fact that it is transparent, as it won't take much effort to blend in!
Join
Sunplay Facebook
as fan today to redeem your free Sunplay Superblock SPF 130PA+++ travel size sample!
Disclaimer: Product was sent by TheSampleStore for review purposes.