Viccal and Hanamei: Serums
Saturday, April 23, 2011
Viccal Serum Detoxify & Heal 2.11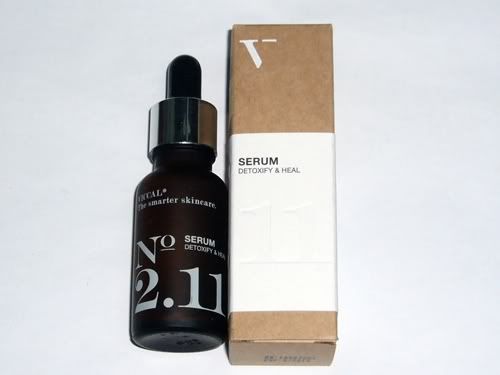 What is it:
Formulated with 11 active ingredients for calm, soothed skin. Yogurt enzymes deliver detoxifying benefits to repair and renew skin while artichoke antioxidants reduce inflammation and finish the visibility of pores over time, improving skin texture naturally.
Recommended for:

- Skin prone to breakouts, acne and mild eczema
- Skin prone to blackheads, whiteheads and oil seeds
How to use:
Apply 3-4 drops twice daily after cleansing and before moisturizing.
My thoughts:
I like the fact that this product contains no alcohol. I use it after cleansing and toning my face and before moisturizer. After using this product for about a month, I find that this product do reduce the size of my pores. As the product makes my face appear oily after application, I usually only apply it only if I am at home. I realised that after using this product, I find that my face produces lesser sebum and I need not touch up or blot my face as often.
Overall, I would rate this product 4/5, -1 because the price is rather steep though.
Retail Price: $165
Hanamei Intimate Beauty Treatment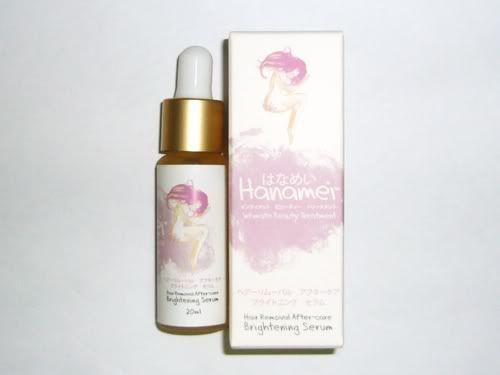 What is it:
This unique brightening serum contains multiple botanical actives that help minimize ingrown hair while lightening skin that has been darkened by hair removal and micro-abrasion. Formulated for daily use, this serum also moisturizes skin to maintain smoothness and suppleness.
How to use:
Gently pat a few drops on the desired areas after cleansing. For best results, use twice daily and massage until serum is fully absorbed into skin.
My thoughts:
Be careful when you use it on cuts, because it might sting a little. I usually apply this after I remove my armpit hair. I used to shave my armpit hair and thus it results in me having thick and coarse stubbles. Now I use a hair removal cream followed by applying Hanamei Initimate Beauty Treatment. I think that this is good for preventing ingrowth hair. The brightening effect is subtle though.
Disclaimer: Products were provided by TheSampleStore for review purposes.