Hope Girl - Smudge No More!
Thursday, April 21, 2011
The skin under our eyes is extremely delicate. Hence, constant tucking of it would cause wrinkles and sagging under the eye. You might not believe it, but I already have wrinkles on my under eye area when I smile. I am only in my early twenties!
As I love to apply kohl eyeliner and mascara, I would always end with with smudges on my under eye area. This led to me being very conscious of it. To the extent whereby I would check if my eye makeup did smudge each time I pass by a mirror or I would take out my pocket mirror from time to time to check if my eye makeup did smudge. Despite doing so, I remember on a few occasions, my friends would tell me, "Patricia, the area below your eye is a little black, you might want to check it out." So embarrassing, isn't it? Imagine if I was at a function or something and a stranger or acquaintance tells me that! I think I would be embarrassed to the maximum!
Besides, I always make sure that I do have a couple of cotton buds (at least 5-8 of them) in my makeup pouch so that I can remove my smudges. Even so, I run out of them at times. In my attempt to not resort myself to all these, I would choose to go without eye make up at times. As you all know, I have single-eyelids hence without eye makeup or double eyelid tape, my eyes look super small. And guess what? Small eyes = no confidence.
But wait a minute, I need not give up eye makeup totally, because Hope Girl Under Eye Magic Cleaner is here to the rescue!
Hope Girl Under Eye Magic Cleaner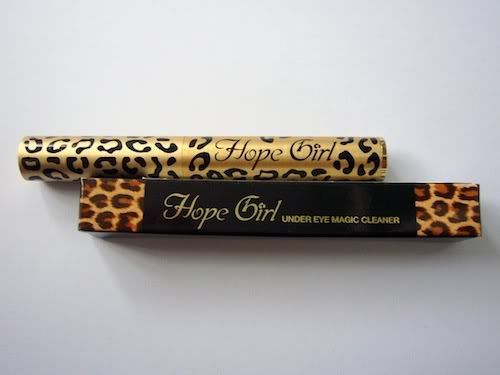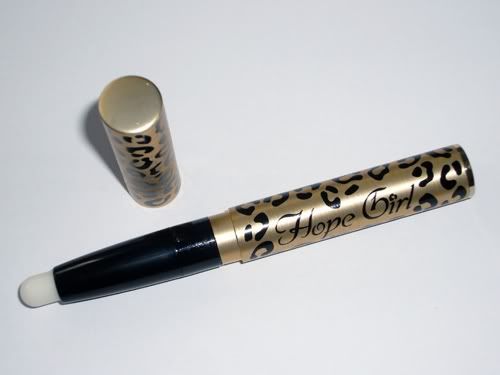 What is it:
Under Eye Magic Cleaner can easily remove smudges under eyes including waterproof eye makeup. Convenient for quick makeup changes & repairs without disturbing other eyes makeup.
- Removes smudges
- Convenient for make up repair
- Moisturize under eye
- Prevent premature sagging & wrinkles on delicate eye area
Ingredients:
Grapes seed oil, almond seed oil, mineral oil & shea butter giving a softness & moisture to delicate eye area.
How to use:
To remove any smudges or make up, simply glide on the area in 1 direction (either inwards or outwards) a few times.
My thoughts:
Well, this isn't my first time using Hope Girl Under Eye Magic Cleaner as I have tried it out in BHG Bugis the other time as well as their mascara which really lengthens! But for the most of you, this would be your first time seeing this product. So, for your benefit. I have put Hope Girl Under Eye Magic Cleaner to the test!
I was really excited to try it out to show you girls what it can do hence I did the test on the back of my hand instead of waiting for my eye make up to smudge.
Here I put two of my favourite products, Covergirl Lash Blast mascara and MAC Kohl Pencil to the test.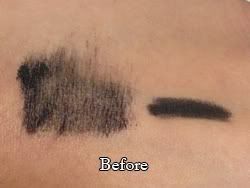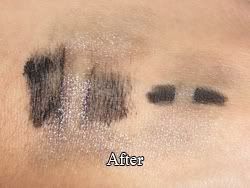 See how much it cleans up? It took me about 6-8 strokes to get the 'fresh' makeup off. However, it would certainly take lesser effort to remove smudges. And don't worry, it doesn't feel oily or sticky as it seems like in the after picture.
Have I triggered you in wanting to check out Hope Girl products? I think I hear some of you asking, "So tell me, where can I find Hope Girl?!"
You can find Hope Girl at
1) BHG Bugis
2) BHG Clementi
3) SYY (#07-01/02 Liat Tower - Orchard Road)
You can also purchase Hope Girl online, please register at
www.anoiv.com
to do so.
Disclaimer: Product was given to me for review and contest purposes.