My Beauty Diary: Black Pearl Mask
Friday, April 29, 2011
Hi lovelies, I thought I would do a quick post to share My Beauty Diary Black Pearl Mask which I got last year but I never really got down to use them until recently. I love My Beauty Diary masks and my favorites includes the Aloe Vera, Bird's Nest and Strawbery Milk ones. The Aloe Vera's really good for moisturizing, healing pimples and lightening scars. It can be even used on blemished or sensitive skin unlike Dermal masks which can't be used on affected skin. However, I can't seem to find the Aloe Vera one anymore in Singapore and even in Hong Kong. The Bird Nest's and Strawberry Milk ones are really good for brightening. You can really tell the difference upon using it.
My Beauty Diary Black Pearl Mask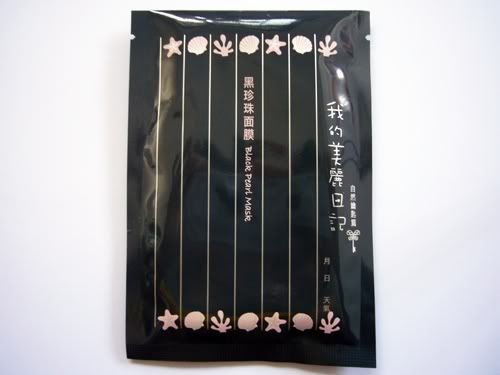 I bought the trial pack of 2 pieces of mask to try because I wasn't sure if the Black Pearl one would work and also because we all know My Beauty Diary masks ain't exactly the most price-friendly in Asia. In fact, they are mark up so much! Average prices in Hong Kong is about 48HKD ($8) and my friend, B whom went Taiwan earlier this year told me that Cosmo was only selling it a 299NTD ($13) for 2 boxes!! B recommended Sexylook face masks. She loves them so much that she really stocked up during her trip. Her sis swears by My Beauty Diary masks though. She told me that her sis uses face masks on a daily basis. FYI, B has the best complexion among the 3 of us. Even P agrees that B looks good with just sunscreen. No pimples, no spots, nothing! Life's so unfair!
Back to the My Beauty Diary Black Pearl Mask, like other My Beauty Diary Mask, it contains a lot of serum. I like the fact that it is very moisturizing. My skin did felt a little 'plumper' after using it. However, I did not observe any brightening effect even though it claims to brighten skin tone.
Repurchase: Maybe or probably no for I prefer the Bird's Nest and Strawberry Milk ones as it can brighten my dull skin tone.
When life gets too hard, or when you need a breather, just relax and put on a face mask. Listen to some Bossa Nova and sip some tea. You are bound to feel more relaxed.
I hope you liked this post.
Love,
Patricia