Daiso: Detergent for Women
Sunday, May 01, 2011
Warning: This is a post related to women intimate beauty.
Feeling blue because it's here? Or feeling blue because its so hard to get those stains off? Fret not, because I'm gonna share an awesome product with you girls today that will solve your problems!
Daiso Detergent for Women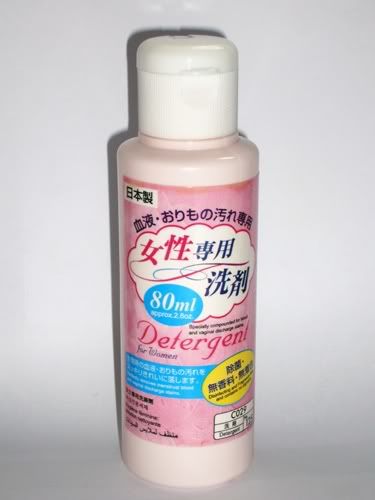 I bought
Daiso Detergent for Women
sometime in January this year but I haven't had a chance to fully test its effectiveness until today.
What is it:
Perfectly removes menstrual blood and vaginal discharge stains.
How to use:
Moisten underwear, apply an appropriate amount of the product, wash it by hand then machine-wash it with other clothes.
My thoughts:
It was the time of the month and I didn't quite expect it hence I had to try and remove the stains.
Unlike the instructions on the bottle, I first moisten the underwear before adding 2-3 drops of the detergent and scrub by hand before adding more water to scrub it again and rinse with water. Then, I repeated the steps mentioned above again before the stains are removed totally.
Boy, I was really impressed by how effective this detergent is for it is so good at removing stains that I just had to share this product with you girls! And its only $2!
Rating: 5/5 definitely
Say bye bye to stains now.
I hope you like this post.
Love,
Patricia