Recent Haul(s)
Wednesday, January 12, 2011
Hello lovelies, I thought I would share my recent haul with you girlies since I love haul entries by others. I haven't been hauling much beauty or makeup related stuffs lately because I have been spending more on clothes, shoes and other accessories. Anyway, here are the items which I got recently!
First we have the items that I got from Daiso. You guys should know by now how much I love this store!
Daiso Haul
(Face wash net, beauty scissors, detergent for women and for puff or sponge)
I went to Daiso with the intention to get the face wash net to faciliate lathering because I recall the merits of using Fancl's facial puff to work out a lather. However, as usual, I walked out with more items than what I have planned to get initially. I was looking for a replacement of the detergent for puff or sponge (because I accidentally dropped my barely used bottle in the toilet bowl) when I saw the detergent for women that caught my interest. I don't know why I haven't seen this product in Daiso before. It claims that it can even remove period stains. I grabbed a bottle since its merely 2 bucks. Although I haven't tried to remove period stains, I must say that this product is worth every penny as it totally removed the rusty-looking stain on one of my new cardigan which I haven't worn once.
I seldom rave about how good a product is, but I must say that I really love how the face wash net from Daiso makes lathering so much easier, without much effort! I am totally impressed by this product. With it, I will not experience any tireness from lathering with my palms.
This is how the face wash net looks like.
Directions:

Click to enlarge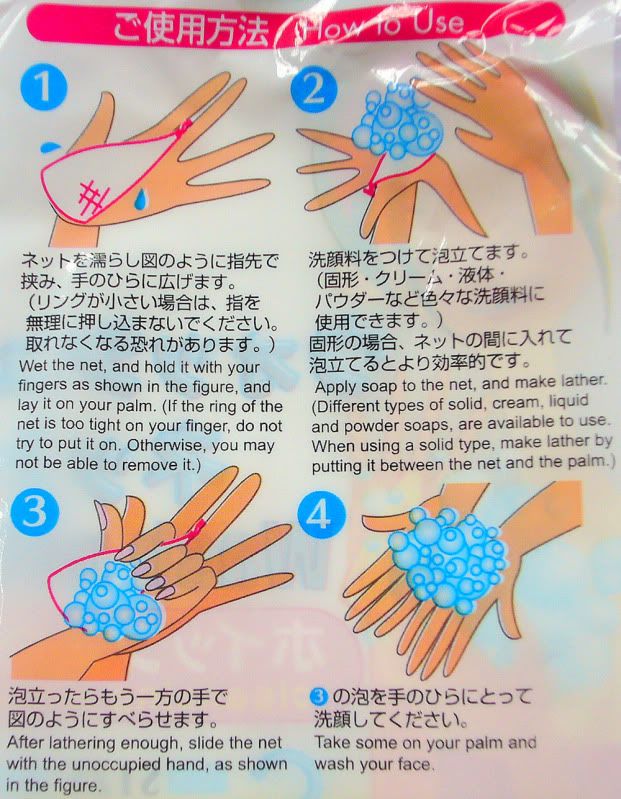 ---
Next, I am going to introduce you to yet another holy grail item of mine.
Watsons Haul
(Sebamed Clear Face Care Gel and Canmake Colorful Nails in 01)
Even though I receive many new/different products from skincare companies to try out, Sebamed Clear Face Care Gel is yet one of the items that I always repurchase. I started using the Clear Face range sometime back when I was a Junior in polytechnic. Even though I stopped using the entire Clear Face range now, Sebamed Clear Face Care Gel is still my favourite moisturizer. Why do I say so? Because I know I can count on it to reduce my blemishes or any redness overnight. No other product has worked that well for me. I got curious one day and I started reading the ingredients and I realised that it contains aloe vera. No wonder! Aloe vera helps to treat acne and has smoothing properties.
Don't you all just love Canmake nail polishes? I do, for sure. Anyway, I got this particular Canmake nail polish because I thought that it looked like one of the nail color that Dollywink carries but was out of stock. And it looked similiar, so why not?
---
The last item that I got was Cosmagic Sweet Deco Cheek in 001.


Sasa.com Haul
(Cosmagic Sweet Deco Cheek in 001)
Its so pretty isn't it? I got it because of the heart shape blush. I want the limited edition Sweet Deco Cheek by Kumicky but its only available in Japan. ): So I guess I have to make do with this for now.


The casing somehow resembles a diamond or crystal (so princessy)! It comes with a powder puff wand as well as a small applicator. I am rather keen to try applying blush with the powder puff wand and see how different it looks!
For those of you whom are keen, here is the step by step guide on how to apply the blush.
Click to enlarge.
I hope that you like this short entry. I will be back with good news to share with you lovelies! Am currently working on something BIG! Check back to find out more!

Love,
Patricia