Homemade Vegetable Soup and Watsons Haul
Friday, July 30, 2010
As you can see, yours truly has been back on a cooking frenzy which would probably last for just a while. You know I haven't been cooking a real meal for eons. And I seriously doubt I can do a good job on that.

Yea, as I have mentioned in my older post, I love making soup because they are as easy as abc. A friend once said to me that my SO would be very lucky because he would have nice soup to drink everyday. While I beg to differ because he would probably get tired of drinking soup every other day since I would be making it every other day! Laughs.

Anyway, I made vegetable soup the other day using just celery, carrot and tomatoes. Did I mention how much I love celery and tomatoes?

First, get all the ingredients ready.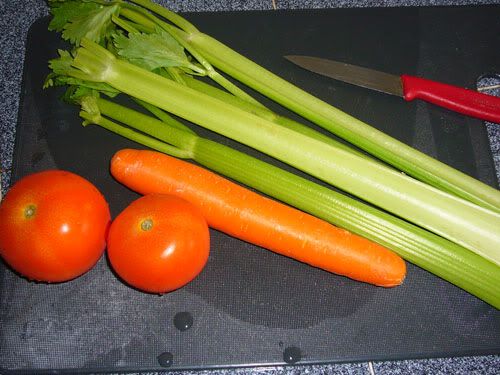 Chop them into slices for the tomatoes and dice the celery and carrots.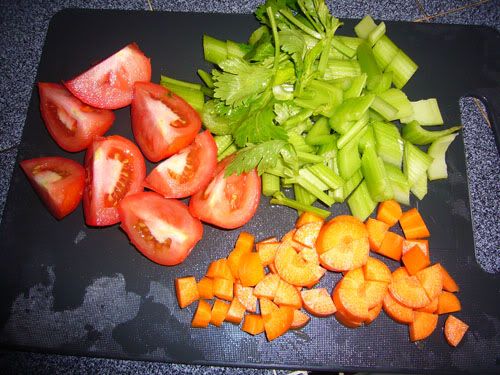 Once again, throw them all into the cooking pot and you're almost done.

Okay, probably not because I decided to add in beech mushrooms at the very last minute to make it more chewy. Well, women are always fickled-minded, not? You need not add any salt/sugar or soya sauce. Just drink it like that. Its flavorful enough, trust me.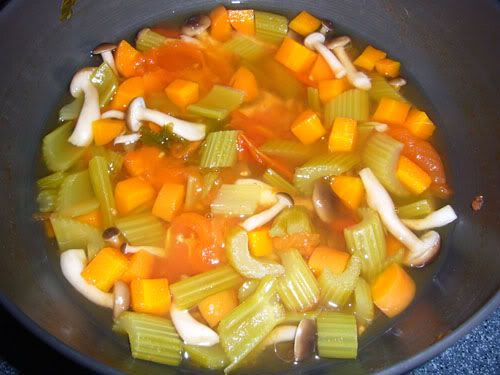 And you get to enjoy your very own homemade vegetable soup! I simply love the taste of it. What say you?
Okay, you are probably bored of my cooking related posts by now. So I shall reward you with some beauty related information now (because that is the reason why you came here for, no?)

So these are some stuffs which I picked up from Watsons a while ago. Notice that I don't post my purchases real-time, as in as soon as I get them? Well, because I have other commitments and taking pictures and resizing them do require a little bit of time. Oh, while we are at this topic, I must say that its a love-hate relationship with my digital camera. I hate how it fails me sometimes especially when I take pictures at night even with the flash on, but yet it produces beautiful quality during day time even without macro mode or flash and I don't even have to edit the lighting and contrast!

These are the stuffs which I got.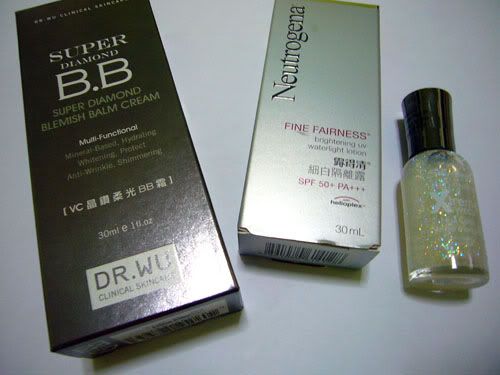 Dr. Wu Super Diamond BB Cream, Neutrogena Fine Fairness Brightening UV Waterlight Lotion and Sally Hansen Hard as Nails Xtreme Wear in Disco Ball
I bought the Dr. Wu Super Diamond BB Cream after seeing in it NRWZD and Kevin recommended it. I have used it twice but I felt that its quite drying on my skin compared to other BB Creams which I have used before. I also didn't really like the fact that it makes me look gray. It could be probably because of the way I used it. But on the first day I tried applying the BB Cream only, and the second time I applied a little pressed powder to set it. I would probably give it a few more tries before I come to a conclusion. Have anyone experienced the same problem like I did? On a side note, I saw Laneige's new BB Cream in Metro ytd. I want to try it so badly! But it costs like $49? At $39.90 for Dr. Wu's BB Cream, I already thought that it was expensive. But $49? I guess I probably won't fork out that much for a BB Cream because I would be able to use that amount of money to get a very decent foundation from mid-high end make up brands.
As for the Neutrogena sunblock, I'm totally loving it. I use it as a makeup base, or even after my 3-step skincare on days when I go without makeup. Its not greasy which I like! But, do be extremely careful when applying it because if it gets into your eyes, it stings badly, like big time!
Lastly, I'm totally loving the Sally Hansen Hard As Nails Xtreme Wear series. Disco Ball is my second bottle from the series. The first one which I got was Cherry Red which is a sexy red and it simply reminds me of SIA girls' nails. Disco Ball sparkles like literally disco ball. The sparkles are like AB crystals. So pretty!! And, it doesn't break your wallet at a mere $7.90 or $7.50. I can't remember. Do correct me if I am wrong. I don't know but I simply love Sally Hansen's nail polish. If you have been following my blog, you should know how much I adore Sally Hansen!

I am adoring nude lips at the moment. To achieve nude lips, apply a thin layer of concealer on your lips (you could use lip concealers or the normal concealer by dabbing it on or with a lip brush for a more refined look and apply your favourite nude gloss on it).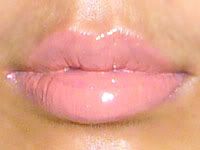 Products used:

1) Mac Select Moisture Cover
2) Canmake Nudy Glow in 03
Till then! ♥