Recently Spotted
Thursday, December 09, 2010
I was over at the newest shopping mall, NEX (Serangoon) last weekend. While most of the retails brands which I spotted were generic brands that can be found anywhere else, I was surprised to see Studio Tangs there as they have very few outlets in shopping malls.
Apart from that, I spotted RMK in Isetan and there was an area specially dedicated to kawaii Japanese handbags that comes with high price tags as usual. But they are all very pretty! Speaking of that, I want to check out the newly opened Samantha Thavasa store at Ion Orchard soon! Although I haven't gotten my pay check yet, I am already planning what to get. Laughs. Anyway, what is the first thing that you would like to get upon receiving your pay check? For me, I would want to get a coin pouch (I have been wanting to get one for the longest time ever, except that I can't seem to find a decent one), a new bag, a set of nail art pens along with some nail tools and shoes! My shoes are mostly worn out, not to mention that it has been raining so frequently these days and that definitely shorten the lifespan of my shoes as it means the glue coming out etc.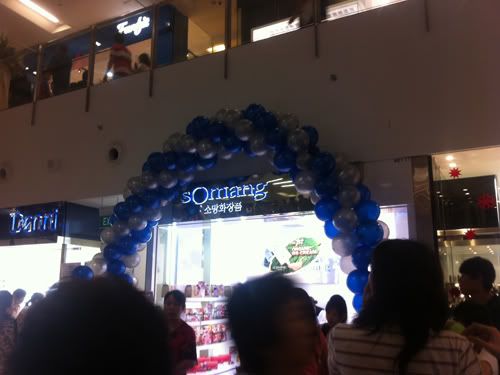 Back to NEX, I was so excited to see a new beauty store, Somang that I walked in hurriedly, only to realise that it is actually Beauty Credit renamed.
However, I did see some new organic BB cream which they were promoting at the moment. I just realised that I have not tried or bought anything from Beauty Credit before. Have any of you tried any products from Beauty Credit before? If you did, do let me know what is good yea?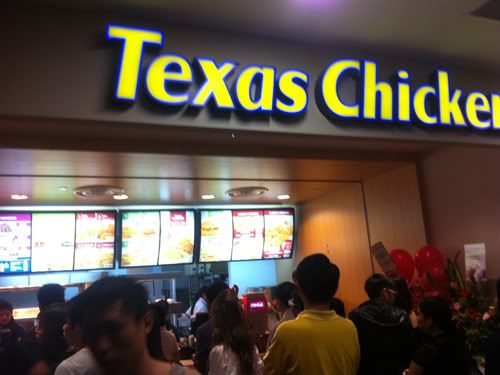 The next interesting tenant which I spotted is Texas Chicken. I bought the 2 pcs chicken meal and had a free piece of chicken which totaled up to 3 pcs of chicken! Luckily I wasn't greedy for I wanted to order the 3 pcs chicken meal initially. If I really did, it would turn out to be 4 pcs of chicken instead. The chicken is really spicy I must say. But I did like the fact that its so crispy!
Anyway, both the menu and food from Texas Chicken reminds me so much of Popeyes! Could it be a case where both are managed by the same company that operates after different name? You know, marketers like to play around with names sometimes to attract different target market/crowds as well as to gain more market share.
---
I went over to the Watsons at Jurong Point wanting to get some fake eyelashes from Ardell and Dollywink. To my disappointment, Dollywink No. 1 was sold out and I couldn't find any Ardell eyelashes there.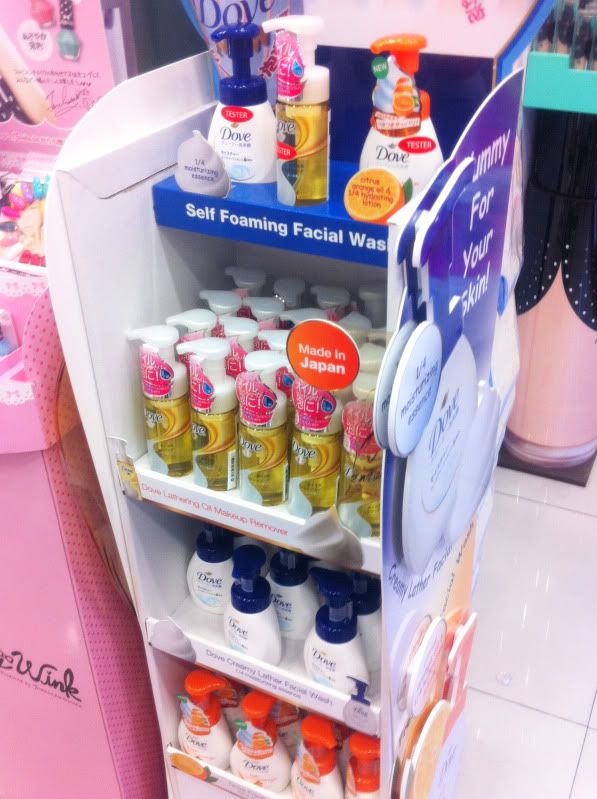 But I did spot the new range of skincare from Dove which include Dove self foaming facial wash and Dove oil foam cleansing. I remember seeing these two products in NRWZD magazine and they were practically found in every Sasa, Bonjour and Watsons in Hong Kong.
Anyway, I realized that most of the items which I saw in Hong Kong which weren't available in Singapore before my trip are available now. Some of which includes Kate Makeup BB Base, Majolica Majorca Holdiday Collection 2010. I am surprised at the efficiency because normally Singapore is very slow in bringing in new collections.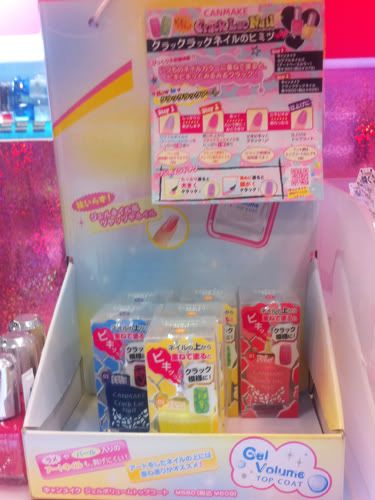 I also saw a lot of new nail polishes from Canmake. I really like one of the latest nail polish which had got gold sparkling bits in. It was priced at $17.90 which I doubt I would spend that much on a bottle of Canmake nail polish.
But what caught my eyes was the latest collection of Canmake Crack Lac Nail. I always think that cracked nail polish looked so interesting. There were a few occasions which I wanted to get it but somehow I didn't because my friends or family never fail to tell me how tacky it looks.
Before heading to the train station, I was drawn to a huge Precious Moments Christmas tree because of the music played as well as the moving visuals. Check out the video below which I recorded specially for you guys to see it for yourself! A truly magical moment not to be missed!