Project Finish It Up: January, February and March
Tuesday, April 10, 2012
Because I haven't been posting Project Finish It Up regularly these few months, today's Project Finish It Up would be triple digest (you'll know what I mean if you're an Archie comic fan).
Anyway, as you can tell, I have been using a lot of facial sheet masks recently to hydrate my skin.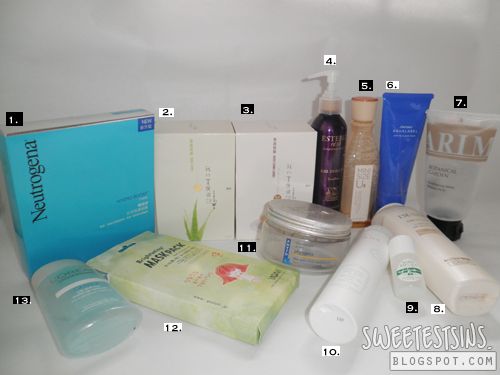 1. Neutrogena Hydro Boost Mask
This wasn't as moisturizing as what I thought it would be. For the price, I think I would rather get My Beauty Diary or Neogence facial masks.
Rating
: 3/5
2. My Beauty Diary Aloe Mask
This is the very first My Beauty Diary facial mask that I have tried when I was first introduced to My Beauty Diary. I like the fact that it moisturizes and soothes redness at the same time. I usually use it during the time of the month when I have breakouts.
Rating: 5/5
3. My Beauty Diary Bird's Nest Mask
This was recommended to me by my friend Xue Er and I like it because its very moisturizing. Although it says that it has got whitening properties as well, I think that the moisturizing effect is more prominent. Hence, I would say, get it if you are looking for a moisturizing facial mask instead of a whitening one. My bestie, Carissa whom have tried both My Beauty Diary Bird's Nest Mask as well as Watsons Bird's Nest Mask said that she like the latter more.
Many of my friends have raved about the Watsons Bird's Nest Mask but I haven't tried it out myself yet. Do let me know if you have tried out the Watsons Bird's Nest Mask and share your thoughts on me with me.
Rating: 4/5
4. Estebel Lavender Shower Gel
This was a gift with purchase from
a particular issue of Lofficiel
.
I must say that I quite like it for its relaxing properties. If you haven't already know, im a fan of relaxing or lavender shower gel.
It's comparable to the
Crabtree and Evelyn relaxing shower gel
.
Rating
: 5/5
5. Etude House Mini Size U Pore Powder Toner
When I first started using this, it made my skin so dry! I suspect that it is due to the fact that it contains alcohol.
It contains a powder and liquid. To use it, simply tilt the bottle so that it will mix.
After prolonged use, I realised that my pore size did reduced a little and that it keeps my face matte for a longer period of time.
Usually when I switch skincare, my skin takes a while to adjust to it before I can notice the effects of using that particular skincare. This is why I always recommend everyone to try out products for at least a period of 2 weeks before deciding whether the product is suitable for you.
Rating
: 4/5
6. Shiseido Aqualabel White Clear Foam
This contains tiny little scrub beads which makes it - a cleanser and a scrub.
When I first switched to using this cleanser, my friend, Abi was like, "Hey pat, what did you do? Your skin became brighter!" That was when I realised that this cleanser does help to brighten up my skintone. It could also be due to the fact that I seldom scrub my face. I know that is a very bad habit but I really don't like to scrub my face due to some scrubs being too harsh on the face. I have found out a way which is to mix my cleanser and scrub in the ratio of 1:1 so that it is more gentle on my skin. Having said that, I am constantly reminding myself to scrub my face at least once a week to get rid of the dead skin as well as to help to brighten up my skintone.
Brightening effect:
4/5
Moisturizing effect: 3/5
In terms of brightening, Shiseido Aqualabel White Clear Foam is not too bad but it can be a little drying on the face.
Overall rating:
3.5/5
I would say that this is a good to have, though it isn't a must-have.
7. Arimino Botanical Garden Conditioning Mask Moisture Rich
I wish I tried this out sooner because it makes my hair feel so smooth after each wash and it makes my hair shine too! The best thing is that it doesn't make my hair feel oily after a few hours unlike how some hair mask or treatment do.
I'm definitely gonna add this to my holy grail product list. The only drawback would be the price which is on the high side (about $50+) if I never remember wrongly.
Rating: 5/5
8. Tsubaki Damage Care Conditioner
I have tried both the shampoo and conditioner from this range but I like the conditioner more than the shampoo. This is because my scalp tends to get oily at times when I'm stressed but I have dry hair. Hence, it is very important for me not to choose a shampoo that is too rich for my scalp. So far, the only two shampoos that doesn't irritate my scalp are Head & Shoulders Smooth and Silky and
Pantene Nature Care Shampoo
.
Rating: 4/5
9. Mario Badescu Enzyme Cleansing Gel
It takes a while to get used to the herbal scent and some people might not like it.
After cleasning with it, it makes my skin feel very smooth and it doesn't make your skin feel tight.
Rating: 4/5
10. RMK Body Soap N
This was a gift with purchase (GWP). I think that it is very refreshing but it can be a little drying.
Rating: 3.5/5
11. Phytojoba Intense Hydrating Mask

I have reviewed this before over at
http://sweetestsins.blogspot.com/2010/12/phyto-hair-products.html
but I thought that I would share some additional thoughts with you guys anyway.
I find that this hair mask gives my hair more volume after using it.
Although it is not the best for moisturizing the hair, this is something that I know I can count on even on days when my hair is very prone to oiliness
Rating: 3/5
12. Yadah Brightening Mask Pack
13. Loreal Gentle Lip and Eye Make-up Remover
I have to use quite a bit of this in order to remove eye makeup and follow up with cleanser to get everything off.
I hope you all enjoy reading this post.
Thanks for reading!
Lovce,