Kose Esprique Makeup Workshop with Clarence Lee
Friday, April 06, 2012
Hi lovelies, I hope that you guys have been enjoying your weekend so far! Make sure you use this weekend to catch up on some sleep if you have been lacking some and do something that you never have the chance to do normally such as enjoying a wholesome breakfast in a cafe while reading your favourite book.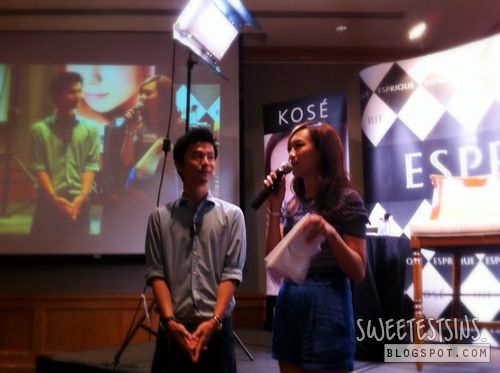 About 3 weeks ago, I was invited to Kose Esprique Makeup Workshop and they had celebrity makeup artist, Clarence Lee over to share with us about one stroke beauty and Lim Pei Fen, 93.3fm DJ as the emcee of the day.
Read on to find out more about one stroke beauty as well as skincare and makeup tips from Clarence Lee!
According to statistics, women spend 20 minutes on average to put on makeup on weekdays and 22 minutes on weekends. How long do you spend on average to put on makeup? For me, I usually spend 10 minutes, or at the very most, 15 minutes on weekdays. For weekends, I can spend up to an hour!
Common mistakes that women make (according to Clarence Lee):
1) Using wrong shade of foundation
2) Using wrong shade of concealer
Tips from Clarence Lee:
1) Moisturizing your skin is very important! This is because the first thing people notice is your skin and not your eye makeup, so having good skin is very important.
2) Cleansing makeup with cleansing oil and even if you only have sunblock on. Even guys can use cleansing oil.
I like Clarence Lee because he always share a lot of skincare and beauty tips with us, not to mention that he's really humorous as well.
And it was time for makeup demonstration on model, Yuri. Yuri is really pretty, she has got huge eyes and Pei Fen was saying that she looks like Xiong Dai Ling which I agree.
1) Start off by applying Kose Esprique Lucent Lasting Base UV 50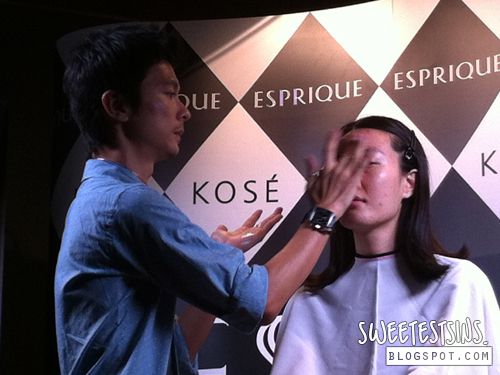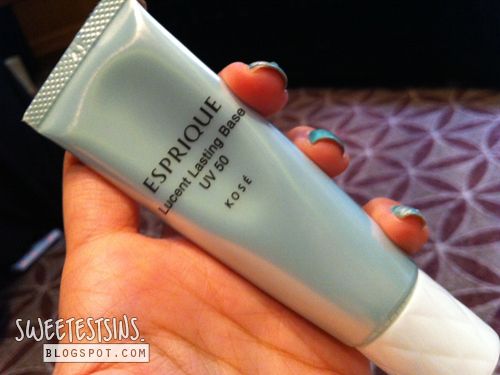 According to him, this adds a tint to your face, refine pores and skin texture as well as give that translucent look (透明感).
2) Next, apply Kose Esprique Pore Mat Keep UV.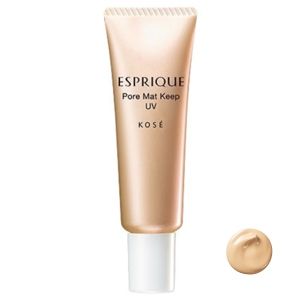 This helps to make pores less obvious. Focus on areas that pores look more obvious.
3) Next, apply Kose Esprique Forming Beauty Liquid UV using downwards motion.
This is because our hair grow downwards.
If you are concerned that applying foundation downwards might age your skin due to gravity, use a makeup sponge instead like how Clarence Lee does in the picture below.
Clarence Lee said that he likes to use his fingers to apply foundation as our fingers are warm so it allows foundation to glide on more easily and make it more even.
Having said that, there are also times when he use makeup tools such as makeup brush and makeup sponge.
Makeup brush: To dab concealer on pimples.
Makeup sponge: To take off excess foundation.
For beginners, Clarence Lee suggest to apply foundation with either makeup sponge or brush. Pei Fen says that makeup brush might leave streaks behind if one is not quick enough. In my opinion, for beginners, I would suggest applying with a makeup sponge as I think that it is easier that way.
Common mistake that women make during foundation application:
1) Forget to apply foundation at the bottom of the nose
2) Never blend well at the jawline
See, I told you that this is gonna be an super informative post and I wasn't wrong about it right?
4) Apply and blend darker shade of Kose Esprique Nudy Concealer on pimple/blemishes with brush and then use sponge tip to soften it.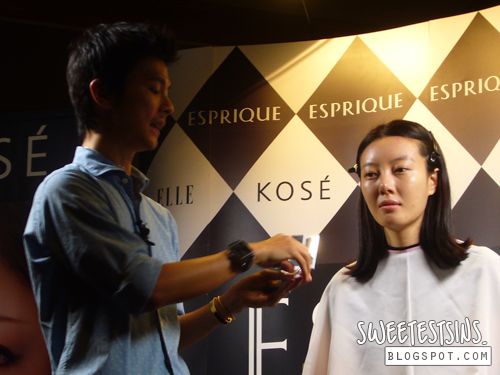 To conceal dark under eye circles: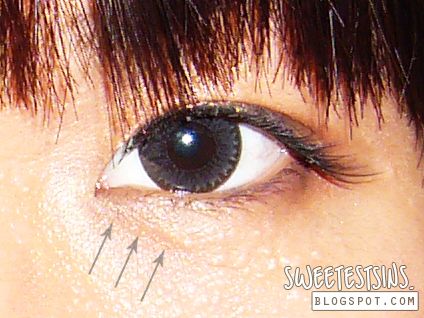 - Use a darker color on the line (see picture above)to lift up eye.
- Use as little product as possible as more product build-up would lead to more lines showing.
5) Dab Kose Esprique Forming Beauty Pact UV lightly on face.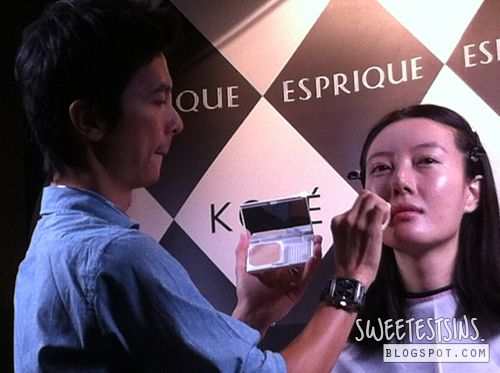 Don't forget the bottom of your nose and remember to blend into your hairline.
Guess what? Kose Esprique Forming Beauty Pact UV contains hyaluronic acid!
6) Apply Esprique Shade Control Stick and Esprique Light Control Stick to contour and highlight your features respectively.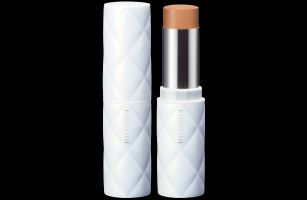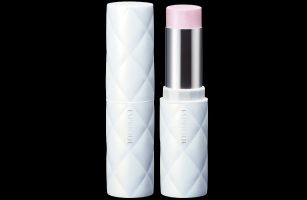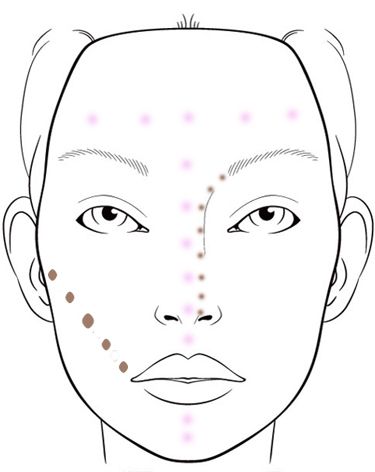 *Brown - Contour, Pink - Highlight
Esprique Shade Control Stick:
Feel your cheekbones and shade just below the hollow part. You can use it on the jawline too.
If you have a broad forehead, you could also use Esprique Shade Control Stick to contour it.
The difference between a contour powder and bronzer is that the primary purpose of bronzer is to make your skin more tanned. It is not advisable to use shimmery bronzer for contour as it wouldn't have the contouring effect. Opt for a matte contour product instead.
Esprique Light Control Stick
Apply on T-zone, chin area and above cheekbones for that glowy effect.
For those who have oily T-zone, use sparingly on T-zone.
The good thing about these control sticks is that you can use it over your makeup.
7) Apply Kose Esprique Loose Face Powder to set your makeup.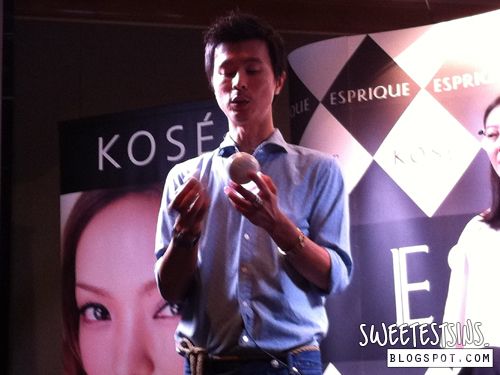 8) When applying eyeshadow, start with darker to lighter shade from outside of the eye to inside. This will help to lift up your eyes.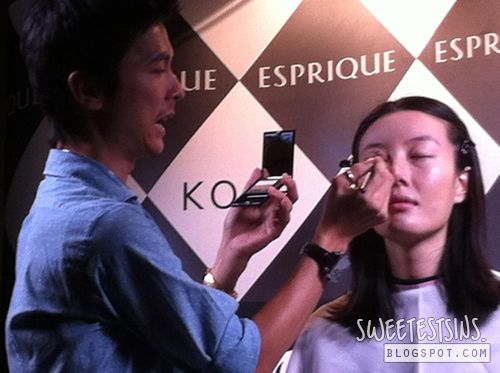 For smokey eyes, use the darkest shade of eyeshadow to line the eyes. This trick is great for those whom are new to eyeliner as well.
Tips for applying eyeliner:
- Make sure that it is thicker and longer at the side
- Stop at where the lashes end but draw the tail up to create a winged effect.
- Start by drawing from outside to inside
9) Curl your lashes and apply mascara.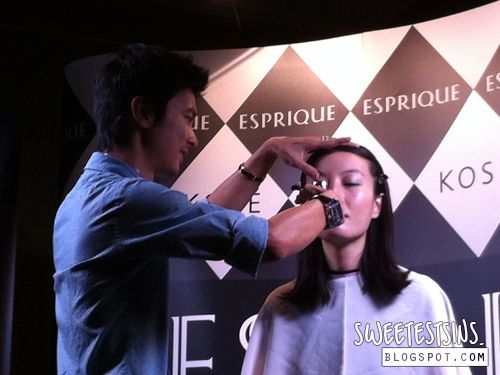 When curling your lashes, make sure you curl your lashes 3 times. Starting from the root - middle - ends.
Apply waterproof mascara as this will help lashes to stay curled.
Clarence Lee recommends using volumizing mascara as it makes eyes look fuller.
Tips for drawing eyebrows:
- Start drawing from the arch (outwards first then work inwards)
- Avoid drawing your brows too long as it will make you look sad.
This will give you a youthful look.
Remember not to use strong lip colors if you already have intense eye makeup.
One last tip: Apply loose powder over eyeliner to prevent it from smudging.
Thank you Dana for the invitation to Kose Esprique Makeup Workshop!
Here are the products that I was given to try. Don't you girls love the lace pouch and the black Chanel quilted bag lookalike foundation casing? Its so pretty right? *Squeals with delight*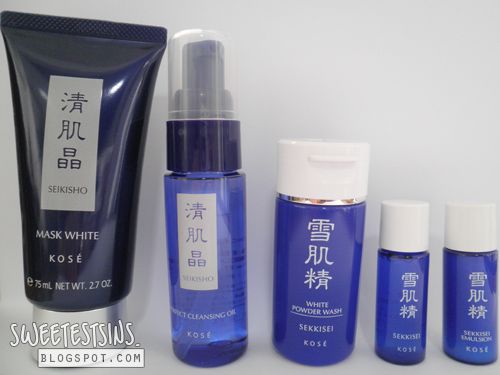 I haven't tried the products as of yet but I will sure update you all when I do.
Having said that, Kose Mask White is one of my Holy Grail product which I have mentioned it a number of times in my blog posts over
here
and
here
.
Last but not least, I hope that you all enjoy reading this post. It took me longer than usual to draft this post because of the information overload but nevertheless, enjoy your weekends!
Love,