Recent Beauty and Makeup Haul
Sunday, March 18, 2012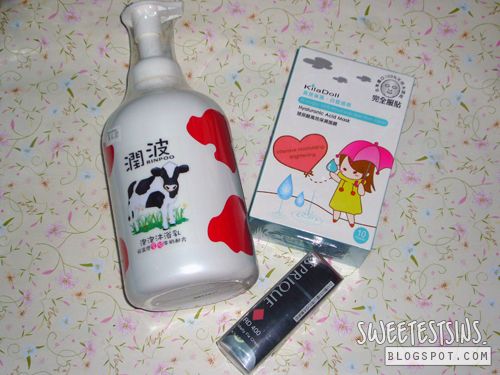 While I haven't been buying much beauty-related stuffs lately, I thought that I would share the few items that I have gotten lately. I don't know about you, but I really enjoy reading haul posts, especially travel haul posts because normally people haul a lot and you could discover many new products or holy grail of others via there.
First up, we have got -
Rinpoo Bubble Shower Foam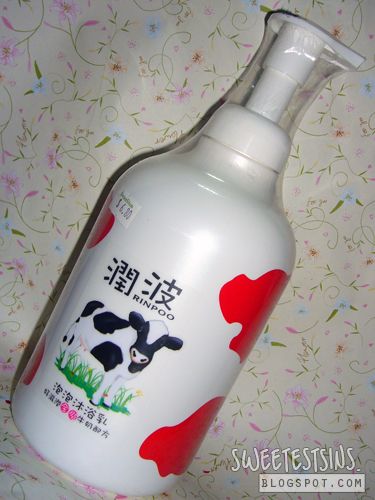 For those whom can read Chinese, here's the description.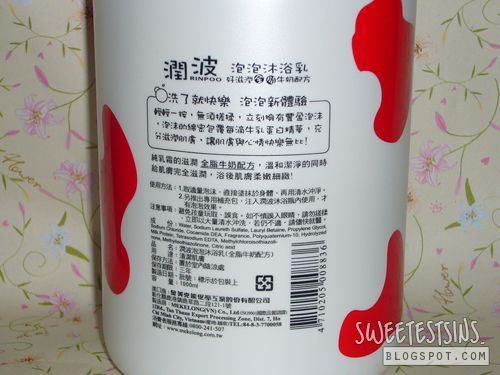 For those whom can't read Chinese, fret not. Basically, it says that it is made from full cream milk. Gasps! Did you girls hear that? Its made of full cream milk. While we all know that full cream milk is a no-no especially for us girls whom want to maintain our waistline, but now we have another way of indulging ourselves by showering with it!
Anyway, I came across this bubble bath while Mommy and I were getting some necessities over at People's Park. I'm sure that most of you would have known by now that the toiletries and skincare over at there is cheaper than in supermarkets and departmental stores. I was browsing and I came across this bubble milk bath and out of curiosity, I picked it up to read its description. And before I knew it, I paid and walk out of the store with it.
What excite me most about this bubble milk bath is that milk baths are moisturizing! Besides that, this milk bath has gotten the FG award which one of the Heme facial masks has gotten too!
KilaDoll Hyaluronic Acid Mask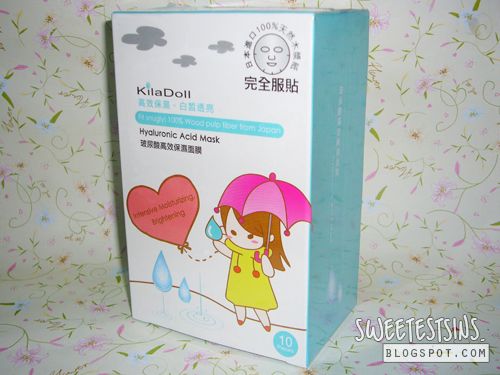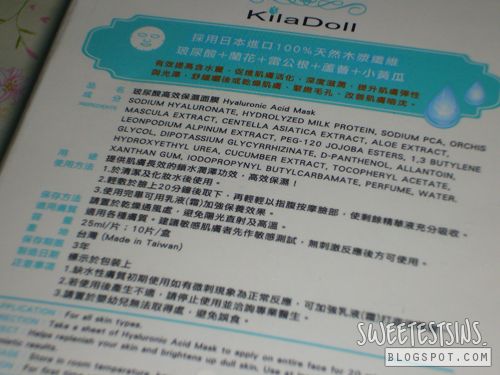 My face has been rather dry lately so I got this after checking out various hydrating/moisturizing facial masks over at both Watsons and Sasa as I am running low on my moisturizing/hydrating masks. I have got a lot of whitening masks though.
Due to the fact that I stay in an air-conditioned place for almost 10 hours a day or more than that at times, my skin became rather dry and my facialist advised me to stop my whitening routine and feed my skin with moisturizing products instead. This is because most whitening products contain Vitamin C which makes our face drier. She also said that moisturizing or hydrating masks can be used on a daily basis but that is not the case for whitening masks.

In fact, I just opened this box of KilaDoll Hyaluronic Acid Mask and I have got one of it on my face as I am typing this post. Can't wait to know if it gives me the results that I want as well as to share my thoughts on this facial sheet mask with you all!
Kose Esprique Melty Fix Cheek in RD 400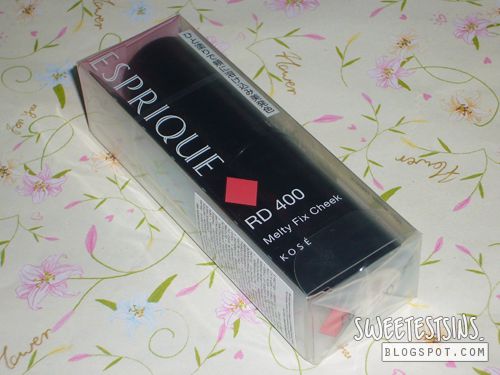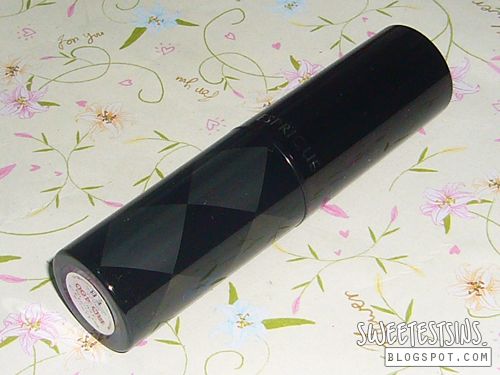 Got this quite sometime ago (in late February) but only got to posting about it now. Speaking of which, I haven't even opened it until just now in order to take pictures of it.
As usual, I was browsing through the cosmetics available at Metro Causeway Point. And then Esprique Melty Fix Cheek caught my attention! Hence I went on swatching all of the colors available. Upon seeing me swatching the colors, the SA approached me and told me that I should go for the more coral-looking color which was the color that I first swatched and wanted to get anyway.
I think that Esprique Melty Fix Cheek is pretty convenient as it fits into any makeup pouch easily. Plus, its hygienic too as it comes in a tube form and you won't have to use your fingers to apply it, apart from blending (of course you could also use a brush).
The SA commented that I have got high cheek bones so I should accentuate them with blush and contour.
I have never tried or gotten any Esprique products prior to this apart from
Esprique Precious Heart Graphical Rouge in PK 832
but I trust that I will be getting more of Esprique products!
Have you all tried any products from Esprique before? Did you like them? Do let me know by commenting yea?
I hope you like this post! Thanks for reading.
Love,