Enavose: FloraComfort Micellar Cleansing Water
Wednesday, March 21, 2012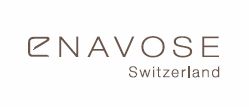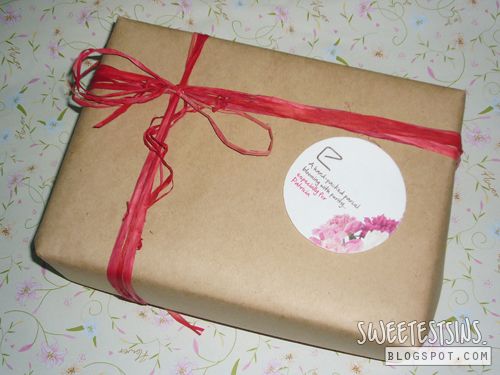 About 2 weeks ago, I received Enavose FloraComfort Micellar Cleansing Water and I have been using it daily at least once a day (mostly at night to remove my makeup). Sometimes I use it in the day as well in place of my regular cleanser and then just rinse my face with water after that.
Before we dive into the review section, I just wanted to show you all how simple and environmental-friendly the packaging is.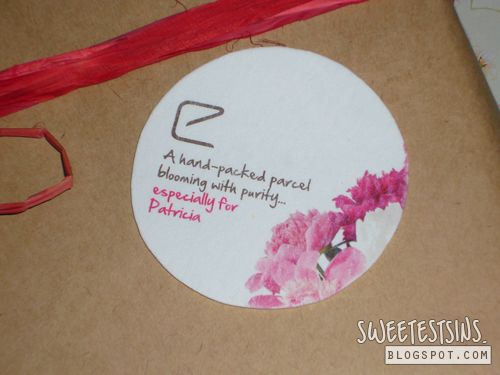 It so pretty, isn't it?
It feels good to unwrap a parcel, no? Makes me feel like a child unwrapping presents all over again!
Thought that the contents will be revealed right after unwrapping the parcel? Well, not yet.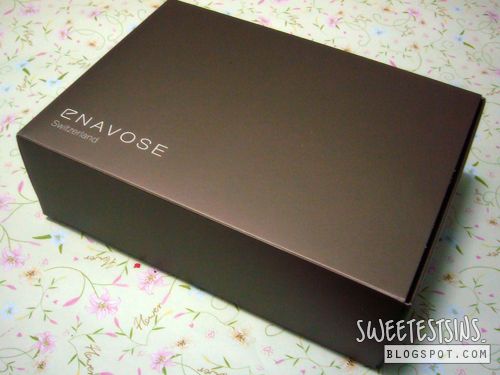 Now, the design of the box reminds me very much of a matchbox! Don't you all think so?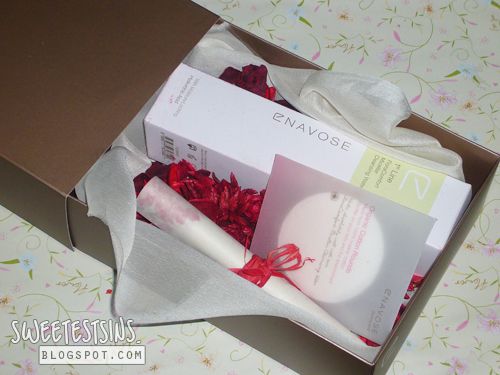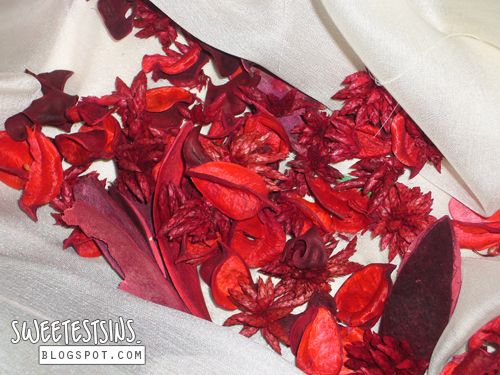 There's also organic cotton rounds in the package!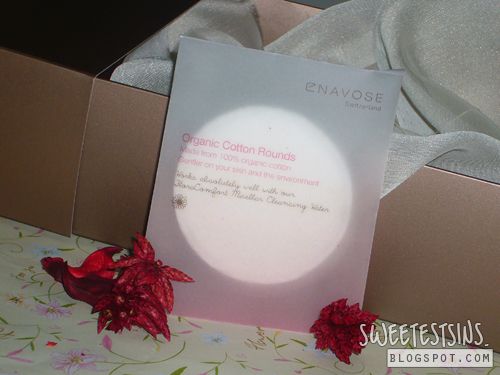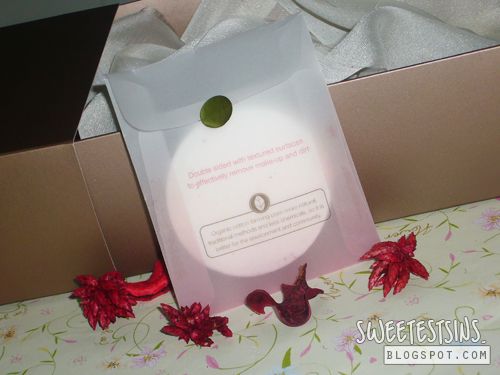 Even before these organic cotton rounds from Enavose, I have been using cotton rounds because removing makeup is so easy with them! You could use the lined size and rest on your eyes before using the other (smooth) side to clean away the residue.
Check out the press release! Its in the form of a scroll!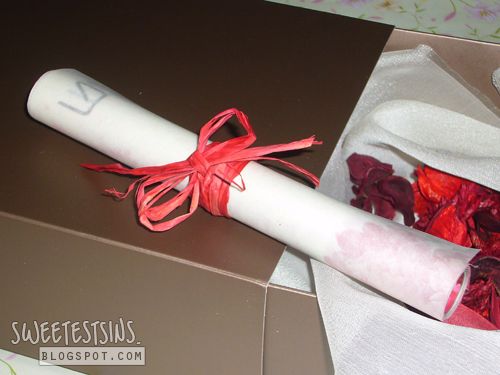 FloraComfort Micellar Cleansing Water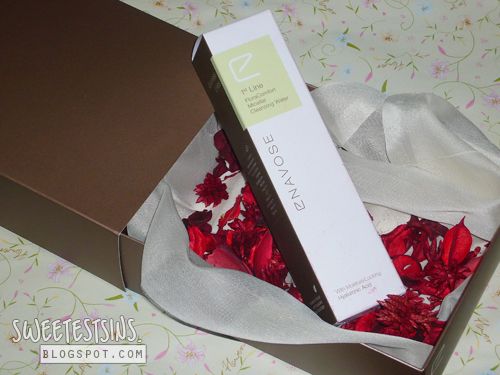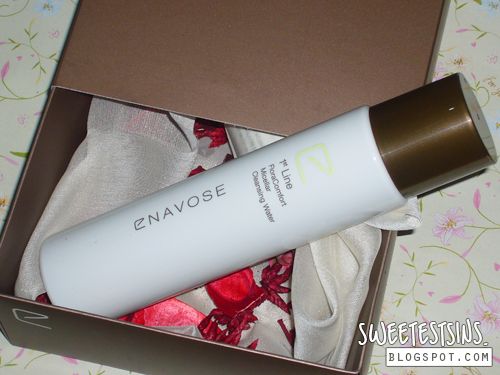 Description:
Delicate no-rinse cleanser captures impurities while hydrating skin. Perfect for on-the-go cleansing.
Product Claims:
- 1 minute express cleansing that removes makeup, dirt and impurities
- No rinsing required
- Encapsulated Siwss Glacial Water nourishes skin with purity and hydration
- Use on face, eyes and lips.
- Leaves skin throughly clean, fresh, revitalised and ready for serum and moisturizer.
- Does not strip skin of its moisture and natural oils
- suitable for sensitive skin and rosacea conditions
- doesn't make skin feel tight or uncomfortable after cleansing.
- Fragrance-free, Alcohol free, Oil-free
Ingredients:
Cornflower Flower Water, Swiss Glacial Water, Organic Leontopodium Alpinum Extract (Edelweiss), Sodium Hyaluronate, Organic Glycyrrhiza Glabra Root (Licorice) Extract, Natural Preservative Blend of Wasabi, Ginger and Radish.
To test out the effectiveness of Enavose FloraComfort Micellar Cleansing Water, I used it consecutively for 5 days and I took pictures to show the condition of my face after each use.
WARNING: Bare-faced pictures ahead!
5-Day No-Rinse Challenge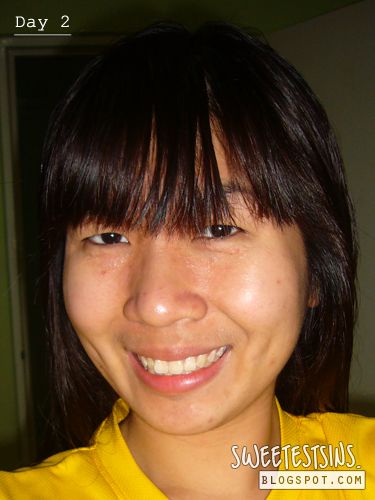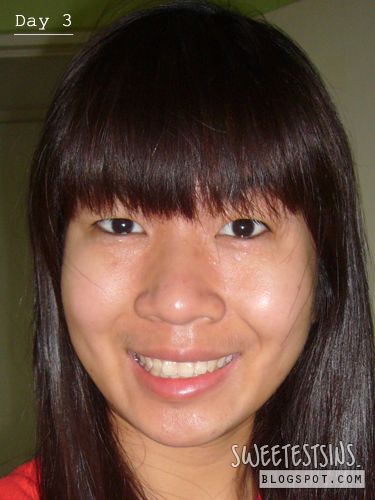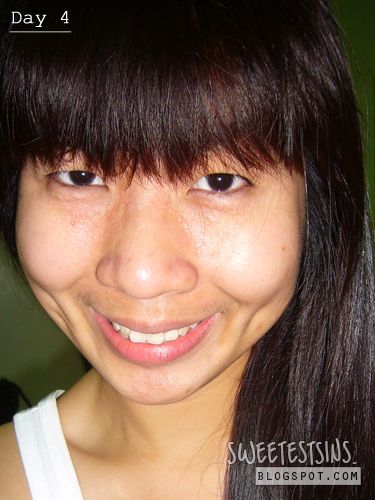 My thoughts:
As you can see from the pictures above, the condition of my face on Day 1 was quite bad with a lot of visible post-acne marks and I was experiencing a bit of redness on my face as well.
My first impression of Enavose FloraComfort Micellar Cleansing Water was not too bad as its able to remove my base makeup as well as lip makeup as these are the usual products that I apply on a daily basis. Plus, my face feels so smooth after each time I cleanse my face with it!
On the 2nd and 3rd face, I did apply eye makeup. Enavose FloraComfort Micellar Cleansing Water is able to remove eyeshadow rather effectively but it gets a little tricky when it comes to eyeliner and mascara as you really have to place a cotton round with Enavose FloraComfort Micellar Cleansing Water and hold it onto your eyelid area for a while and repeat it for about 3 times. You might also want to use cotton buds to assist you with the removal of eyeliner and mascara, its much easier with them.
While I was rather skeptical about not rinsing or following up with my regular cleanser after removing my makeup with Enavose FloraComfort Micellar Cleansing Water, I must say that I am rather pleased with the results, I mean if you were to compare my picture on Day 1 with Day 5, you would notice that my skin cleared up a bit and the redness subsided.
Apart from that, I also realised that my skin, especially my forehead and cheeks weren't as dry as before. I suspect this is due to the fact that this is due to the fact that I didn't double cleanse like I usually would. Double cleansing is good because you can remove more impurities but the downside is that it can be a little drying so it's not advisable for people whom stay in air-conditioned place most of the time.
On the overall, I would give Enavose FloraComfort Micellar Cleansing Water a rating of:
Rating: ★★★★☆
Minus one star because it's a bit tricky to remove eyeliner and mascara with it.
I know you all must be thinking, "Patricia, can you tell us where is Enavose located already?"
Scroll down for Enavose outlet details!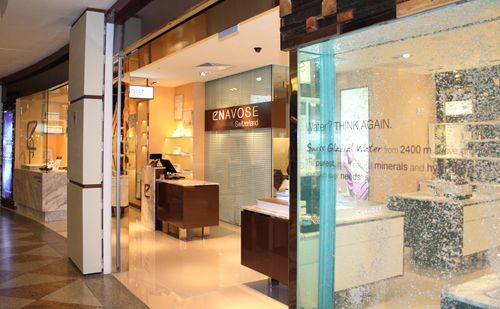 Enavose Concept Store
Suntec City Mall, Tower 3, #02-079/081
Beauty Counter
Tangs, VivoCity Beauty Hall
Online Store (available 24/7 with free shipping islandwide)
There is also a "My FloraComfort Cleansing Buddy" Facebook Contest going on over at
http://www.facebook.com/Enavose
, just share when you would most love to use this versatile cleanser and the 3 entries with the most number of 'likes' get to win an Enavose hamper worth $145 consisting of the Glo Enzyme Power Wash and Alpine Edelweiss Dew and Nutritive Hydrator.
I hope you like this post! Thanks for reading!
Love,
Patricia
Disclaimer: Product was provided for review purposes.