Yadah Skincare: Bubble Deep Cleanser, Brightening Ampoule and Brightening Mask
Monday, February 20, 2012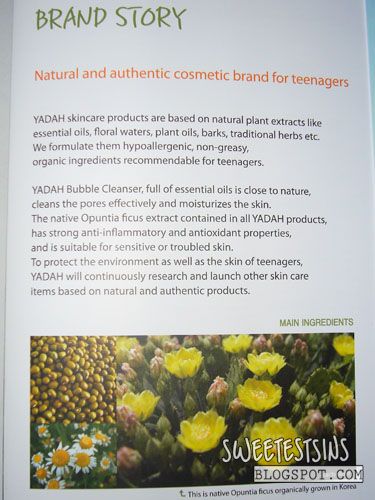 Hi lovelies, today I am going to share my thoughts on a few products from a new Korea skincare brand, Yadah Skincare.
I don't think I need to elaborate any further in regard to my immerse love for everything Korean, from Kpop to K-dramas and of course Korean skincare and makeup!
These are the products that I picked out to try. As usual, the bulk of them are brightening products because I am very into whitening and brightening products.
Yadah Bubble Deep Cleanser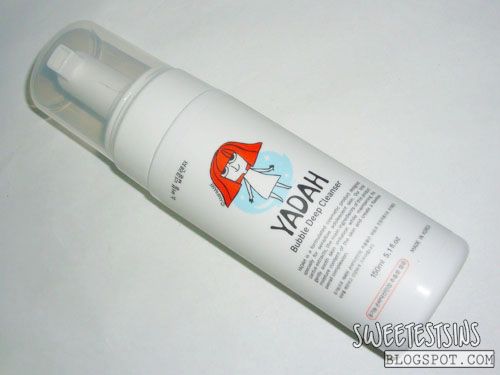 What is it:
Amino Acid Surfactant Organic Opuntia ficus extracts.
Gently wash away impurities and excess sebum and makeup with an instantly foaming facial cleanser.
Directions:
Release two or three pumps of foam (into the palm of the hand) and apply to wet skin with circular movements.
Rinse with tepid water.
Use every morning and evening, avoiding the eye area.
Ingredients:
Opuntia Ficus-Indica Extract, Phaseolus Radiatus Seed Extract
My thoughts:
This is the 2nd bubble cleanser that I have tried, the first one being
Amethystory Mineral Bubble Face Wash
.
My first impression of Yadah Bubble Deep Cleanser wasn't fantastic as I was experiencing some breakouts then and whenever I use Yadah Bubble Deep Cleanser to wash my face, those areas where my pimples are in the midst of healing would hurt slightly. However, I must say that my face feels smoother each time after I cleanse it with Yadah Bubble Deep Cleanser.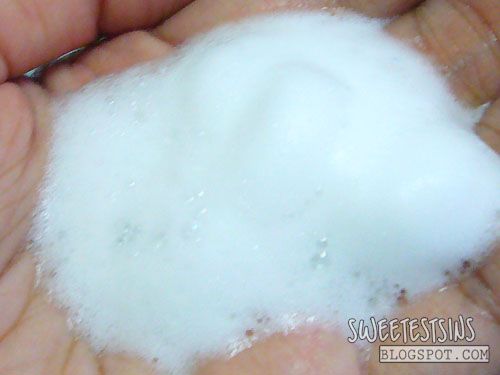 The foam dispensed is also thicker and denser compared to the other bubble wash that I have tried previously.
I also like the fact that Yadah Bubble Deep Cleanser comes in a pump bottle and has a cap which makes it more sanitary.

Overall, I think that this is not too bad for a bubble cleanser, except that you might want to avoid using it whenever you have pimples that are in the midst of healing.

Rating: 3.5/5
Yadah Brightening Ampoule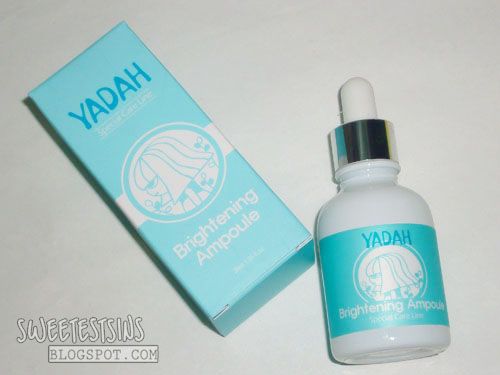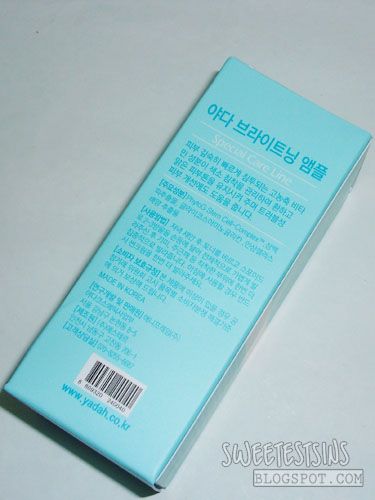 What is it:
Highly condensed vitamine content is fast absorbed deep into the skin, keeps the skin bright and clear and helps improve the trouble skin by controlling pigmention.

Nicacinamide content makes the skin clear and bright and is effective for anti-acne.

Glycosaminoglycan content sure moisturizing which whitening.

Directions:
After washing face and toning, apply 2-3 drops on the whole face.

Ingredients:
Stem Cell (Plant stem cell culture fluid), niacinamide, glycosaminoglycan, sunflower extract, scutellaria extract, morus bark extract, thuja extract.

My thoughts:

By now, I have incorporated ampoules and serums into my daily skincare routine. Trust me, it does make a difference!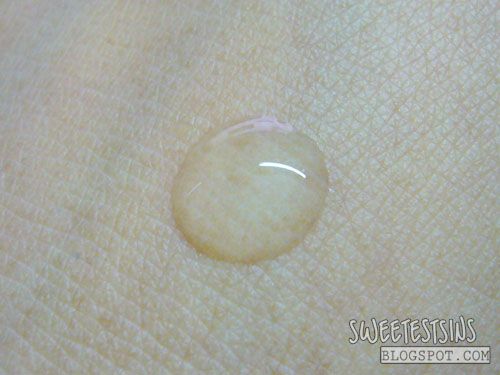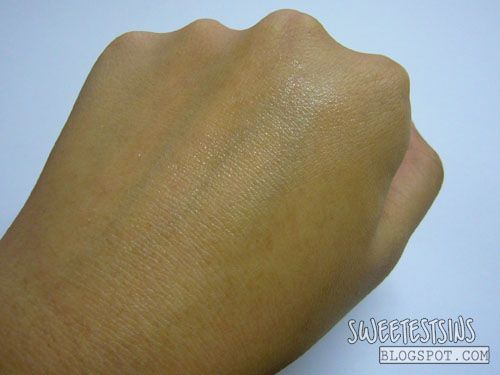 As you can see from the picture above, Yadah Brightening Ampoule is easy to absorb, non-sticky and has a medium consistency which isn't too thick nor too thin, just the right texture.

I usually use about 5 drops and slowly pat it into my skin after cleansing and toning my face and follow up with my regular moisturizer to seal it in.

Brightening effect: 3.5/5
Moisturizing effect: 4/5

Rating: 3.75/5
Yadah Brightening Mask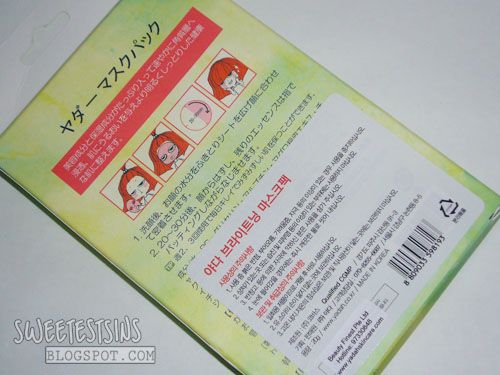 What is it:

The combination of active ingredients are absorbed in the skin immediately to moisturize and brighten the face.

Directions:

1) Clean your face thoroughly and apply toner.
2) Unfold the cloth mask and place on face.
3) Leave it for 20-30 minutes and remove mask. Use fingertips to massage excess serum until it is completely absorbed.

Ingredients:

Water, Camellia Sinensis Green Tea Extract, Opuntia Ficus-Indica Extract, Citrus Aurantium (Orange) Dulcis Fruit Water, Algae Extract.

My thoughts:

After removing Yadah Brightening Mask from the mask pack, there were no leftover serum inside the mask pack. The material of the mask is thicker as compared to normal facial masks.

The serum is rather thick yet it doesn't feel sticky. It is rather moisturizing as well and isn't too rich unlike some of the brightening masks that I have tried.

Brightening effect: 4.5/5
Moisturizing effect: 4/5
Reduce pore size: 3.5/5
Reduce redness: 4/5

Overall Rating: 4/5

Apart from the very adorable mascot that Yadah has, Yadah Skincare also have this very cute little comic strip that gives tips on how to get rid of pimples which I thought that I would share with you lovelies.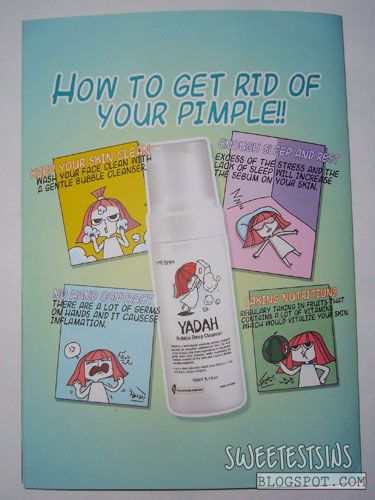 How to get rid of your pimples:

1) Wash your face with a gentle bubble cleanser
2) Have enough sleep and rest
3) No contact of hands with your face because it contains a lot of bacteria
4) Diet - Have more fruits as they contain a lot of vitamins.
Here's some tips from me on dealing with pimples/breakouts:
1) Avoid chilli as much as you can, especially sambal chilli
2) Avoid fried food
3) Drink more herbal tea or honey (which has healing properies)
4) Wipe your face only with a clean towel or use tissues whenever possible
5) Change your pillowcase weekly
GIVEAWAY!!!!
After the random contest which I held last week on SweetestSins Facebook, I still have 1 more set of Yadah Travel Set, worth $10.90 to giveaway.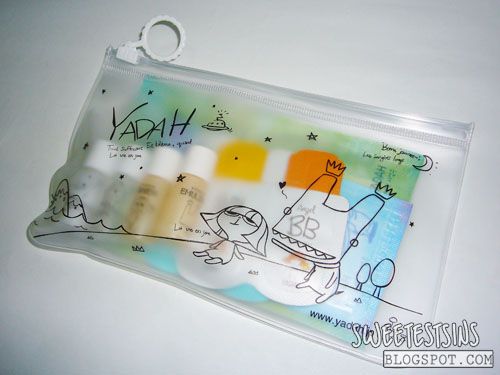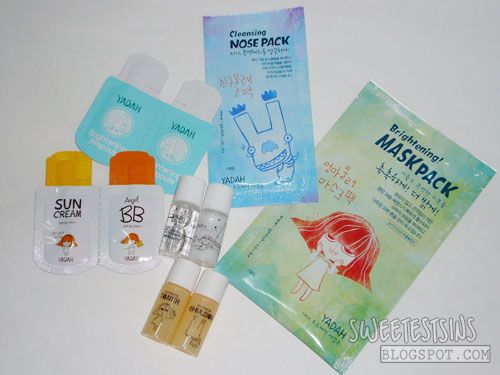 1) Brightening Facial Mask
2) Cleansing Nose Strip
3) Sun cream & BB Cream (2g each)
4) Brightening Serum - 2 pieces (4g)
5) Vitamin Toner & Emulsion (4ml each)
6) Pure Green Toner & Emulsion (4ml each)
7) Cute Zipper Bag
It contains Yadah Brightening Mask Pack which is my favourite Yadah product among all as well as the Brightening Ampoule which I have reviewed! It also contain other products such as Cleansing Nose Pack and samples including the Sun Cream, BB Cream, various toners and emulsions which I haven't tried before! In a way, you get to try out more Yadah products than me!
To add on to the suspense, I will only be releasing the details and rules of the giveaway within the next few days on SweetestSins Facebook. So make sure you 'like' it and keep checking it for any updates!
Disclaimer: Yadah Skincare products were sent to me for review purposes. My honest opinion as always!

Yadah Skincare products are available at http://www.yadahskincare.com/ or Sasa Wisma Atria, Bugis Junction, Holland Village, Plaza Singapura, Jurong Point 2, LOT 1 Shopper's Mall & Novena Square.