Shunji Matsuo Bloggers Evening - Glam Me Up Style Session
Sunday, July 03, 2011
On 22 June, I attended Shunji Matsuo Bloggers Evening - Glam Me Up Style Session which was held over at their new premises at The Heeren.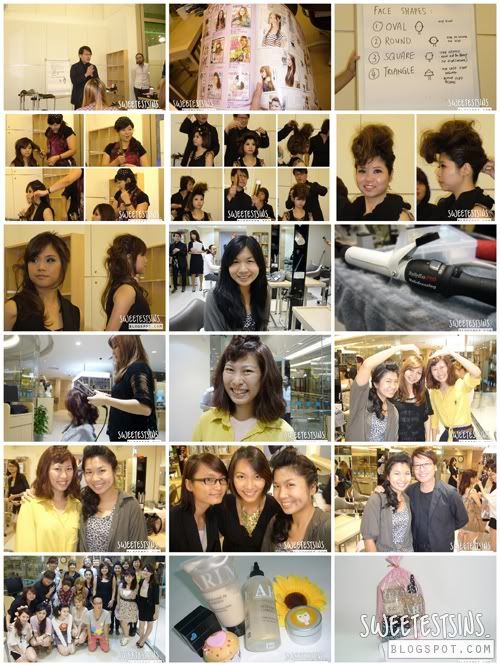 We had some Japanese food that was catered from Waraku prior to the start of the event. Met Trixy there as well as saw a few other familiar faces.
Here's a little background for those of you whom are unfamiliar with Shunji Matsuo, which I presume none of you will be because I*CON by Shunji Matsuo is very popular among teenagers and young adults. I used to go to I*CON by Shunji Matsuo for haircuts.
Shunji Matsuo - the man behind Shunji Matsuo Hair Studio
Born in Kobe, Japan, Shunji began his career in Osaka after graduating from the "Yamano Beauty School" where he worked for an exclusive membership salon called Rosemary. At the age of 21, Shunji was already the partner of a salon in Kobe.
His career in New York started as an assistant to Suga Yusuke, the renowned celebrity Japanese hairstylist of the 70's and 80's. During the course of his ten years there, Shunji has worked with a number of famous personalities who have included Donna Karan, Christie Brinkley, Cindy Crawford, Naomi Campbell and John Lone. As leading stylist with Suga, Shunji has also worked very closely with Richard Avedon, top fashion photographer for supermodels and TV celebrities.
Shunji further expanded his career as a freelance stylist in Paris and New York, working extensively with top cosmetic brands Elizabeth Arden, Covergirl and Clarion.
Shunji's expertise and reputation as a celebrity stylist has been built on the international fashion circuit, where his creative hairstyles have been featured on the top fashion runways of leading fashion designers Jean Paul Gaultier, Oscar de la Renta, Comme des Garcons, Yohji Yamamoto, Donna Karan and Calvin Klein.
Shunji's hair creations have also graced the covers and fashion spreads of top US fashion magazines like American Vogue, Harper's Bazaar, New York Magazine and The New York Times.
During his time in New York, Shunji was also the personal hairstylist for fashion guru Donna Karan and supermodel Christie Brinkley. He set up two popular midtown salons, Salon 3757 and Salon Ziba, before moving back to Asia.
Prior to moving to Singapore, Shunji set up his own salon I.S. Salon in Jakarta, which was very popular among the local and expatriate clientele.
Shunji Matsuo is now a permanent resident of Singapore, with salons in Singapore, Malaysia, Vietnam, Philippines and Indonesia that operate under the brands of Shunji Matsuo Hair Studio and I*CON By Shunji Matsuo.
I know you girls can't wait to know more about the event's happenings, so I'm gonna move on, lest I keep you girls waiting.
After a brief introduction, Mr Shunji introduced us to the latest current Japanese hair trends.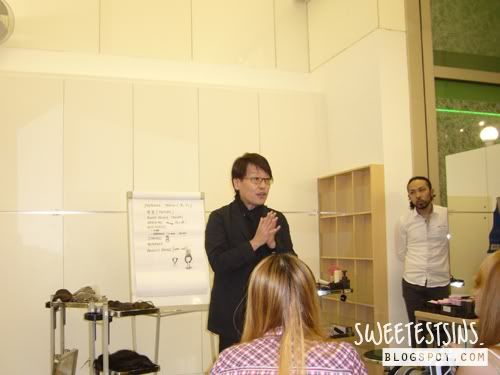 These are the latest current Japanese hair trends.
Of all, I think that the rollers (for round fringe), braiding and princess fringe (hime-cut) 姫カット deserves special mention. I will be sharing about the rollers and braiding in my post later on. Right now, I'm gonna tell you girls a bit more about princess fringe (hime-cut) 姫カット. It consists of straight, cheek-length side locks and frontal fringe. The rest of the hair is straight and long. Mr Shunji said that a princess fringe (hime-cut) 姫カット would actually frame one's face and make it appear smaller. When I heard that, I was so intrigued by it! I was like, "That's so gonna be what I'll ask for during my next haircut". I don't know about you girls but I always have a problem with my huge face. I don't like how huge it appears in pictures. In fact, I'm so envious of girls like Angelababy whom have the 'V' shape face.
If you hate your face shape like me, fret not because... Mr Shunji has some tips to share with us, no matter what your face shape is.
For instance, if your face shape is oval, any kind of hairstyle is suitable for you. If you have a round face, emphasize the top of your hair with more volume and keep the sides clean with no volume. Similiarly, for people with square face shape, add softness to the sides, emphasize the top of your hair by adding volume and avoid any clutter around the neck area. Lastly, for those with triangular face shape, add volume on top, left and right of your hair and keep the bottom part soft.
As I have mentioned earlier, braids are currently in trend in season. Here's a Japanese magazine showcasing different looks created from braiding. You could go from girly sweet one moment to sassy chic or even bohemian the next.
I was busy taking down notes on my iPhone during the whole session when Mr Shunji was sharing tips and introducing us to various hair products and tools so that I could share them with you girls. They are so informative and useful! I sat beside fellow beauty blogger,
Christy
and we got excited easily each time Mr Shunji recommends hair tools or accessories.
In the first two pictures, Mr Shunji introduced us to hair wax (hard and soft respectively). Followed by bobby pins and hair rollers in the 3rd and 4th picture. Mr Shunji said that it is best to get bobby pins that are round at the ends so that it won't hurt your scalp. In the 5th and 6th picture, Mr Shunji showed us the best-selling hair brush, Y S Park in Japan and hair clips. He also added that when selecting a hair brush, one should look for a hair brush that has more cushion as it is good for the scalp. He also mentioned that if one wants to achieve smooth hair, one should select a hair brush that has natural bristles.
Guess what do they have on?

Its fringe hair extensions for a thicker fringe look! Tell me, don't they look natural? I think they look very natural! In fact, so natural that I couldn't tell.
Next, Kaoru gave a demonstration on how to use a curler.
She mentioned that most Japanese girls have a portable hair curler and it is not a rare sight to see them curling their hair either on the subway or in the toilet. I forgot which country she was from, but I think she looks very Korean.
At the other side, Mr Shunji showed us how to turn a sweet girly bob into an edgy rock chic with a masculine twist as described by him.
The process of creating a total new hairstyle.
While at it, Mr Shunji recommended the Loreal Elnett Hairspray which he said that most stylists over the world swears by it because its a soft hairspray and you are able to mould your hair into your desired and quickly make any changes if you make any mistake.
Here's how the final hairstyle look like. Unveiling Mr Shunji's and Kaoru's creations!
Which look do you prefer? I like both. I guess the former is more suitable for parties/clubbing while the latter is more apt for a romantic dinner with your significant other or when your meeting his parents for the first time.
And now... Its our turn to get our hair styled by our stylist assigned to us.
Here's a picture of how my hair looks like prior to styling.
Plain ol' boring naturally wavy hair.
When I expressed my concern of my fringe and top part of my hair being too flat to the stylist, Lilian whom was assigned to me that night, she recommended either crimping the inside of the top part of my hair as well as to use hair rollers on my fringe to create more volume.
Lilian asked me what kind of hairstyle would I want to learn to create. As I didn't really have anything particular in mind, I just told her to create a hairstyle that would suit me and something that I could easy recreate. Thus, she taught me how to use a curling tong. She said that 26" and 32" curling tongs are the most popular among young ladies.
Lilian at work!
Some tips from Lilian:
1) Curling big sections of hair would result in big curls.
2) To make curls last longer, curl hair in small sections.
3) First, divide your hair into two sections.
4) Start curling from the back to the front.
5) Curling inwards would frame your face, resulting in your face appearing smaller.
6) Curling outwards would make your face appear bigger.
7) The ideal temperature for the curling tong is 160-180 degrees for longer staying power.
8) People with warm skin tone or yellow undertones should go for hair color such as copper or red.
9) People with cool skin tone or those whom are fairer should go for hair color such as golden brown, brown, apricot beige etc.
This is the hair curler that Lilian used.
Babyliss Pro Hairdressing hair curler/curling tong
Here's a clearer picture of the Holy Grail hairspray that Mr Shunji recommended.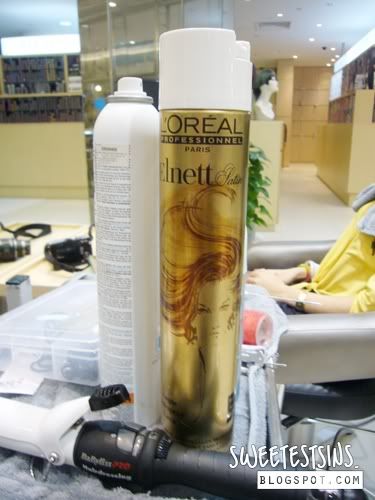 After some braiding (because braids are 'in' this season), twisting and hair arranging, this is what Lilian came up with. I told her that I like Ady An (Liang Mu Cheng 梁慕橙)'s hairstyle in Autumn's Concerto (下一站,幸福) and she tied my hair to the side and gathered some ends to twirl around my ponytail to cover the rubber band. This is a trick that I like and have used back when I was in Secondary School.
Here is the final look.
And then, it Xiao Wen's turn to get her hair styled while I proceed to get my makeup done.
Did I mention how much I love Xiao Wen's hair? Her hair is curled and it reminds me so much of Yoon Eun-Hye (Kong Ah-Jung)'s hairstyle in Lie to Me.
Here's a picture of Xiao Wen's final look. Love the loose braids!
How can we forget to take a picture with the lovely and pretty hairstylist, Lilian whom created our hairdos for the day?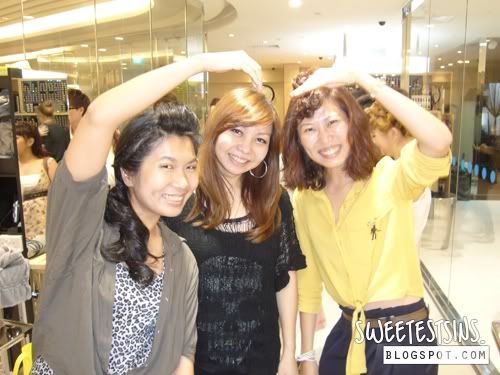 SARANGHAEYO!
We are all currently hooked on the Korean drama, Lie to Me. That's explains the sign above.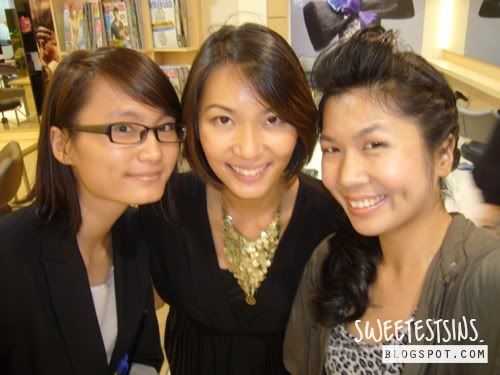 With the PR peeps.
With hair guru, Mr Shunji Matsuo himself.
He's a very humble man despite having been so successful in his career. And did I mention that he has got amazing memory? He could remember all the bloggers' names!
Last but not least, a group picture before we leave.
Here's what we get to take home with us.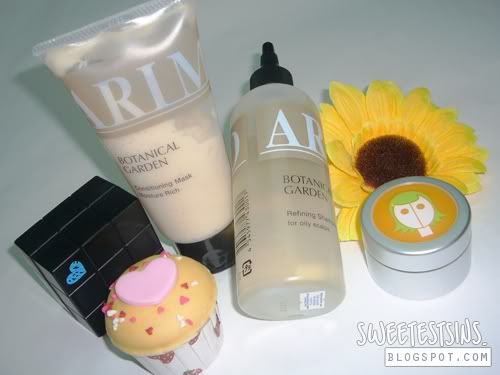 From L-R: Arimino Peace Hard Wax, Botanical Garden Conditioning Mask Moisture Rich, Botanical Garden Refining Shampoo for oily scalp and Spice Girl Hair Wax.
I truly enjoyed myself during the event. I can't wait to try out the hair products! Thank you Coleen for the invitation!
Thanks for reading! I hope you like the post!
Love,
Patricia