Bellabox May 2012
Saturday, June 02, 2012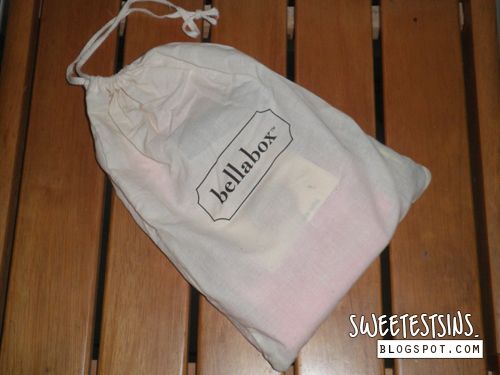 Hi lovelies, not sure if you have noticed but this time round, Bellabox came in a drawstring pouch instead of the usual pink box.
Without further ado, let's check out what's inside Bellabox May 2012!


1) Enavose Cellogist Youth Guard Cream
Pamper your skin with this luxurious treatment. Nourish your skin cells from deep within, boost its natural restorative processes and fight the numerous causes of premature aging.
2) Elizabeth Arden Ceramide Gold Ultra Restorative Capsules
Product claim: Restore youthful cushion and ageless skin while visibly fading age spots and the look of fine wrinkles. These potent and purely intensive single dose capsules deliver breakthrough retexturizing results you can see.
3) Essential Damage Care Nuance Airy Shampoo and Conditioner
Beautiful, soft and glossy locks are no longer just a dream. Restore lost shine and repair your hair with this new formula designer to target damaged and limp hair.
4) Macadamia Natural Oil
Pamper your hair with this treatment containing macadamia and argan oil to nourish and rejuvenate. For ultra-smooth, manageable & shiny hair. You can even reduce drying time by an amazing 40-50%!
5) Candydoll Powder Foundation, Liquid Foundation and Makeup base
Candydoll embodies cuteness and vivacity and their products are a must have for beauty junkies. Get that flawless Candydoll look.
Some of the products such as Enavose Cellogist Youth Guard Cream and Elizabeth Arden Ceramide Gold Ultra Restorative Capsules are more suitable for mature skin and I passed them over to my Mom to try. No wonder Bellabox May 2012 has a tagline for Bellabox May 2012 that says, "Pamper yourself pamper your Mum."
I brought Essential Damage Care Nuance Airy Shampoo and Conditioner along for my Taiwan trip and I must say that it serves me rather well. I am glad that it didn't give me any trouble even though my scalp is rather sensitive. Did I mention that all of us brought Essential shampoo and conditioner along for our trip? Shin and I brought the pink one while Ande and Chuan brought the orange one along and we were like, "OMG! We are all using Essential!"
Apart from that, I have tried out Macadamia Natural Oil and I must say that it makes my hair smoother, softer and shinier though I'm not so keen on its smell.
If you haven't already know, I just came back from Taiwan (yes, a well-deserved holiday)! Check out my pictures on Instragram and follow me, my username is yongwei318.