Sexylook Extreme Whitening Duo Lifting Mask
Monday, June 04, 2012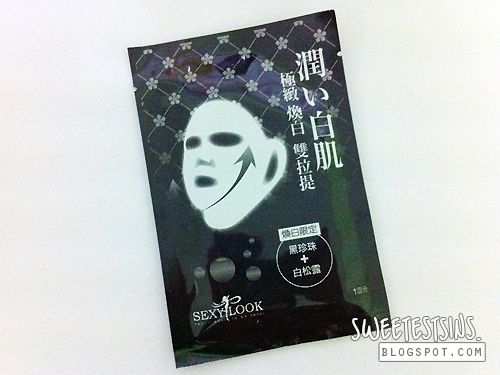 Product Claims:
- Multi-whitening extracts: White Truffles, Black Pearl and Barley
- Fight against yellowish and uneven skin tone
- Diminish dark spots
- Soothes and moisturize skin
My thoughts:
After using Sexylook Extreme Whitening Duo Lifting Mask, I realised that my skin tone looked more even and slightly brighter. It is also rather moisturizing.
I quite like how the ear hooks are larger than before because that way, it makes my masking experience more pleasant. Ear hooks that are too small tend to squeeze the ear together and it makes it very uncomfortable,
My friends, Chuan and Shin took the chance to stock up on Sexylook Extreme Whitening Duo Lifting Mask from Cosmed when we were in Taiwan. There was like a 1-for-1 promo going on and they both happen to pick up Sexylook Extreme Whitening Duo Lifting Mask and that shows that we Asian ladies sure love the idea of having/achieving fair skin!
Disclaimer: Products were provided by
Secretive, Sexylook
for review purposes. I am not affiliated with the company.
To be notified of the latest beauty news, launches or events, follow me on


or like SweetestSins on