Phyto Hair Products
Wednesday, January 05, 2011
Do you have any secrets to beautiful hair? From what I know, the Indians swear by coconut oil for smooth and shiny black hair while I remember that my Grandma and Mom would apply an olive oil hair mask to my thick and at times frizzy hair at least once a week when I was younger. For ladies whom have been asking me why my hair is so black, you should try the olive oil hair mask!

While many people would do all sorts of chemical hair services such as rebonding, perming or coloring to make their hair look more beautiful, little do they know that healthy and beautiful hair begins from taking good care of the scalp.
What is dandruff?
According to MediLexicon's medical dictionary, dandruff is the presence of white or gray scales in the hair of the scalp due to excessive or normal branny exfoliation of the epidermis. That is in layman terms - a common condition which affects the scalp and cause flakes of skin to appear. As our skin cells renew, the older ones are pushed to the surface and out of the scalp. A person whose skin renewal is faster would then suffer from dandruff.
Why does it occur?
I have always thought that dandruff occurs due to poor hygiene, until my therapist from Phyto Hair Spa, Coco told me that it could be due to stress (periodic) as well. Being curious, I decided to find out more hence I did a bit of reading and I realised that it could be due to the scalp being frequently exposed to extreme temperatures as well.
Dandruff occurs more frequently in people with oily or dry skin. Diets too salty, sugary or spicy accmpanied with alcohol may exacerbate dandruff.
Treating dandruff
Use an antifungal shampoo which contain at least one of the following active ingredients.
- Zinc pyrithione: slow down production of yeast
- Selenium sulphide: reduces production of natural oils your scalp glands produce
- Coal tar: natural anti-fungal agent
- Ketoconazole: very effective anti-fungal that can be used by children and elderly.
- Salicylic acids: help your scalp get rid of skin cells
- Tea-tree oil: Australian Tea Tree, antifungal, antibitotic, antiseptic. Use with caution as some people are allergic to it.
- Green tea: have the potential to treat dandruff
A tip to share with you girlies, do alternate your shampoos to prevent hair from becoming too dry.
If you can recall my
Phyto Hair Spa post
, I mentioned that Phyto uses plant-based extracts in its products. And I also liked that they are thoughtful enough to use aluminium and glass in their packaging so as to prolong the effectiveness of the botanical formulas.
As I have dry hair, dry and at times oily scalp, I was provided the following products namely Phytosylic shampoo dry dandruff, Phytocedrat sebo-regulating shampoo, Phytojoba intense hydrating mask and Phyto 7 daily hydrating botanical cream to try out.

I have been using these products for more than a month and I must say that I am certainly pleased with it, even though I must admit that it took me quite a while to get used to the strong botanical smell of the products.
Phytosylic shampoo dry dandruff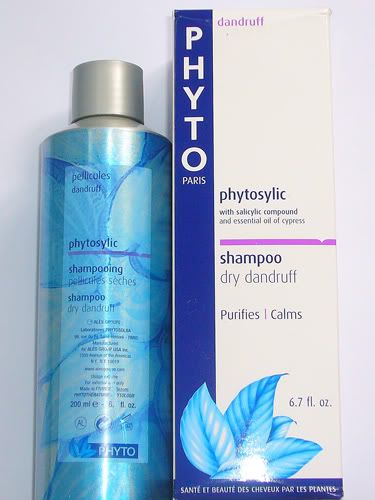 How it works
Exfoliates using salicylic compound derived from willow extracts, helps promote loosening of dandruff. It contains cypress and tea tree oil which have anti-bacterial and anti-fungal properties, as well as coconut and castor plant which is suitable for sensitive hair.
What it does
Reduces dandruff and regains hair shine and softness.
Directions:
1) Apply shampoo on wet hair
2) Gently massage
3) Leave on for 3 minutes (so that the ingredients has enough time to work).
4) Rinse throughly.
My thoughts
While Phytosylic shampoo dry dandruff can be a little drying on my hair, I really like how clean it made my hair and scalp felt after using it. In fact, I noticed slight hair growth ever since I started using Phyto products.
Unlike normal shampoos, the texture of Phyto shampoos are rather liquid than creamy. However, you need only a bit of it as it will foam when it comes into contact with water. I normally massage the shampoo into my scalp, add a bit of water and massage it again. It relaxes and calms my nerves.
Phytocedrat sebo-regulating shampoo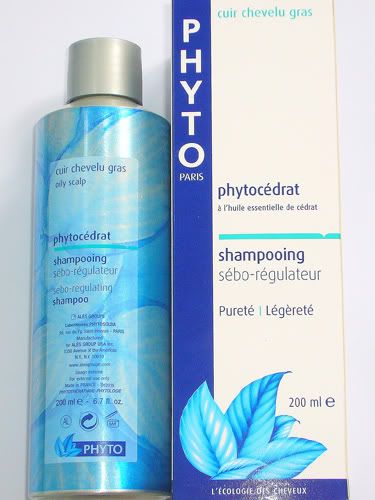 How it works
Oily scalp is highly reactive, however using a suitable shampoo containing botanical ingredients with astringent properties (rosemary, nettle, sage, burdock, lemon, pine, soy) helps to combat it.
What it does
Make hair more voluminous and weightless, scalp more healthy. Thus, not requiring hair to be shampooed as frequently.
Directions
1) Apply shampoo to wet hair
2) Gently massage
3) Leave on for a few minutes
4) Rinse throughly
My thoughts
Compared to Phytosylic shampoo dry dandruff, Phytocedrat sebo-regulating shampoo is milder and it doesn't dry my hair out as much as the former.
I alternate between these two shampoos (meaning I use Phytosylic yesterday and Phytocedrat today etc) for maximum results.
Phytojoba intense hydrating mask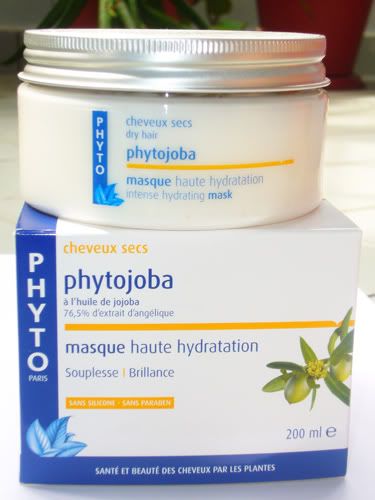 How it works
Intensely hydrate and protect dry hair.
Contains jojoba oil which has softness and regenerative, emollient and protective properties as well as angelica seed which boast tonifying and sweet orange essential oil to provide shine and vitality. It also contains natural gum derivative to instantly help detangle hair without weighing it down.
What it does
Hair strength, shine and suppleness is visibly restored.
Directions
1) Wash hair
2) Apply a 50-cents size amount to the ends of towel-dried hair.
3) Comb through to evenly distribute the product over entire head of hair
4) Leave on for 2 to 5 minutes, depending on the level of hair porosity.
5) Rinse thoroughly.
My thoughts
I just love the citrus smell of Phytojoba, so much that I cannot stop smelling my own hair after using Phytojoba. It is non-greasy which I like as most hair mask that are greasy tend to weight the hair down and light enough for every day use. I find that my hair feels softer and smoother after using it.
Phyto 7 daily hydrating botanical cream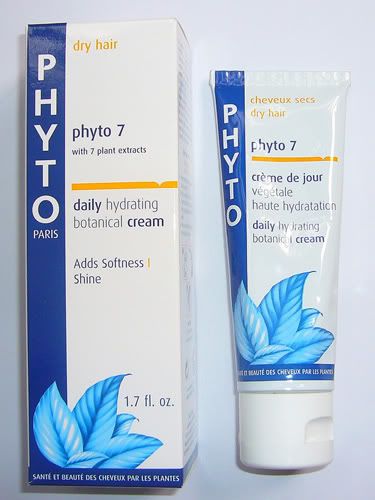 How it works
Contains 7 plant extracts (calendula, sage, burdock, willow, soybean, rosemary and althea) which hydrates and replenish hair.
Its creamy, non-greasy formula enhances natural protection of dry hair by maintaining optimum moisture levels.
What it does
Hair appears visibly smooth, soft and shiny.
Directions
1) After shampooing, apply to towel-dried or dry hair.
2) Place a 10-cents size amount of cream into hand. Apply all over hair, paying special attention to the ends.
3) Massage in until fully absorbed then style hair as usual
My thoughts
I usually don't apply any hair serum or cream apart apart from special occasions or when I'm going out because I hate greasy hair products. So imagine my delight when I tried Phyto 7! Not only it is non-greasy, it does make my hair less frizzy too. And I gotta say that it is my favourite product in this range after Phytojoba.
Plant-based/botanical extracts products, I'm a convert and you?
I hope you liked this post! Sorry for the lack of updates as I was pretty occupied meeting up with my family and friends over the holidays.
Disclaimer: Products were given to me for review purposes.