Project Finish it Up: November 2011
Thursday, December 08, 2011
I know I haven't been posting regularly lately.
The thing is - I have been spending time with my family and meeting my friends almost everyday till late. Not to mention attending events. Plus, I'm someone whom needs a bit of alone time everyday. But trust me that I haven't forgotten you girls because here I am squeezing every bit of time to put together this post for you. Most people would probably think that it doesn't take any longer than a few minutes to do up a post, but trust me, it isn't. You see, I have to take pictures, resize them and watermark them and then I have to think about the content and the way to phrase them and last but not least, proof-reading.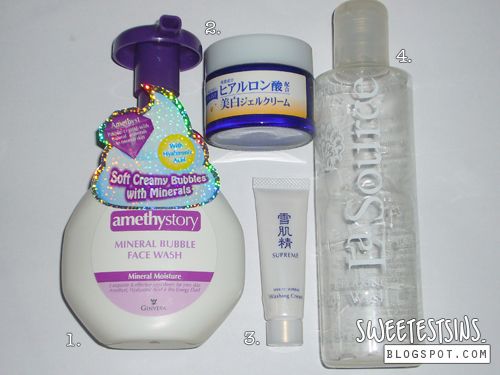 Only managed to finish using 4 products in the month of November, not to mention that one is of sample size! :X
Maybe I should be more disciplined and try to finish more products in December. I really hope to finish at least one of my makeup products since I have NEVER ever finish a makeup product before.
1. Amethystory Mineral Bubble Face Wash
Overall Rating: ★★★★☆
Repurchase: Maybe
2. Juju AquaMoist Whitening Gel Cream
I picked up this product over at Watsons after reading about it on Andy Lee's blog. As most of you would know by now that I'm really into whitening products because I want to be fairer badly. On top of that, it doesn't contains alcohol, coloring, fragrance, mineral oil or animal deviant ingredients.
I usually apply this at night after I
double cleanse
my face and tone my face so that I will wake up to softer and brighter skin. The consistency of Juju AquaMoist Whitening Gel Cream feels similar to that of sleeping masks/packs except that its a bit lighter.
The only gripe that I have about this product is that the texture can be rather sticky initially and it takes some time to get used to that.
Repurchase: Yes
3. Sekkisei Supreme Washing Cream
This sample-sized cream cleanser was given to me by Jess.
Although it foams rather well when used with a face wash net, but I have my reservations for this cleanser as I really don't like the scent of it and the fact that it does make my skin feel tight after cleansing.
Repurchase: No
4. Crabtree & Evelyn La Source Relaxing Body Wash
Relaxing: ★★★★★
Affordability: ★★★☆☆
FYI, this was a gift from my Aunt.
At USD$20 for a bottle, its way out of my budget for a bottle of body wash, especially now that I am contributing to Singapore's unemployment rate. Apart from the hefty price tag that it comes with (for a bottle of body wash), its everything you want your body wash to be and something that you would want to come home to - especially after a long day at work or listening to monotonous lectures and squeezing with other commuters on public transport.
Repurchase: Yes if I have that spare cash
I hope you like this post. Thanks for reading.
Love,
Patricia
Disclaimer: Products in this post were either purchased by me or given to me by my family or friends apart from Amethystory Mineral Bubble Face Wash which was sent to me for review purposes.
P.S: I will be holding a giveaway consisting of Kate eyeshadow palettes and other skincare products on SweetestSins Facebook once it hit 100 likes. So, go 'like' it now if you haven't already done so!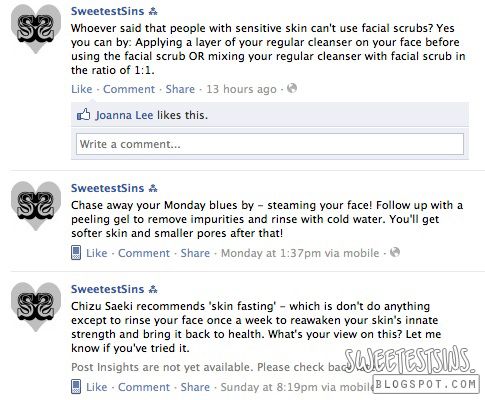 P.P.S:
If you haven't already
'like' SweetestSins on Facebook
, its time to do so because I will be posting short updates such as tip of the day, or sharing interesting beauty facts over there exclusively. It won't be cross-posted to my blog and you won't want to miss it, trust me!