Hair Makeover At Shunji Matsuo Hair Salon @ 313
Tuesday, December 06, 2011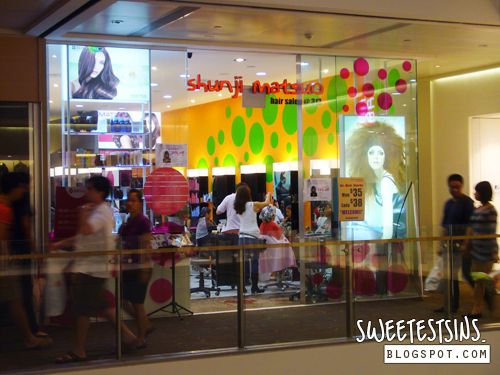 Last Monday, I was invited for a hair makeover over at Shunji Matsuo Hair Salon @ 313. If you have liked SweetestSins on
Facebook
or have followed me on
Twitter
, you would probably have seen the end results already. But if you haven't, fret not because I will reveal my experience over at Shunji Matsuo Hair Salon @ 313 in this post.
Before I begin, here's a little background information on Shunji Matsuo Hair Salon @ 313.
About Shunji Matsuo Hair Salon @ 313
Co-owned and managed by Caely Tham and a team of Japanese-trained stylists, Shunji Matsuo Hair Salon @313 incorporates the latest Japanese cutting, perming, colour and styling techniques to deliver beautiful, versatile hairstyles complementing the personality, lifestyle needs and personal preferences of each individual customer.
The salon also offers a range of special hairstyling products and hair treatments from Arimino Japan that contains a unique formulation specially developed for Asian hair and eco-friendly Biolage by Matrix products.
You might be wondering where exactly is Shunji Matsuo Hair Salon @ 313. Its just beside Uniqlo on the 3rd level of 313@Somerset.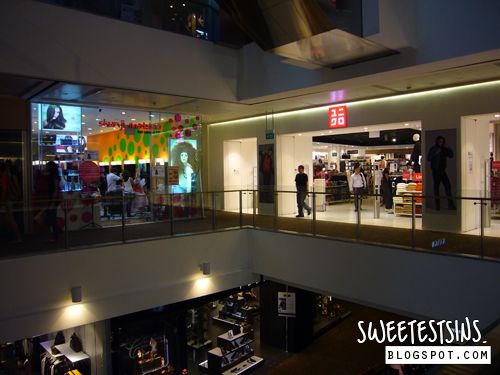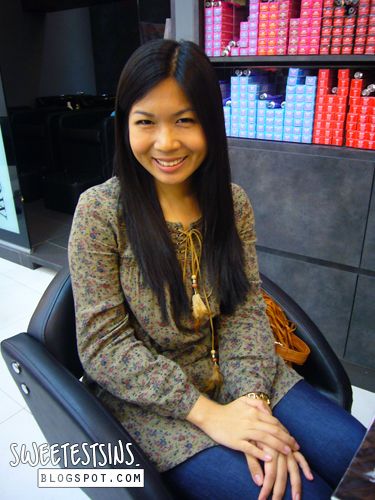 Me before the hair makeover,
plain old boring black straight hair with flat crown
Coordinates #3: Mori Girl
1. Floral Tunic Top, Gift from Mom
2. Jeggings, Zara
Before Caely started to trim my hair, she asked if I had any look in mind that I want or like and guess what did I show her?
SUZY BAE SU-JI 배수지!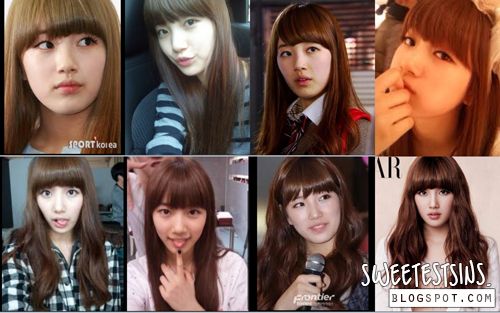 I love Suzy! She looks so innocent and she's pretty with or without makeup. She's one of those Korean stars that exudes this naturally good-looking feel without trying too hard. She looks very adorable as well. And she looks the same in real life when I saw her at Miss A Singapore Showcase 2011. I think that those people whom say that she's fat are insane because she's not at all.
After asking me how much she can trim off from the back of my hair and explaining to me how she would cut my bangs in a way that would make my face look slimmer, Caely started to work her magic on my hair.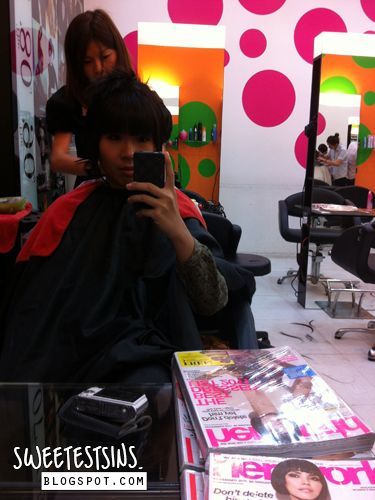 Caely at work
I couldn't help but to snap a picture of the wall decor that's covered with bright polka dots. I'm pretty sure my friend whom loves polka dots would love this.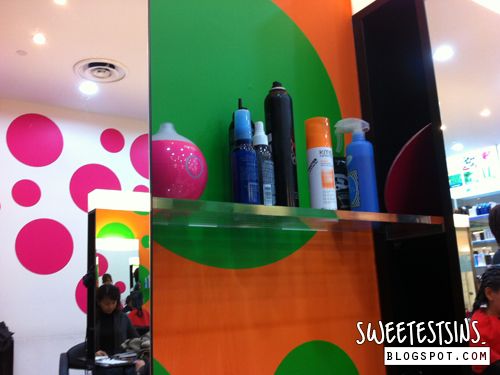 As I just rebonded my hair in July this year, I thought that I would go for color instead of a perm. I really want to try perming my hair but I guess I will have to wait till my hair becomes longer.
When Caely showed me the color chart, I was lost. I mean, there were so many colors and I didn't know which one to pick!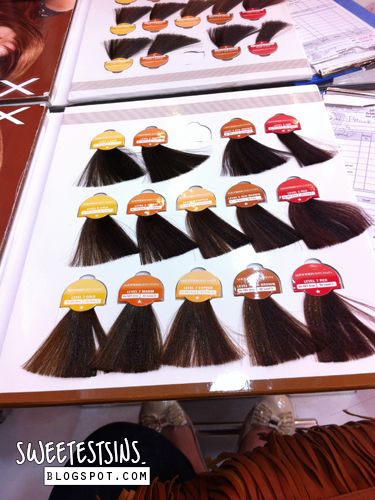 So I decided to leave it to the pro and I asked her to pick a color that would suit my skin tone and not make me look any more tanned.
I told her that I don't want something that's too bright as I need to go for interviews and we decided on level 7 warm in the end.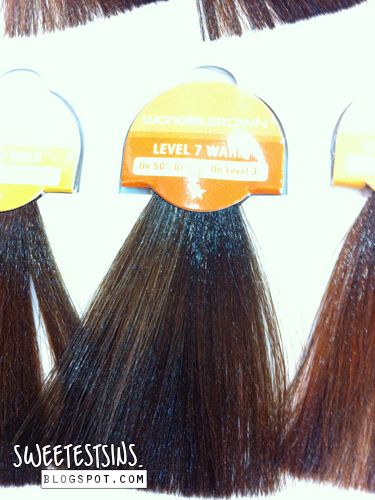 - Hair coloring in process -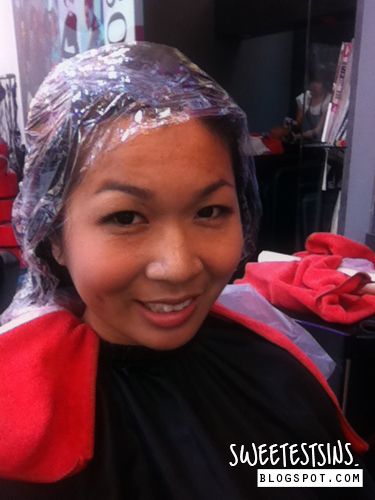 BYE-BYE black hair!
Here's how I look after my haircut, color and treatment!
AFTER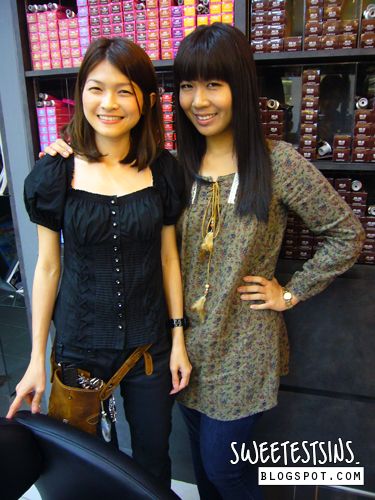 Caely and me
That's my stylist of the day, Caely. I highly recommend her because she is really attentive. She even pay attention to small details whether I tie my hair up most of the time or do I let them down. Apparently, if I tie my hair up most of the time (which I do in fact), she would trim the sides of my hair so that it would fall nicely when I tie up my hair.
She also kept asking me how much she can cut from the back of my hair. Not all stylists are so attentive okay? They don't understand how long does it take for me to grow my hair out and they just anyhow snip and before I know it, my hair is like 4-5 inches gone. But Caely is different, she will let me know each time when she's going to trim my hair so that at least I am prepared for it.
Took a few pictures after my hair makeover because I liked the end result! You probably have seen these pictures if you have liked
SweetestSins on Facebook
or have followed me on
Twitter
. I have got overwhelming response from my friends when I posted these pictures up. Many of them thought that I rebonded my hair again because it looks straighter and I have also gotten compliments on how the bangs make me look 5 years younger. The best one was, "Patricia, did you lose weight? Your cheek bones are protruding out now." Well, I didn't lose weight actually and I had cheekbones all along, probably its the bangs that makes it pop out.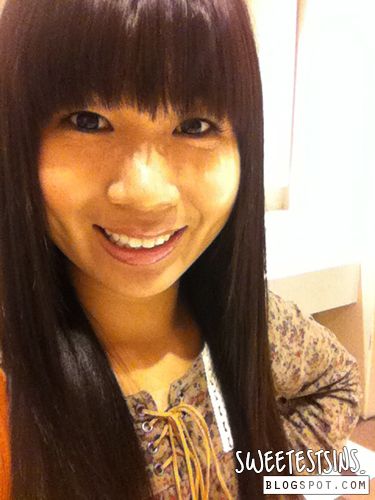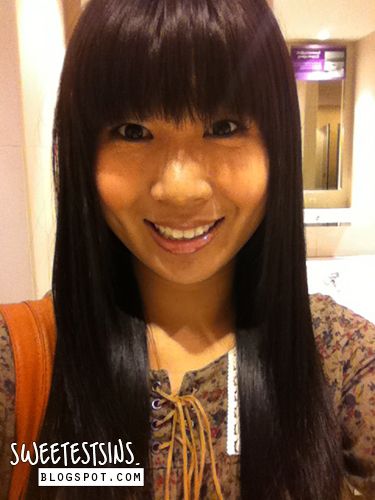 And here's how my hair looks from the back. It looks neater now after trimming.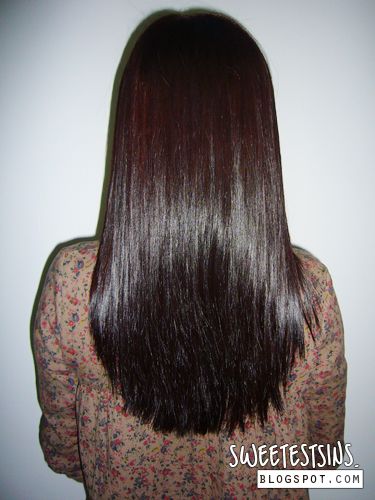 I thought that I would show you my EOTD before I end.

I was wearing the same pair of falsies which my Aunt gave me on my cousin's wedding day and the girl whom shampooed my hair thought that it was eyelash extensions. She was saying that it looks very natural and that she thought that I had it done at a beauty salon.
I don't know why but I look like I have phoenix eye shape in the picture above.
Anyway, here's how the false eyelashes look like.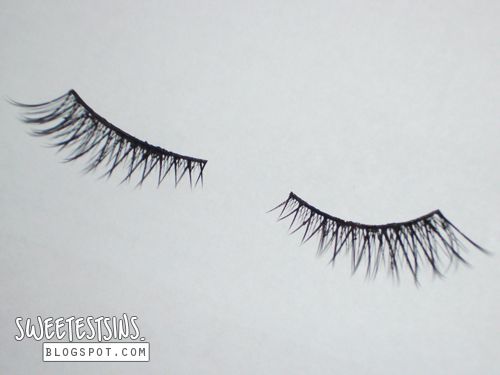 The lash band is very sturdy and the lashes are slightly harder than those handmade false eyelashes. But they still look very natural. In fact, the ends are longer so it exudes that innocent droopy eyes look.
Before I forget, haircuts at Shunji Matsuo Hair Salon @ 313 start from S$35.00 and other hair services range from S$28.00 to S$360.00.
And here's the address:
Shunji Matsuo Hair Salon @ 313

313@Somerset,
313 Orchard Road
#03-26
Opening hours:
10am to 10pm on Sundays to Thursdays
10am to 11pm on Fridays and Saturdays
Tel: 6238 0226.
I hope you like this post. Thanks for reading!
Love,
Patricia
Disclaimer: Sponsored hair makeover by Shunji Matsuo Hair Salon @ 313
P.S: I will be holding a giveaway consisting of Kate eyeshadow palettes and other skincare products on SweetestSins Facebook once it hit 100 likes. So, go 'like' it now if you haven't already done so!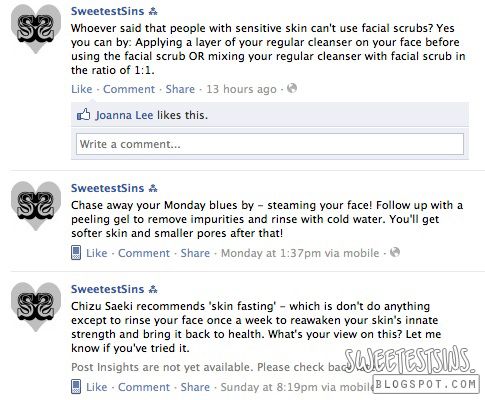 P.P.S:
If you haven't already
'like' SweetestSins on Facebook
, its time to do so because I will be posting short updates such as tip of the day, or sharing interesting beauty facts over there exclusively. It won't be cross-posted to my blog and you won't want to miss it, trust me!