Luxola Holiday Gift Bag Giveaway
Saturday, December 10, 2011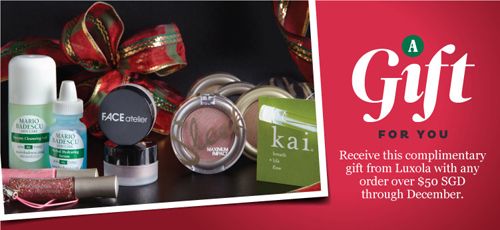 About Luxola:
Launched in end of September, it is Singapore's premier online beauty store.
They import and sell a selection of the most exciting international cosmetic and skin care brands to Singapore and deliver for FREE on the next business day!
Luxola is currently offering the Holiday Gift Bag with any order over $50 throughout December.
Because its the festive season, Luxola has kindly sponsored SweetestSins with 2 sets of Holiday Gift Bag.
Hence, I'm giving a set away to one lucky reader!
It contains beauty treats from Mario Badescu (USA), Sleek Makeup (UK), Kai Fragrance (USA) and FACE Atelier (Canada) and is worth $50.
1) Mario Badescu Enzyme Cleansing Gel:
The best selling daily cleanser from Mario Badescu is a non-foaming, gel cleanser that thoroughly removes the day's make-up, dirt and oil without drying your skin. Plus it contains natural exfoliating Alpha Hydroxy Acids that prevent dulling build-up that cause blackheads and pimples.

2) Mario Badescu Herbal Hydrating Serum:
This versatile, gel like serum, is fantastic as a stand alone moisturizer for oily skin or those looking for a simple, lightweight daytime hydrator. It also does night duty when layered on top of a cream moisturizer for those with dry or flaky skin.

3) Sleek Gloss:
The perfect mini-gloss for the glam girl on the go.

4) Sleek Maximum Impact Eyeshadow:
The heavily pigmented NIGHTLIFE color is right on trend for winter's sultry looks. It's a beautiful intense sparkly black.

5) FACE Atelier shimmer:
Glisten, glitter and gleam by using these ultra-fine, perfectly pigmented loose shimmers. They won't flake, are non-creasing and long lasting.
6) Kai Perfume Oil:
Developer in Malibu and loved by everyone from Jennifer Aniston to Oprah, their signature floral fragrance will intoxicate everyone around you.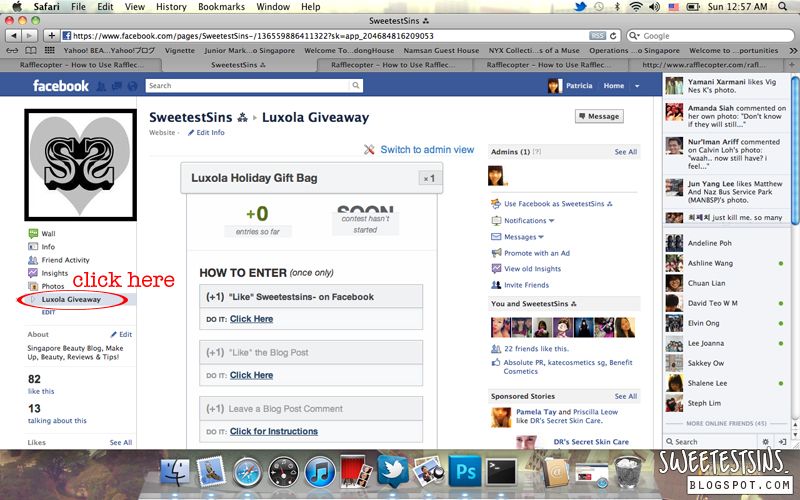 1) 'Like' SweetestSins on Facebook
2) Click on 'I did this'
3) Fill in your particulars such as your name, email and Facebook name
You can also tweet about the giveaway etc for additional chances!
Good luck girls! (:
Love,
Patricia
Disclaimer: Giveaway prizes are provided by Luxola.