Zamian: Cacao Pack and Escargot Crystal Whitening Cream
Sunday, December 11, 2011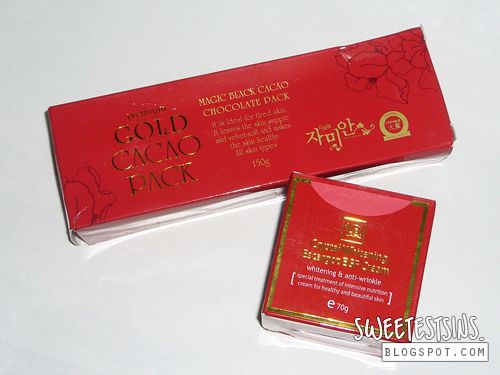 2 weeks ago, I received Zamian Cacao Pack and Escargot Cream from
Zamainbeauty
.
Both items were nicely bubble-wrapped which I thought was rather thoughtful of them to do so.
Zamian Cacao Pack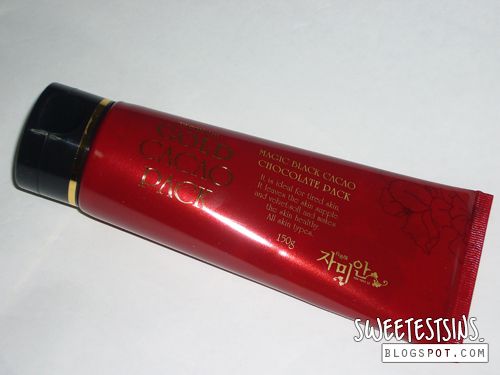 My thoughts:
Upon application, I felt slight warming and tingling sensation. I have checked with the owner of Zamainbeauty and she advised that the warm and tingling sensation is normal but not everyone experiences that.
I was kind of disappointed with the product when I tried it out for the first time because I thought that it would be a peel-off mask. Blame that on me for not reading or checking about the product on the website (apparently, the packaging is all in Korean you see). In fact, after my 1st trial, I left this product on my vanity and kind of forgotten about it until a week later when I decided to give it one more chance. I don't know about you girls but my skin normally react to new products only after using it for a few times. This is also one of the reason why I usually test products at least for 2 weeks before coming to a conclusion about it.
I have been wearing makeup almost everyday lately due to family outings, meetup with friends and ex-colleagues as well as attending events. I don't know, but when I put makeup on a regularly basis, I make sure that I pay twice the attention to my skincare regimen compared to when I don't put makeup regularly. I really hate the blackheads on my nose and those whiteheads on my chin. Instead of using Kose Mask White which I normally do to remove blackheads and whiteheads, I used Zamian Cacao Pack on every alternate day for the whole of this week. And I realised that my face feels smoother, looks brighter and that the blackheads and whiteheads are significantly reduced.
My only gripe about this product is that I still don't really like the warm tingling sensation that I feel each time I use this pack. Otherwise, this would be a great product.
Overall Rating: ★★★☆☆
Repurchase: Maybe
Zamian Escargot Crystal Whitening Cream
My thoughts:
If you have been following SweetestSins regularly, you would know by now how marveled I am by snail extract at the moment and that I prefer gel to cream moisturizers. Now put that together and Zamian Escargot Crystal Whitening Cream fits the bill perfectly.
I was very excited to try this out since it came just in time as I was almost done with my previous tub of moisturizer, Juju Aquamoist Whitening Gel Cream. Plus, products that contains snail extracts hasn't fail me yet.
I have been using Zamian Escargot Crystal Whitening Cream daily for about 2 weeks and I noticed that my skin looks brighter. And I really like the scent of it because it smells so good!
Repurchase: Yes
If you're deciding between the two products mentioned above, Patricia says, "Go for the Zamian Escargot Crystal Whitening Cream!"
Disclaimer: Products were sent to me by ZamianBeauty for review purposes.