Monday, November 29, 2010
I realised that I have not been blogging much lately, not counting the sponsored reviews by various companies. I felt that I had to write this post to let you all know that no,
sweetestsins.blogspot.com
have not gone all commercial. It just so happen that it is currently receiving more love and attention from the media. Besides, one of the reason why I accept sponsored reviews is because I can try out more products and share my thoughts with you girls! As you know, there is only so much that one can buy. Just to clarify, I have not done any paid reviews and everything that I have mentioned in my reviews are all my honest opinion. However, it is always advisable to try out the product yourself whenever applicable because what suits me may not suit you.
I am just going to blog in a very light-hearted manner. So I got L'Officiel magazine a while ago and it came with a bottle of Estebel Lavender Shower Gel.
I never realised how important a relaxing bath is until my Aunt gave me a relaxing shower gel from Crabtree and Evelyn. It really calms and smooth my nerves. In fact, I alternate between the Crabtree and Evelyn shower gel and my Lavender body scrub. You know sometimes after a long day at work/school, all you want is to relax and yes, you can while showering!
Hence, when I saw Estebel Lavender Shower Gel, I'm knew I had to try it but not at the moment though because I have so many pending reviews to work on.
You know I just love variety. I often can't make up my mind as to which Mcdonalds breakfast set I should go for because I will be torn between the Hotcakes meal or Big Breakfast. Now I need not go through this hassle anymore because there's Breakfast Deluxe which combines the best of both worlds. Mcdonalds management can really read my mind!
I was surfing the net randomly and I saw these lovelies from Japan.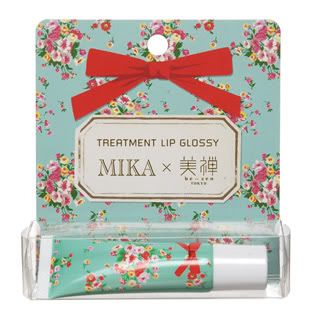 Its a lipgloss. Aww, the packaging is so pretty right?
Eiffel Tower Watch
I really love the rose and bow details. So girly!
Omg, the mother-of-pearl watch face is so elegant.
Not to mention the gold straps and huge bow.
You know my knees go weak each time I see something with nice packaging. Bows and Eiffel Tower are my favourite and definitely to die for! And I really like watches, not to mention cute ones which are practical and accessorize at the same time!
I really take my head off the Japanese for being so innovative to come up with all sorts of cutesy and pretty products. It makes me wanna go Japan so much!
I want to cut my hair. At times, I feel like just cutting it short but I don't bear to. I am afraid that I might regret. Yet I feel like doing something drastic to my hair. Should I color it? But I like my black hair and I have received several compliments about it. Should I rebond it? But I am afraid that it will end up looking too straight. Or should I perm it? But I am afraid that I might look mature after that, way beyond my age.
These are the hairstyles which I came across and like.
I like her fringe which isn't super straight across and the way the end of her hair curls in.
I am thinking of cutting the back of my hair to that of this picture,
not that keen in the "V" shape anymore.
Or maybe I should cut both my fringe and the back of my hair super straight across. I reckon it does look good too. What say you?
Do you girls have any good hairdresser/salons to recommend?
Or if you are a hair salon owner or managing a hair salon, kindly
contact me
if you wish to be my hair sponsor.