Taiwan Beauty Haul
Friday, April 20, 2012
My cousin, Li Bing came back from Taiwan not long ago and guess what she brought back for me? Yes, loads of facial masks and false lashes! Gotta thank her for these lovelies!
She also gave me 2 of her favourite My Beauty Diary Red Wine Mask. Tried one out and it does help to tighten pores and brighten my skin slightly. Now I know why she's a fan of them!
Of all, the most interesting one has got to be:
It consists of:
2x Aloe Vera + Vitamin E Mask
2x Skin Clarifying Astringent Mask
1x Deep Cleansing Pore Minimizing Mask
1x Herbal Anti-Acne Mask
1x Green Tea & Barley Whitening Mask
Apart from that, the other My Scheming Diary facial mask that I have tried out is My Scheming Diary Skin Clarifying Astringent Mask. My first impression that it works well in taming pimples and that it doesn't feel my cheek area or face dry!
My Beauty Diary Hyaluronic Acid Moisturizing Mask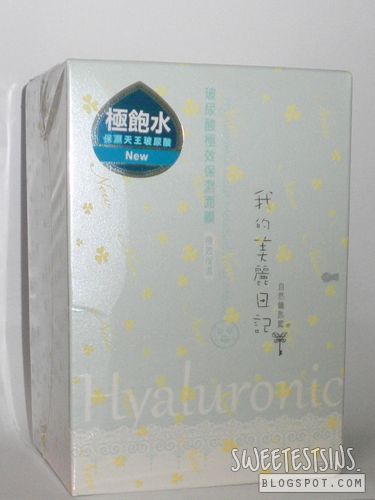 Ever since the beauty advisor where I did my last facial advised me not to use whitening products regularly as it would dry out my face further, I have been using more moisturizing/hydrating products, especially facial masks! Currently, the one that I have been using is
KilaDoll Hyaluronic Acid Mask
and I love it! In fact, as I am typing this entry now, I have got one of it on my face!
Although I haven't tried My Beauty Diary Hyaluronic Acid Moisturizing Mask yet, I hope that they won't disappoint me!
I hope you like this post. Thanks for reading!
Love,
Patricia