Korean Beauty Haul & Recent Hauls
Tuesday, August 30, 2011
Although I haven't been to Korea personally, I am glad that I have nice friends and cousins whom never fail to bring me back beauty stuffs from Korea.
If you are a regular reader of SweetestSins, you would have know how immersed I am with the culture of Korea. In fact, so much that I would drown myself with endless Korean dramas, find out about the latest Korean dressing/makeup style etc.
In fact, the last K-drama that I have just finished watching not long ago is - You've fallen for me (넌내게 반했어) by Jung Yong Hwa and Park Shin-Hye. They are such a perfect and cute couple!
My cousins, LB and LX just went to Korea not long ago and they got these for me!
KOREA BEAUTY HAUL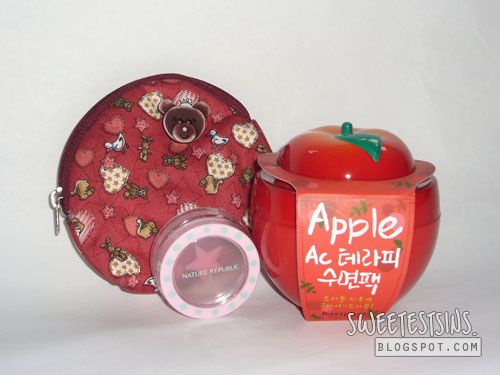 From L-to-R: Handmade Coin Pouch, Nature Republic Lip Balm and Baviphat Apple AC Therapy Sleeping Pack
Yet another handmade coin pouch from the store that my other cousin, S always frequent whenever she goes to Korea. This is 4th pouch from there and I'm still lovin' it!
The Nature Republic Lip Balm is highly raved by my cousin, LB. She said that although it looks clear in the packaging, it does turn pinkish upon application on your lips and gives a very sheer pink look.
Another item that LB raved about is the Baviphat Apple AC Therapy Sleeping Pack. She said that it brightens up one's complexion. It sure sounds like Tony Moly Tomatox Brightening Mask which I wanna get because it makes my hand turn one shade lighter when I tried it out over at Tony Moly City Square with my bestie, C. Both of us were so impressed by it!
The next Korean Beauty Haul was made possible by my poly mate, A when she went over to Korea for summer school. I have heard and read a lot of ravings of It's skin effectors and I wanted to try it out for myself so I asked her to help me get It's skin effector in WH, VC and VE. All of them seemed really tempting but I limited myself to 3. Oh yes, the ambassadors of It's skin is 2PM, all the more to get them!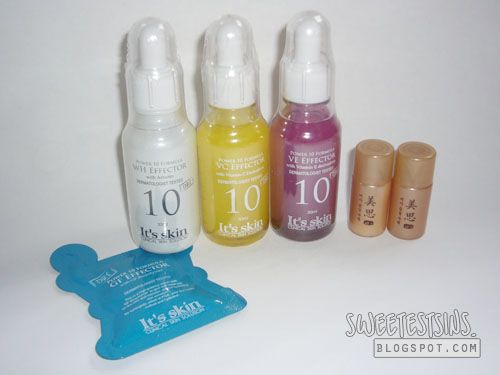 As you can see, A has also kindly included some samples from It's skin and Missha for me.
Guess what? My very sweet FYP mates and A told me that the It's skin effectors are my birthday present. They have also included My Beauty Diary Black Pearl Mask in the package.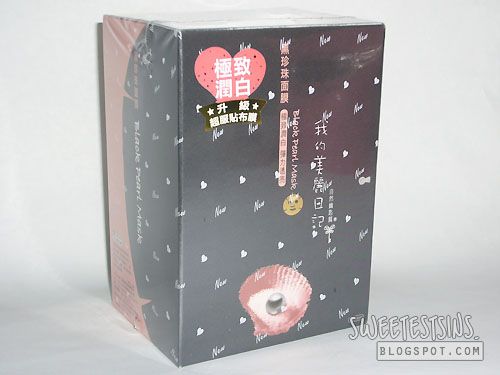 I have reviewed My Beauty Diary Black Pearl Mask before,
click here
to read it.
MALAYSIA (JB) BEAUTY HAUL
The two shopping centres that I frequent in Johor Bahru (JB) are City Square and KSL City Mall.
Since there isn't any Baviphat outlets in Singapore, when I knew that KSL City Mall has an outlet, I made a mental note to visit it when I go there.
Here's the Baviphat outlet in KSL City Mall. Its quite spacious. I felt that they could have better utilize the space though.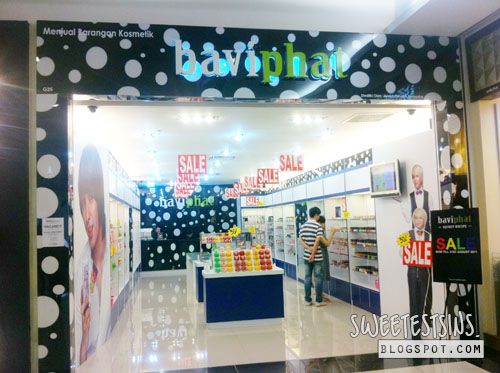 Merchandise wise, the only thing that caught my eye was these facial mask sheets. Aren't they adorable?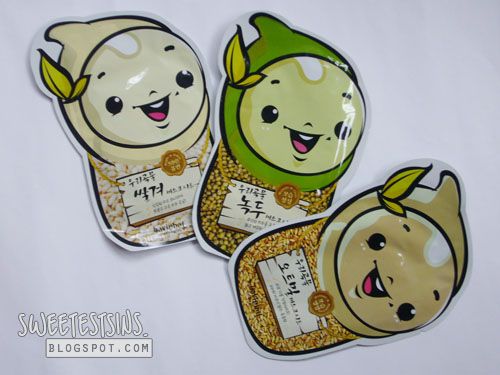 Baviphat Woori Gokmul Rice Bran, Mung Beans and Oatmeal Mask Sheet
In the end, I only picked up these 3 facial mask sheets from Baviphat. I believe these were RM4 or RM6 each if I never remember wrongly.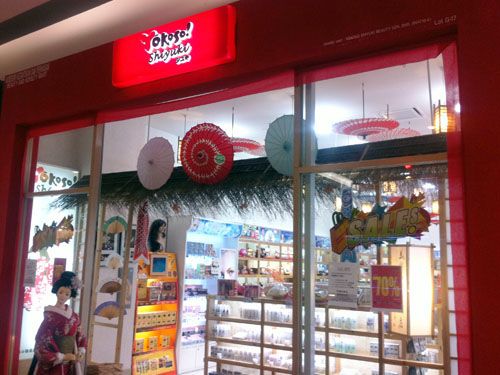 While shopping randomly, I came across this shop, Yokoso! Shiyuki which reminded me of a particular booth that sells Magicboo that I came across during
BeautyAsia 2011
.
I have tried the Magicboo sample sachet that was included in my goodie bag and I absolutely love it. The only thing was that it wasn't readily available outside. For those of you whom are unfamiliar with Magicboo, its a 1-minute treatment for hair. It really makes my frizzy hair smooth and manageable yet not oily.
Guess what? They have Magicboo in stock and I got myself a tube. Its only RM17!
During the last trip to City Square with my bestie, C, I got myself some whitening products from Nivea and Bio-essence.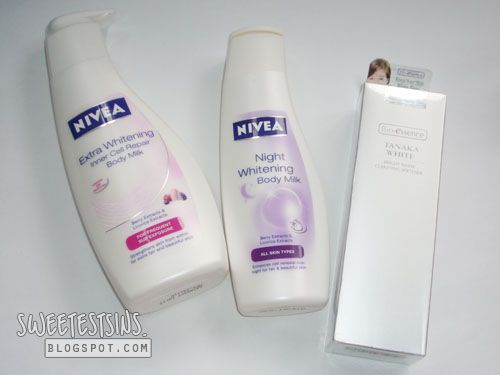 Both the Nivea Whitening Inner Cell Repair Body Milk and Night Whitening Body Milk are recommended by C. The latter is highly raved by her. I have tried the Night Whitening Body Milk and I must say that it really works. I use it in the night and the Nivea UV Whitening Serum in the morning. Got the Bio-essence Tanaka White Bright White Clarifying Softener as there was a PWP so I shared it with C and we got a bottle each.
Last but not least, my hauls from my home country.
CHINATOWN HAUL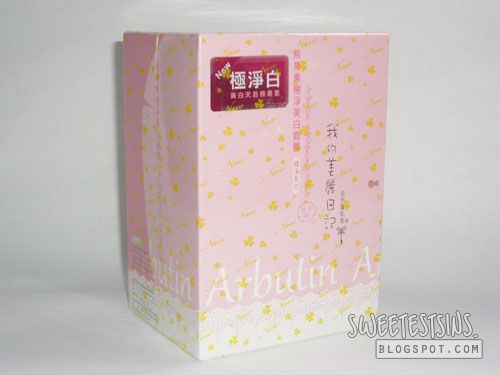 Grabbed this while shopping at People's Park after dinner with O. It was only $10, such a steal! FYI, it would have cost about $14.50 either in Guardian or Watsons. I think its quite worthwhile to get it from People's Park if one's not travelling to either Hong Kong or Taiwan which retails MBD at $8 and $7 respectively.
Can't wait to try this Arbutin A mask out. It says that it has got whitening properties.
SASA HAUL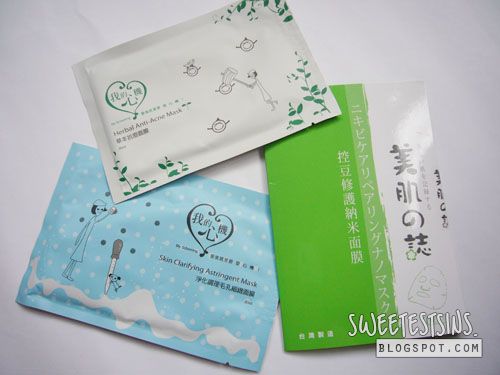 Clockwise Direction: My Scheming Diary Skin Clarifying Astringent Mask, Herbal Anti-acne Mask and Beautymate Anti-blemish Repairing Nano Mask
The other day when I realised that I have got a few red bumps on my face, I went to Sasa to get some anti-acne facial masks.
FYI, I seldom get pimples, only during the time of the month. And anti-acne masks are great in combating those red bumps! My favourite anti-acne facial masks includes My Scheming Diary Herbal Anti-Acne Mask which I first discovered via JY, Talika Renaissance Purifying Mask and Skin Factory P.D.T AC Ampoule Mask respectively. Am gonna try out the Beautymate Anti-blemish Repairing Nano Mask to see if it works well too. I also picked up My Scheming Diary Skin Clarifying Astringent Mask to combat oiliness on my face.
TANGS HAUL
This wasn't a planned purchase. I was over at Tangs with my bestie, C the other time when we walked pass the Benefit counter and this fragrance, Ring my Bella caught my eye. Correction, the packaging caught my attention.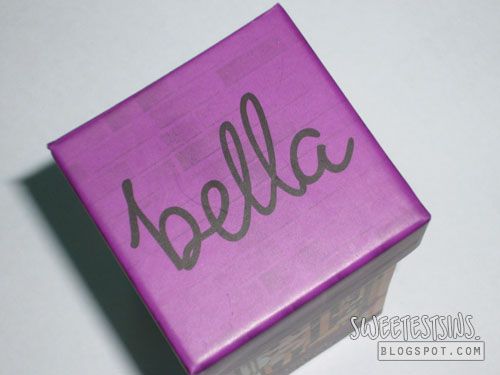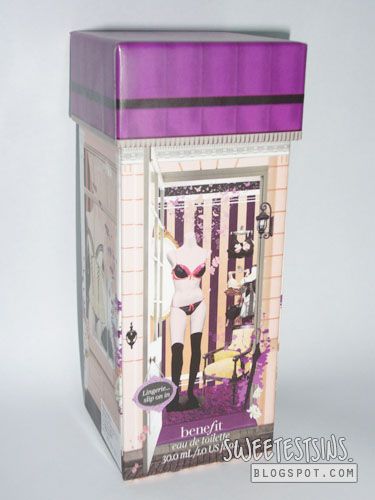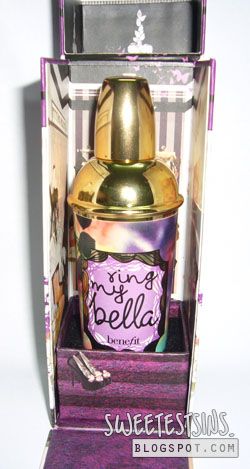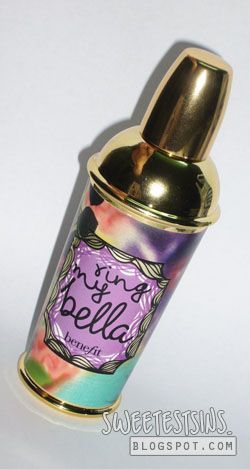 After the SA passed the fragrance strips to us, we walked around only to find ourselves back at the Benefit counter and I got Ring my Bella.
Some information for Ring My Bella in case you are interested. It is a new edition of Crescent Row collection by Benefit, launched in 2011.
Top notes:
Pink rose, lily and daisy.
Heart:
Egyptian jasmine and peony.
Base:
Patchouli, vanilla and musk.
The box is designed as a sexy lingerie shop. Available as 30 ml EDT.
I hope you enjoyed reading this post! Thanks for reading!
Love,
Patricia