Eyelash Extension
Tuesday, August 23, 2011
I did it! I finally did what I have been wanting to do for so long! That is - eyelash extension!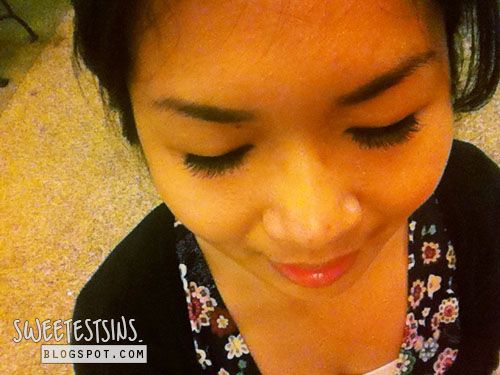 It all begin when I was out with O for dinner last Friday night at Chinatown. After dinner, we were walking around random shops and I saw a shop that does eyelash extensions. I was telling O that the day before I was over at Far East Plaza with C and we were both tempted to get eyelash extensions but it was close to 8.30pm and the lady told us that they were about to close. O was like urging me to get them done cuz she said that she had friends whom have done it and it looks very pretty on them. Plus, Y had them done and I think it looks very pretty on her! The best thing was - the price was very affordable! Way cheaper than I thought it would cost. FYI, normally eyelash extensions would typically cost at least $120 in beauty/facial salons.
Was I nervous? You bet! However, the lady whom did the eyelash extension for me was quite patient. She kept reassuring that it wont hurt or anything if i were to keep my eyes closed. The whole process took about 30 minutes. I didn't feel any discomfort except slight sensitiveness when she glued the eyelash to my lash line.
O was very nice to talk to me and keep me accompanied throughout the whole session. She's so vain can? She wants to go for eyebrow embroidery after seeing my brows.
Here's a close up of my eyelash extensions.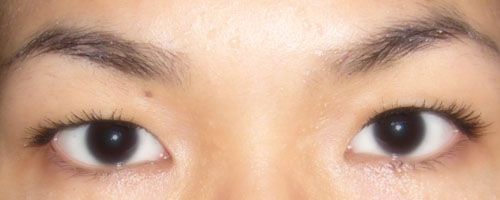 Did eyelash extensions changed my life in any way? Yes you bet! I can go out with just sunblock and double eyelid tape and I still look very fresh. It also saves me time as I need not put on mascara. As you all know, I'm very lazy and I usually skip the mascara. And I can wear normal contact lenses and yet my eyes still look big instead of lifeless. Thus means that I don't have to wear circle lenses!
I know you girls must have several questions running through your head now. Hence, I've collated a few Q&A's to answer your queries below.
Q: Does it look natural?

A: My mom says it looks like I have handmade false eyelashes on and my friends thought that I applied volumizing mascara or used fake eyelashes.

Q: How long can it last?

A: Up to 3 months if you take care of it. Normally it's about 1 month before you need to go touch up.

Q: How to take care of it?

A: Avoid cleansing oil if not the extensions will fall out. Remove makeup with cleansing gel, milk or water and wash your face with your regular face wash. Dab eyelashes dry after that.

Q: Can I wear my spectacles after having eyelash extensions done?

A: Yes you can. But don't press your spectacles too close to your eyes if not your eyelashes will hit your spectacle lens.

Q: Can I rub my eyes?

A: Yes you can but do it with caution for you wouldn't want your extensions to fall out nor cause your eyes any discomfort.

Q: Do I still need to apply mascara on top of it?

A: There's no need to.

Q: Do I need to apply eyeliner so that the eyelash extensions won't be obvious?
A: No.
I hope these short Q&A have answered your queries, if you still have any doubts, feel free to ask me any questions over at my formspring yea?
Thanks for reading!
Till then.
Love,
Patricia