Day 1: Bangkok - Abloom Apartments, Sanao Pao, Chitlom, Amarin Plaza, Central World and Platinum Fashion Mall
Saturday, September 03, 2011
Bangkok Day 1: 18 May 2011
Apart from beauty, my second love is - travelling! I love how I can discover and know more about different cultures, try different food and of course, explore different beauty brands from overseas.
During late May, I went on a trip to Bangkok with my family. I only managed to get down to writing this post now because after I came back from Bangkok, I was working and I didn't have much time to edit and resize the photos.
After we touched down at Suvarnabhumi airport, the first thing that caught my eye was this Visa sign.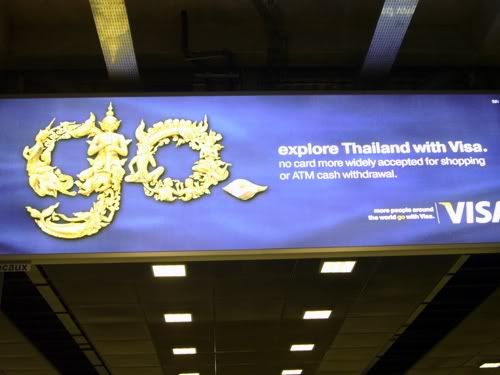 We all know how international the brand, Visa is but what is so interesting is that they tweaked the 'go' to reflect the Thai culture.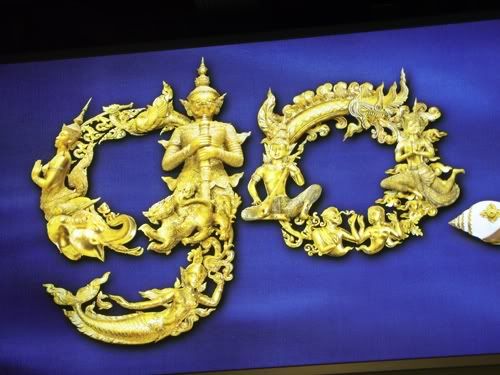 Having said that, adaption to the local culture is one of the key success factor that all marketers should keep in mind.
It was my first time to Bangkok and I must say that I am really impressed by their airport.
It kinda reminds me of our very our Changi Airport Terminal 3, don't you agree so?
As it is Grandpa's habit of reading the newspaper every morning, I brought him to this store called The News to get Chinese newspapers.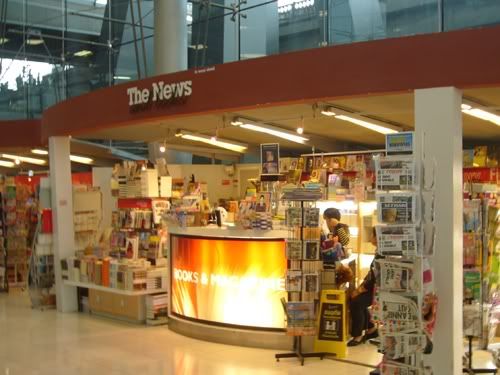 If you want to get any magazines or newspapers, my advice is - get it here because you can't get any magazines or newspapers in either English or Chinese apart from Kinokuniya. The newspaper or magazine kiosk at BTS stations are all in Thai.
Then, we headed down to the Taxi stand which was at the ground floor to take a taxi to our apartment.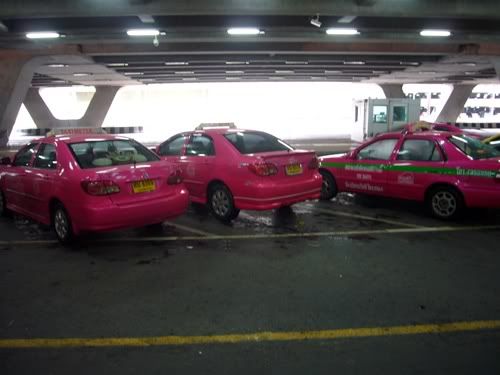 Spotted pretty pink taxis! Awww...
As you can see in the picture below, the taxi didn't really much boot space, hence, our luggage were all loaded on top of the taxi.
I was kinda skeptical as I was so afraid that our luggage would fall off halfway that I kept a lookout just in case. Thank God that it didn't.
After checking into our apartment, I washed up a bit and got changed and then we headed to the nearest BTS Station, Sanam Pao to take the BTS to Chitlom.
Here's a few pictures that I took of Sanam Pao BTS Station. Don't they remind you very much of the older and not revamped MRT Stations in Singapore such as Clementi and Buona Vista?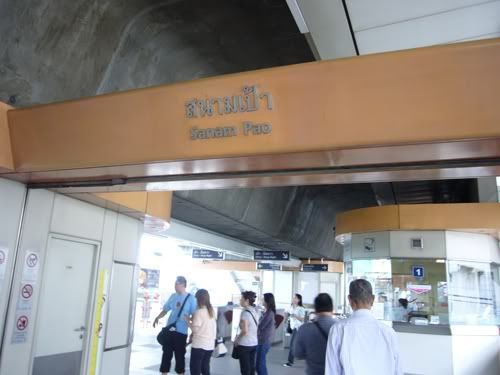 Even their self-service ticket kiosk resembles the ones in Singapore.
Guess what I saw? An old school self-service ticket kiosk! I remember we used to have them long ago too.
Anyway, the fares for BTS is such that every destination is marked with a 1, 2, 3 or 4. If I didn't remember wrongly, 1 is the cheapest fare and 4 is the most expensive fare. So its really simple. Just look for your destination on the map on the left and see what its marked with and press the number assigned to it according before paying for your ticket.

I still couldn't get over how similar their BTS Station is to our MRT Station, so I had to snap a picture of their passenger service/control station so that I could bring my message across.

Oh anyway, the staff over at the BTS Station could understand simple English. Just speak slowly.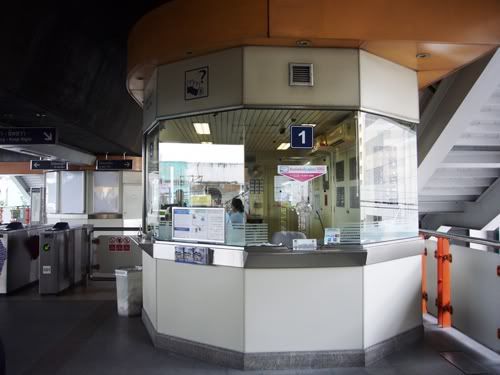 Here's my BTS Ticket! Old school right? Its the same as our MRT Farecard that we had in the past.
Except that the back of it is the BTS map! How clever of them as it brings about convenience to the passengers. Good job BTS! (:
They also had maps inside the BTS Station in case you are confused.
The only grip about BTS is that, most of the stations don't have escalators (something that we take for granted in Singapore). So imagine I have to climb up the flight of stairs to get to the BTS Station daily while I was there and another flight to get up to the BTS platform. Now I get why the Thais are in such good shape.
Upon reaching Chitlom Station, here's what grabbed my attention.
Goldilocks! They are well-known for their polvoron but they didn't had it there so I got a couple of bread. Think yam and cheese fillings! Nothing but yummy!
We stopped by Amarin Foodhouse, a Thai Restaurant which was located Amarin Plaza for a quick lunch.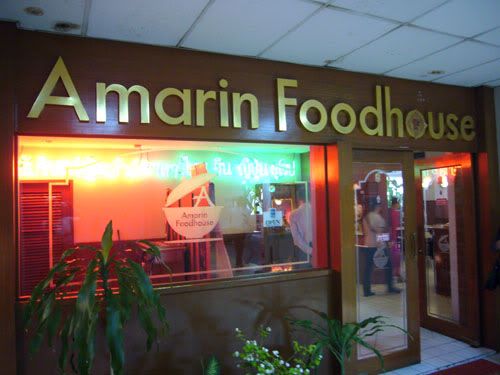 Amarin Foodhouse
518/3 Panuni Building 2 Fl. Pleonchit Prathumwan
Prompong, Bangkok, Thailand
Tel: 02-2519800
Subway: Chitlom
Here's what we had.
The asparagus was to die for! Its so crunchy! I wished I had more. We also had green curry and some other dishes but my family and I were so hungry that I didn't had time to capture them.
After lunch, we walked over to Central World Mall.
Check out the busy and vibrant street view of Bangkok below.
Central World Mall
1 RAMA
Bangkok 10150, Thailand
I was so relieved to be inside the mall as there was aircon. Imagine the temperature in Bangkok that time was 36 to 40 degrees outside. I was practically melting. Makeup is a no-no while you're there. Applying just BB cream would do, if not the very least, sunscreen. In fact, I applied Sunplay SPF 130 sunscreen everyday all over my body while I was there.
While shopping, what can I possibly miss out? Definitely not the window displays and visual merchandising of the stores.
I realized that the visual merchandising in different countries are all unique in their own way. For instance, in Bangkok, they play up the display by using emphasis and focal point. They also use lighting to project the right 'feel' as well as contrasting textures.
Bath & Bloom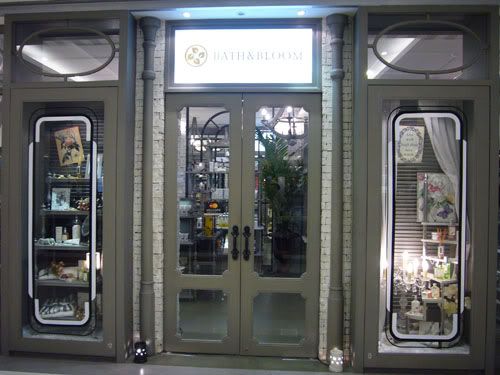 I particularly like the how brick wall and dark grey stands out.
Close to Nature
I love how this display is asymmetrical, especially with the separate bird cage lookalike on the left. Now, whoever says that the storefront must be symmetrical to look pleasing to the eyes?
Tracy & Belle
I was drawn to this display because of the oversized crepe paper flowers. It reminds me very much of the runway.
Last but not least, a random cafe that I spotted in Central World.
We didn't really do much in Central World expect to shop in Naraya. The Naraya is so so so huge! Of course, I went to Watsons to check out makeup and beauty products. The Thai brands are really affordable but I didn't get them in the end.
While walking over to Platinum Fashion Mall, here are some interesting things that I came across.
Roadside stalls
Got the earrings stand for my cousin.
The acrylic reminds me so much of my DNT lessons!
Before reaching Platinum Fashion Mall, you will come across this river. Really random, I know.
Interception
After shopping, we were all dead beat and we stopped by Baskin Robbins for some ice-cream before heading back to our hotel.
Platinum Fashion Mall
222 Thanon Phetchaburi, Ratchathewi,
Bangkok 10400, Thailand
Here's my shopping haul for the day. Very disappointing, I know but there ain't really much stuffs that really did caught my eye.
Clockwise Direction:
Naraya pouches as gifts for Mom's colleagues,
Earrings stand for my cousin,
Rabbito iPhone case, Naraya bag for myself,
Barrier Repair Baby Moist Facial Wash (got it because I liked Barrier Repair facial mask), Pocky in Blueberry and Strawberry from Isetan (20 baht only!) and
shoes that I got from Platinum Fashion Mall (350 baht only!)
That pretty sums up my first day in Bangkok. I hope you enjoyed reading this post. Thanks for reading!
Love,
Patricia
Read my other travel posts on Bangkok: