Leaders Clinic: N.M.F Aquaringer Ampoule Mask, Vita Whitebeam Essential Mask and Sulfur Blackhead Suction Nose Pack
Wednesday, September 07, 2011
A while ago, I received a package from Leaders Clinic.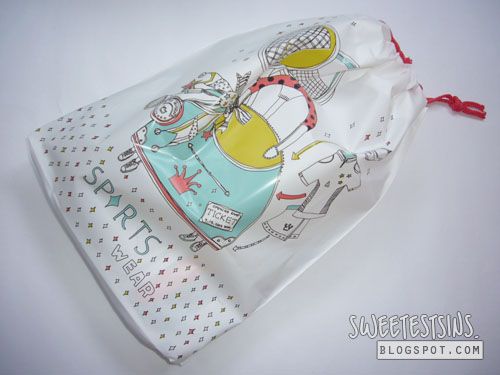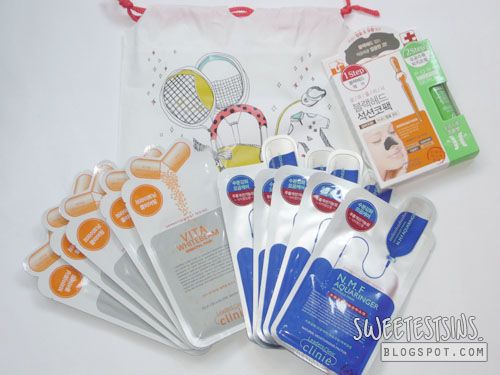 For those of you whom are unfamiliar with Leaders Clinic, it is developed by the top clinical experts in Korea. Their clinical masks are one of the hottest selling in Korea and their skincare line are well-liked by many Korean celebrities.
You might be wondering, what is so special about Leaders Clinic's masks?
♥ Ultra thin Silk Cellulose material which fits onto the face like second skin and enable efficient absorption of the essential ingredients.
♥ The ampoule mask contains equivalent of one ampoule content while the essential mask contains highly concentrated essence.
True enough, these facial masks adhere to my skin very well. No wonder its called the 'second skin'. The contents of the mask be it ampoule or essence are very thick as well, hence they do not drip while you remove them from the package.
N.M.F Aquaringer Ampoule Mask ($4.95/PC)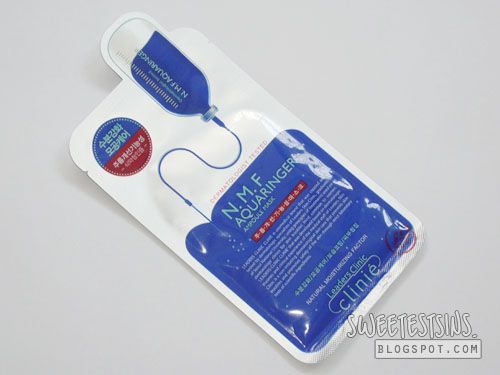 Ingredients: N.M.F, Hyaluronic, Ceramide LS8865
Effect: Moisturizing, balance sebum and purifying skin to tighten the pores. N.M.F is a natural moisturizing factor. It also exist in human body to prevent moisture loss.
My thoughts:
I have used up 3 N.M.F Aquaringer Ampoule Masks thus far and I think that its time for a review on it. Each mask contains an entire bottle of highly concentrated ampoule.
One has to be careful when tearing the mask package open. There was once when I tried to open it, a bit of the ampoule leaked out. Having said that, the mask holds the serum well as you don't find any excess serum in the mask package after taking the mask out from the package.
Although the back of the mask says that it can be used daily, I wouldn't recommend that because compared to normal facial masks, the ampoule is rather thick and provides more moisture to dehydrated skin. I would recommend using this mask either twice or thrice a week.
Whenever the weather gets too hot, or when I feel that my skin is a little dry, I would apply a N.M.F Aquaringer Ampoule Mask. I also love how it soothes redness down on my skin.
Rating: 4.5/5
Repurchase: Yes
Vita Whitebeam Essential Mask ($4.95/PC)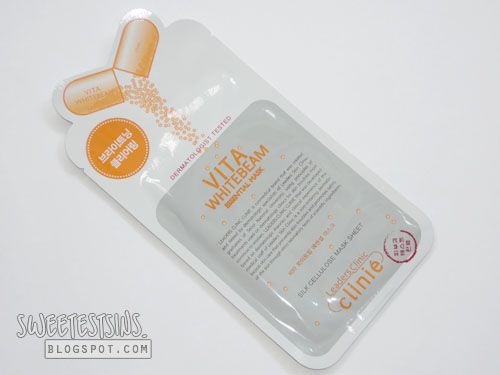 Ingredients: Vitamin C Derivative, Tocopherol
Effect: Brightening, Clearing of complexion. Vitamin C Derviative helps to control forming of melanin and helps to keep skin clear.
My thoughts:
After taking the mask out from the package, there was quite a bit of essence left in the package. Having tried out so many whitening and brightening mask, this is one of my favourite.
Upon the first usage, I find that it does brighten up my dull skin tone. With subsequent usage, I realised that it does lighten my scars/spots a little.
I only use Vita Whitebeam Essential Mask twice a week the most and I try to avoid using it when I am experiencing breakouts. This is because I realised that if I were to apply a whitening or brightening facial mask when I'm experiencing breakouts, my breakouts would become worse. So please remember to use a soothing, anti-acne or moisturizing facial mask instead when you're experiencing breakouts.
Although Vita Whitebeam Essential Mask contains essence instead of ampoule, there is also quite a lot of essence. The consistency of the essence is also very thick that there is still essence left on the mask even after 20 minutes of applying on your face.
Rating: 4/5
Leaders Clinic Sulfur Blackhead Suction Nose Pack ($17.95/SET)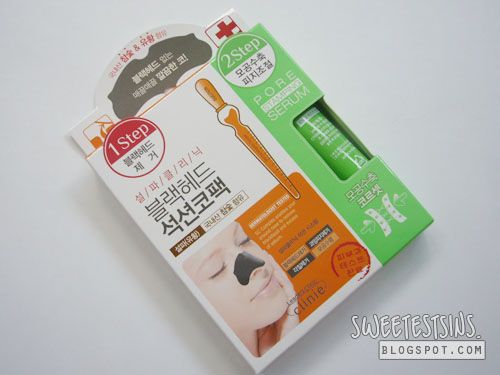 Leaders Clinic Sulfur Blackhead Suction Nose Pack consists of nose masks and pore serum as shown in the picture below.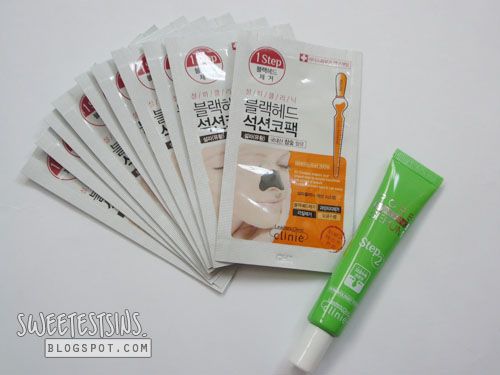 Step 1: Nose Mask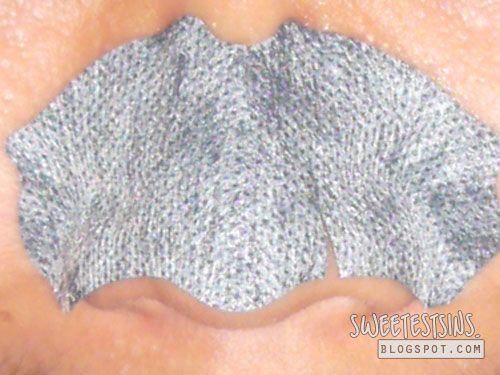 The first step would be to wet your nose before applying the nose mask onto your nose. I used The Face Shop Pure Water Facial Mist for convenience sake. After 10-15 minutes, remove the nose mask.
Ingredients: Sulfur and Charcoal
Effect: Excellent for exfoliating, refining pores and controlling excess oil by sulfur clinic suction system.
My thoughts:
This reminds me very much of Biore nose strips. The scent of this is rather strong, in fact, a little unpleasant to me.
But, it can really remove impurities well. Read on to find out more.
WARNING: The following pictures might be disturbing to some. Please view at your own discretion.
I don't mean to try and gross you girls out but I just had to share how well the Sulfur Blackhead Suction Nose Pack worked.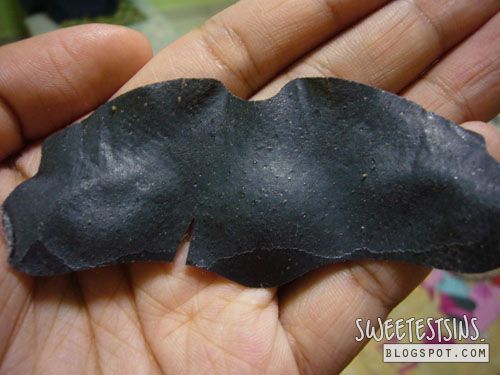 Check out those blackheads that I circled in red. Yucks. So gross right? Imagine those disguising stuffs on your nose. I hate them!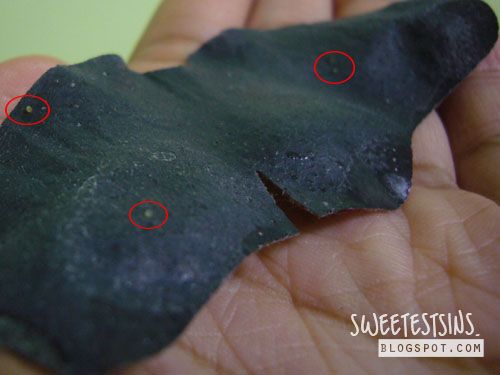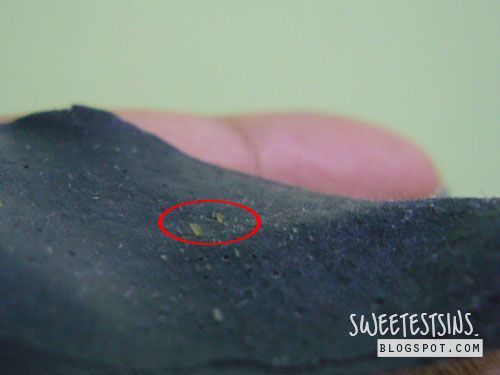 In terms of effectiveness, it can remove impurities such as blackheads and whiteheads.
Rating: 4/5
Step 2: Pore Serum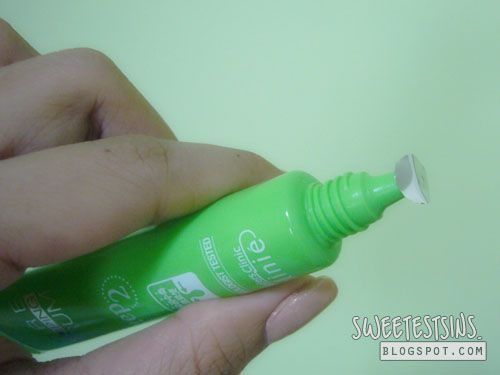 Ingredients: Pore tightening filler and Intense Pore Minimizing Concentrate
Effect: Tightens pore and reducing blackheads through excess sebum control. Non-greasy, soothes and keeps skin fresh. Refines pores for maximum benefits.
My thoughts:
It does feels a little warm and you will feel a slight tingling sensation upon application. I also felt slight tightness. After application, I realized that the size of my pores were reduced by a little. Personally, I think that the pore serum is rather effective.
Repurchase: Yes
Leaders Clinic products are available at selected Guardian stores.
Thanks for reading. I hope you enjoyed this post.
Love,
Patricia
Disclaimer: Products were sent to me for review purposes.