Vanitytrove January 2013 [Sneak Preview]
Tuesday, January 01, 2013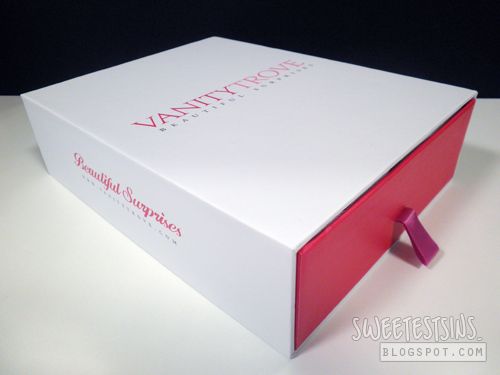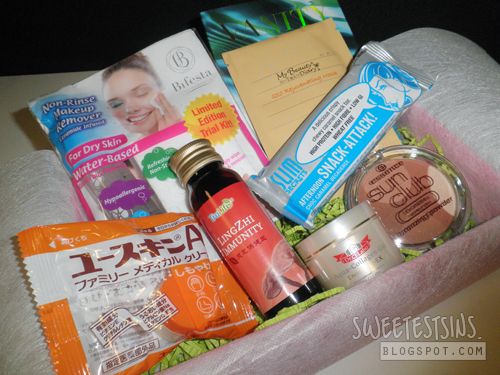 Trulife Lingzhi Immunity
Delicious concentrated health supplement drink for people of all ages. Combines Vitamins B1, B2, B6 and C, Zinc and Niacin with 100% Lingzhi spore powder as well as Red Dates, Longan, Wolfberries and Gan Chao extracts.
Slim Secrets Bars
Contains NeOpuntia, an antioxidant derived from the prickly pear cactus that reduces fat absorption naturally. 123 calories per serving, with protein content to keep you going
My Beauty Diary Q10 Rejuvenating Mask
My Beauty Diary Q10 Rejuvenating Mask whitens, tightens and revitalizes skin. It is ideal for all skin types, especially loose and aged skin.
Whiten and tighten skin:
Q10 blended with vitamin BT complex Lecithin is an excellent antioxidant which minimizes the damage caused by free radicals for tight, elastic and youthful skin. Natural botanical ingredients hydrate and soothe skin, leaving skin watery and translucent.
Soothe and nourish skin:
Nanospheres and hyaluronic acid keeps hydrating skin and restores elasticity.
Bifesta Make-up Remover
Water-based make-up remover is gentle and yet powerful enough to get rid of the most stubborn make-up including waterproof mascara. Non-sticky and non-oily formula won't clog your pores and leaves your skin feeling fresh.
Dr Ci: Labo-Aqua Collagen Gel Enrich-Lift-EX
Works on the causes of 'sagging' skin. All at once an anti-ageing lotion, emulsion, lifting serum, brightening and make up base.
Yuskin A Hand Cream
Rich, gentle and moisturizing cream that bring relief to dry skin. Top-selling moisturizer in Japan, loved for its light and non-greasy application. Contains Vitamin E and Glycyrrhetinic Acid to heal chapped skins. No steroids, artificial coloring or preservatives.
Essence Sun Club Bronzing Powder in Brunette
Gorgeous shimmer and a natural-looking tan, a radiant complexion and seductive shimmer all year round!
Price list:
Trulife Lingzhi Immunity $58.80
Slim Secrets Bars $3.90 each
My Beauty Diary Q10 Rejuvenating Mask $16.90/10 pcs
Bifesta Make-up Remover $16.90
Dr Ci: Labo-Aqua Collagen Gel Enrich-Lift-EX $75/50g, $150/120g
Yuskin A Hand Cream $14.90
Essence Sun Club Bronzing Powder in Brunette $6
Happy New Year lovelies! May your new year be filled with love, happiness and warmth! (: