4 Skincare Tips for the Holidays | How to take care of your skin in Winter and Summer
Monday, March 10, 2014
Having grown up in a tropical country like Singapore, I longed to live in a country that has 4 seasons. You may ask, "But why?" I guess its pretty much due to the fact that Korean dramas portray how romantic Autumn and Winter can be. Having said that, does Winter Sonata and Autumn in My Heart comes to mind?
Since moving to a country with 4 seasons isn't quite possible in the near future, the next best way to experience other seasons apart from Summer would be to plan a holiday!
For those of us who live in Singapore, we are quite lucky as we do not experience any form of extreme weather apart from the weather getting drier and more windy recently. Thus, we need not adapt our skincare products throughout the year compared with people living in countries with 4 seasons.
When we travel, we have to use skincare products that is suitable for the climate. This can be a little tricky to determine but fret not because I am going to share with you the climate of the countries I have been to and the suitable skincare for each one.

Temperature: 24°C to 35°C



May is one of the hottest months in Bangkok apart from March and April where the temperature goes up to as high as 40°C. It is also prone to occasional 30-minute showers.


2) Taiwan in end May
Temperature: 19°C to 29°C
Although May is the rainy season for Taiwan with thundershowers in the afternoon, daily temperature rises gradually.
3) Korea in end November
Temperature: -3°C to 8°C
November marks the end of Autumn and the beginning of Winter. This season is usually cold and dry.
4) Hong Kong in October and November
Temperature: 17°C to 22°C
The weather during this time is quite cooling as Winter starts in early November.
As the weather in Korea and Hong Kong during Winter (November) can be really cold and dry, it is important to bring along a good
moisturizer
.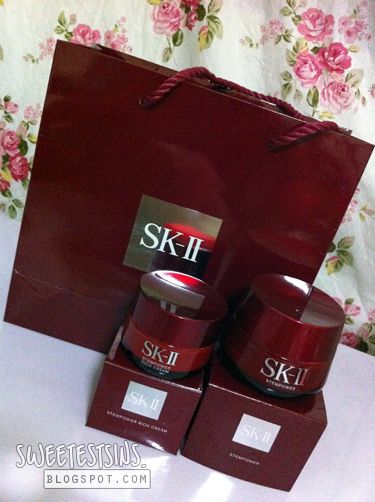 I recommend
SK-II Stempower Essence
, an essence that works work as a day moisturizer. A bonus is that it also works to plump up your skin. Who says you need to change your regimen while on holiday?
Plus, I usually use
SK-II Stempower Essence
as a makeup base prior to applying sunblock and/or BB cream.
At night, I use the
SK-II Stempower Rich Cream
to combat dryness. It works well and isn't overly greasy in texture.
Hope you found these tips useful and have fun in that upcoming trip!
Love,
Patricia
--------------------
CONNECT WITH
--------------------