RevitaLens Multi-Purpose Disinfecting Solution
Sunday, June 05, 2011
I have been wearing circle lens for as long as I can remember. My first pair of circle lens were from Freshkon Alluring Eyes. I remember that I ran out of my Soflens 60 Toric and I had a presentation the following day. Hence I got 2 boxes of Freshkon Alluring Eyes in Mystical Black. I could only get it in one shade because I have varying degrees on each eye.
Ever since then, I never looked back. I began repurchasing circle lens as I like how it makes my eyes look brighter and make me look more awake. I have also tried Maxi Eyes in Maxi Black and Brown. I liked the former but not the latter because it didn't look that natural. Apart from that, I have also tried
E-Circle Lens
in black from Korea. I have included a picture of how E-Circle Lens look like for your reference as it is not a common brand.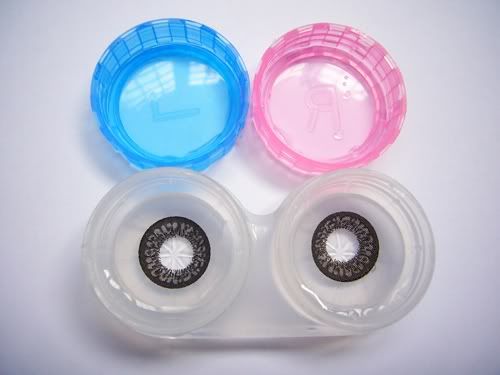 Price wise Maxi Eyes would be more affordable compared to Freshkon as the former cost $28 for 2 boxes ($14 per pair) while the latter retails at $50 for 2 boxes ($25 per pair). Comfort wise, Freshkon would be more comfortable as compared to Maxi Eyes.
Although I love circle lens for its eye (iris) enlarging properties as well as how it prettifies one's overall look, but I didn't really like it because it can be a little drying at times and I have to use eyedrops to lubricate it. Apart from that, whenever I wear my contact lens in the morning, I would feel a little soreness in my eye. I was using Solo Care Aqua Solution and I would even take an extra step to rinse my lens every morning with it prior to wearing it then. For a while, I thought that that was normal, not until I tried out RevitaLens Multi-Purpose Disinfecting Solution recently.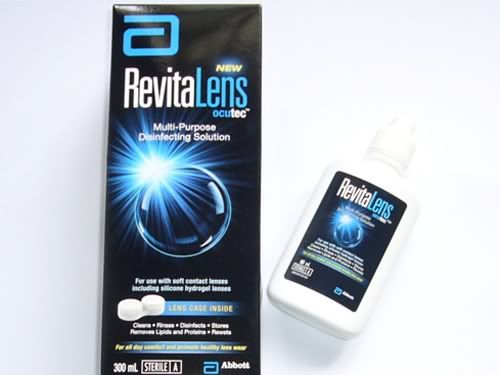 Unlike normal multi-purpose solutions which you could use to rinse your lens prior to wearing, you can't use RevitaLens Multi-Purpose Disinfecting Solution to do that. It is similar to Complete Multi-Purpose Solution which you have to soak it for at least 6 hours, if not it would irritate your eyes to the maximum if you try and wear it.

Facts regarding contact lens and solution:

While multi-purpose solutions (MPS) represent the majority of systems used for the care of soft contact lenses, it is important to adhere to the cleansing regimen with three simple steps.

The rub and rinse regimen with multi-purpose disinfecting solution effectively kills 90% of bacteria and fungi while disinfecting the lenses by soaking them helps to removes any residual microorganism.

1) Rubbing:

Using a suitable multi-purpose disinfecting solution (MPDS) , place contact lens on the palm and rub both sides of the lens from the centre to the edges gently with your index finger.

2) Disinfecting:

Soak your lenses in fresh disinfecting solution for at least 6 hours. Lens case should be cleaned after use and replaced every 1 – 3 months.

3) Rinsing:

Rinse the lens with fresh disinfecting solution before wearing to refresh the lens surface and remove any traces of debris.

For step 3, I would recommend that you girls use saline solution or multi-purpose solution such as Solo Care Plus.

Remember girls, your eyes are the window to your soul. So do take care of them by taking proper care of your contact lens.

Disclaimer: Products (RevitaLens Multi-Purpose Disinfecting Solution) were sent to me for consideration.