Makeup suitable for air conditioned places
Tuesday, June 07, 2011
I don't know about you but I never really had problems with patchy/blotchy makeup because I have combination skin. Even at my previous workplace, a spray or two of any facial mist would solve it.

It was only when I started working at my current workplace that I realised how patchy/blotchy my makeup look and I couldn't stand it. It makes my face appear as though as its very dry. It would become patchy as soon as an hour after I started work, even if I have used a face primer beforehand. I hated how it looked hence I started experimenting with different combinations of makeup to find out what combination of makeup would make my face appear less patchy/blotchy or look less dry.
I thought that it would be nice to share since I thought some of you girls might have encountered a similiar problem or will encounter a similiar problem in future.

In case you are wondering, my normal base makeup routine consists of applying BB cream and pressed powder. And yes, that was the cause of the patchy/blotchy makeup which I experienced.

The different combinations that I have tried out are as follow:

1) Primer, BB cream and loose powder

2) Primer, BB cream and pressed powder

3) BB cream only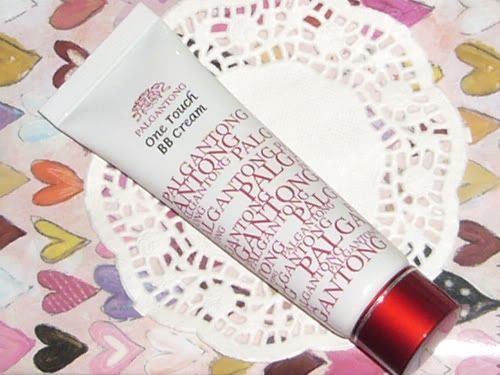 Palgantong One Touch BB Cream
4) Makeup base, liquid foundation and loose powder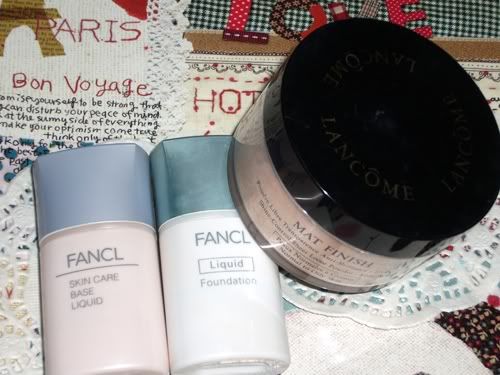 Fancl Skin Care Base Liquid, Fancl Liquid Foundation and Lancome Mat Finish
Guess which combination(s) worked the best for me? The best would be the 4th (Makeup base, liquid foundation and loose powder) followed by the 3rd (BB cream only).
The former didn't streak or turn patchy/blotchy on me for the entire day! Guess I'll be wearing this combination more often from now onwards. I quite like the latter too except that I have to blot my T-zone every now and then to remove any shine.
While I was searching for the perfect makeup that is suitable in an air conditioned environment, it made me rediscover how smooth and silky Palgantong One Touch BB Cream is. It used to be one of my favourite BB cream quite sometime back and I kinda forgot about it. The only thing that I'm probably not that fond of is that it can be a little light on my skin. However, it would be easily solved by applying some loose or pressed powder. The undertone of this BB Cream is more of pinkish I would say.
I hope you girls like this post. Thanks for reading!

Love,
Patricia