My Beauty Diary: Hello Kitty Honey Strawberry Mask
Saturday, June 11, 2011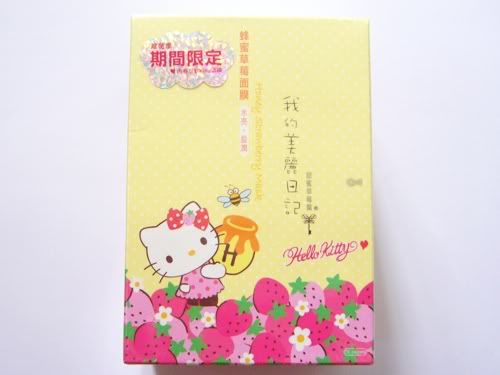 What is it:
Hello Kitty Honey Strawberry Mask is a limited edition facial mask that is part of a collaboration between My Beauty Diary and Hello Kitty, Sanrio.

Each box contains 3 pieces of masks in each design as shown below and a mask in a random design.

♥ Brightening, Nourishing, Moisturizing
♥ Regains skin suppleness & radiance
♥ Repair damaged due to skin dehydration
♥ Refreshing and minimizes wrinkles
My thoughts:
This facial mask calms and soothes my nerves after a long day. It is very relaxing I must say. Unlike Hello Kitty Strawberry Milk Mask, Hello Kitty Honey Strawberry Mask has a lighter scent which is more bearable in my opinion. In fact, I kind of like the scent of Hello Kitty Honey Strawberry Mask.

Like all other My Beauty Diary facial masks, Hello Kitty Honey Strawberry Mask is very moisturizing. I think that using the facial mask after a long day of school/work does help to replenish the loss of moisture during the day, especially if you girls were out the entire day and have remained indoors, amidst an air-conditioned enevironment most of the time. In case you do not know, air-conditioner is the worst culprit behind dry skin, skin peeling and cakey/blotchy makeup. Similiar to art where a good canvas is required to produce a good piece of drawing/painting, we need a well-moisturized face to ensure easy application/gliding-on of makeup. Hence, the easiest way is to use facial masks regularly and apply moisturizer!

My afterthoughts of using My Beauty Diary Hello Kitty Honey Strawberry Mask is that it really does help to brighten up my skin and it lasts until I wash my face. Even after washing my face, I noticed that my skin tone looked more even. The effect of this mask reminds me of the combined effects of both My Beauty Diary Aloe Vera Mask and My Beauty Diary Bird Nest Mask. So tell me, what's not to like about this mask?

Rating: 5/5

Repurchase: Yes, definitely!

While we are at the topic of My Beauty Diary facial masks, I thought it would be nice if I were to share with you some of the newer or not commonly seen My Beauty Facial Masks that I would like to try out.

Here they are.
Don't they just look so good? Can't wait to lay my hands on them! Have any of you tried these before? If you had, are they good? Do share with me yea? (:

I hope you like this post. Thanks for reading!

Love,
Patricia