Cumulative Recent Hauls
Saturday, June 04, 2011
I haven't been buying much beauty-related stuffs lately, seriously. And that's a good sign! Having said that, I do have a couple of items on my wishlist though.

As all of you know, Daiso is one of my favourite store. I swear I have never walked out of it without at least getting an item. At times, I would tell myself to go in and pick up whatever I need and go. But you know what? That never happens because I would find myself browsing around looking at the different and interesting merchandise that they carry. During other times, I would walk in just to browse at the items. Daiso is amazing because the merchandise always seems to be calling out to me. Haha. I know you are probably gonna say, "Hey, that's just an excuse to buy things." But you know you can always satisfy your urge for impulse purchases without breaking a big hole in your pocket at Daiso. Omg, I think I totally sound as though as I am advertising for Daiso. But trust me, I ain't.

Anyway, here are a couple of items that I got. Only 3 items though.
Daiso Haul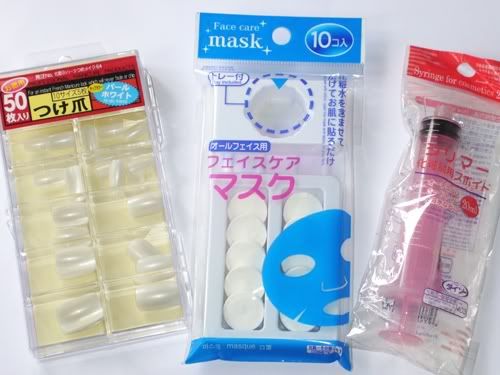 I got the artificial nails so that I could practice nail art and at the same time use them for special functions, especially when I don't have time for a manicure. Did I mention how fuss-free artificial/fake nails are? Plus, removing them is a breeze. You just have to soak them in warm water if you're using nail tapes or acetone if you used nail glue as the adhesive previously.

As all of you know how crazy I am over facial masks recently, I immediately grabbed a pack of compressed facial masks. I read somewhere that you could pour a bit of your lotion onto the compressed facial mask and use it as a facial mask. I bought it to try since its only 2 bucks. Kose has something like that but its priced much higher.

And the last item that I got is a cosmetic syringe. I'm not gonna tell you why I got this for now but I'm gonna do up a post to explain its uses, so do check back to find out!
Watsons Haul
Do you girls realised that different Watsons carries different merchandise? For instance, only certain Watsons has Canmake and even so, some of them don't carry Cheek & Cheek or at times, they don't have the tester. That probably explains why I only got the Canmake Cheek & Cheek only now.

I knew that I had to get it when I first saw it on Chantana's blog. They were so pretty! A lot of beauty bloggers compare Canmake Cheek & Cheek's packaging to Jill Stuart Mix Blush Compact. I was so tempted to get Jill Stuart Mix Blush Compact back when I was in Macau but I didn't cave in though because I bought Jill Stuart Secret Tease Collection which already came with Blush Blossom in Sensual Dahlia.

After swatching all of them, I finally made up my mind to get Canmake Cheek & Cheek in 01 Candy Flower because it matches my skintone well. It is also the most shimmery of all when swatched. 02 Rose Tiara and 03 Gerbera Kiss looked kinda chalky on my tanned skin. I think that I would probably putting 04 Love Blossom on my shopping list for my next trip to Watsons because the colors are also so pretty! In fact, the color of the blush kinda reminds me of my Jill Stuart Blush Blossom in Sensual Dahlia.
Canmake Cheek & Cheek in 01 Candy Flower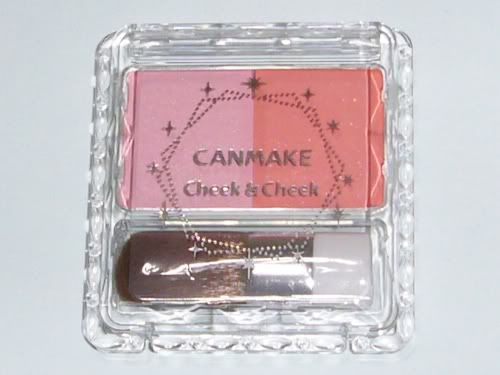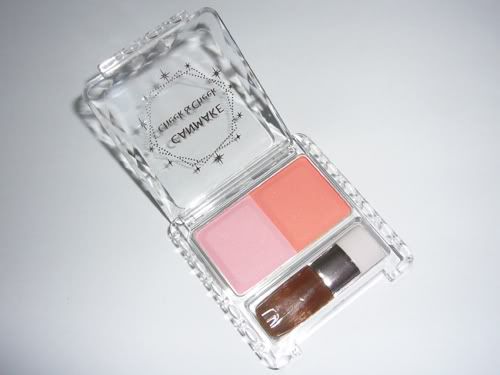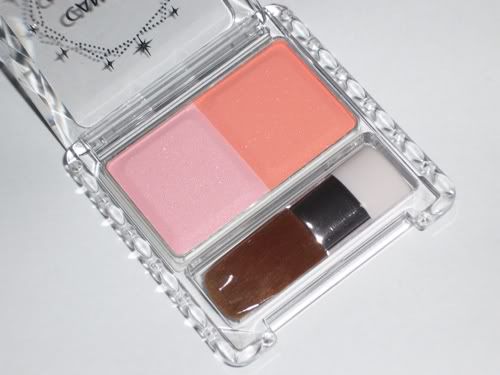 Have you all tried or swatched Canmake Cheek & Cheek? Which is your favourite? Do share with me!
I hope you girls like this post! Thanks for reading.

Love,
Patricia