SKII 10 day Stempower Challenge
Thursday, November 22, 2012
Prior to embarking on a 10 Day Challenge with SKII products, I visited the SKII counter over at Takashimaya for a skin analysis.
The 5 main concerns that SKII focuses on are - Texture refinement, firmness power, wrinkle resilience, spot control and radiance enhancement.
And if you were to ask me, I would say that my main concern would be radiance enhancement followed by firmness power.



SKII has this special device called 'Magic Ring' which can be used to take a photo on half side of your face and after which it analyses your skin.
Its really cool in the sense that you can see your visible spots and even spots that ain't visible to the naked eye. You can even see the contour of your pores, say the angle of it. It was really interesting as I got to know more about my skin in detail.
Here's the result of my skin analysis. Note that the higher the percentage, the better it is.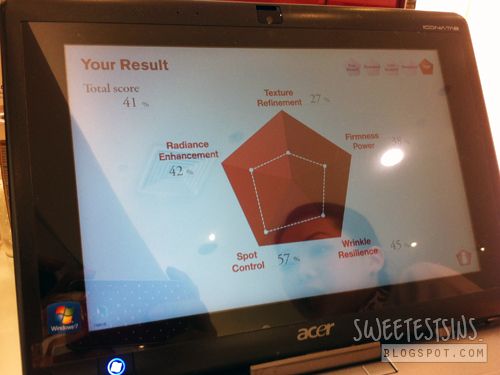 Summary of my results:
Spot Control 57%
Wrinkle Resilience 45%
Radiance Enhancement 42%
Firmness 38%
Texture Refinement 27%
Total: 41%

If you were to notice, spot control ranks first followed by wrinkle enhancement, this means that I am quite protected against these. See, that goes to show that slapping on sunblock every morning before heading out is very important actually!
The ones that I will need to work on would probably be firmness and in particularly, texture refinement since they scored the lowest.
After going through my regular skincare routine and lifestyle with me, SKII Senior Consultant, Jojo recommended me SKII products that would help to improve my skin particularly on radiance and texture.
Here are the products that she recommended.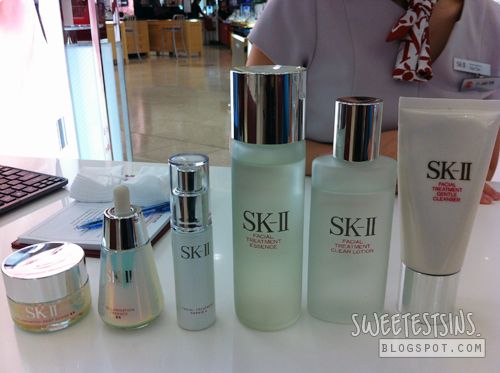 From right to left:
SKII Facial Treatment Gentle Cleanser
SKII Facial Treatment Clear Lotion
SKII Facial Treatment Essence
SKII Facial Treatment Repair C
SKII Cellumination Essence EX
SKII Cellumination Deep Surge EX
I ran out of SKII Facial Treatment Repair C halfway after a weekhence I just skipped to the next step which is to use SKII Cellumination Essence EX right after SKII Facial Treatment Essence.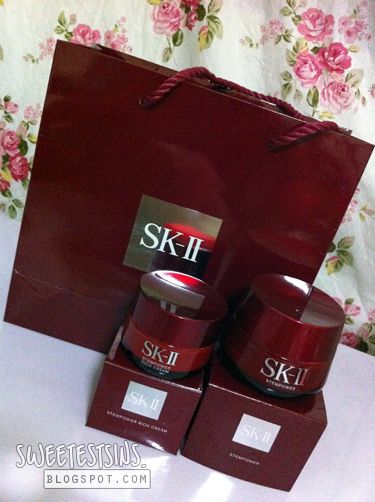 For moisturizer, I rotate between SKII Stempower and Stempower Rich Cream. I usually use SKII Stempower in the day as the last step of my skincare regimen before applying sunblock and foundation. I like how SKII Stempower doesn't feel greasy though its a cream moisturizer. In fact, its texture feels more like a gel moisturizer! Plus, after applying SKII Stempower, it makes applying makeup so much easier as it glides onto my skin smoothly.

I know, the next question that most of you have in mind and is probably gonna ask would be - so what's the difference between SKII Stempower and Stempower Rich Cream. Well, SKII Stempower Rich Cream has 49 percent more skin-soothing boosters to aid in the recovery of severely dehydrated skin which makes it perfect to be your night time moisturizer without having to fear that its overly greasy.


Guess how did my skin fared after almost two weeks of using SKII products?
After approximately two weeks of using SKII samples that were given to me, here's the result of my skin analysis!
To make it easier to compare, I did a table below to show you guys the difference between my skin before and after using SKII products. I was just surprised that my skin did improve in every aspect, be it that it is a small improvement or more significant one.
| | | | |
| --- | --- | --- | --- |
| | Before | After | Difference |
| Texture Refinement | 27% | 38% | 11% |
| Firmness Power | 38% | 64% | 26% |
| Wrinkle Resilience | 45% | 73% | 28% |
| Spot Control | 57% | 85% | 28% |
| Radiance Enhancement | 42% | 65% | 23% |
| Total | 41% | 68% | 27% |
If I were to sort it in descending order, this is how it looks like. Sidetrack, but why does it sound so much that I'm still in the office working? Must be the fact that I have been working too much on Excel sheets lately.
| | |
| --- | --- |
| | Difference |
| Wrinkle Resilience | 28% |
| Spot Control | 28% |
| Total | 27% |
| Firmness Power | 26% |
| Radiance Enhancement | 23% |
| Texture Refinement | 11% |
Back to the table, the highest score, 28% is a tie between wrinkle resilience and spot control! Scoring lowest is texture refinement at 11%. Still, it ain't too bad considering the fact that it still improved a little afterall. Maybe its time for me to go back to SKII counter and check with my SKII consultant on what can be done further to refine my skin texture, no?
Thanks for reading. I hope you like this post!
You might be interested in these posts:
☮
SK-II Cellumination Blogger Challenge
☮
SK-II Empower Me Campaign Launch Event with Sheila Sim
☮
SK-II 10 day Stempower Challenge
☮
My experience with SK-II Facial Treatment Essence
☮
[New] SK-II Stempower
☮
SK-II Stempower Essence review
☮
Brand New Year, Brand New Skin
☮
The SK-II Magic Ring Test and SK-II Whitening Spots Specialist
☮
Using the SK-II Whitening Spots Specialist
☮
How to take care of your skin Post-CNY