[New] SKII Stempower
Friday, June 29, 2012
Last month, I attended SK-II travel through time to regain 10 years of youth event held over at Jet Quay CIP Terminal Changi Airport.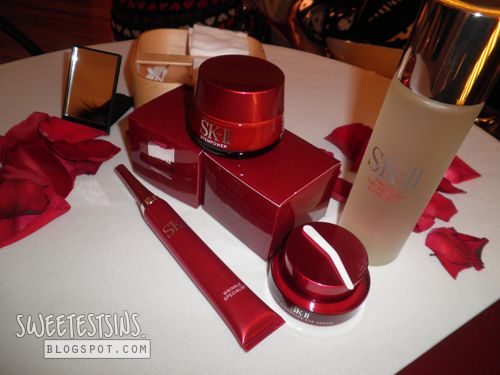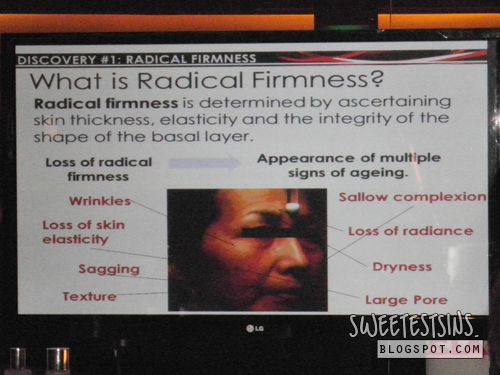 The loss of skin's radical fitness is one of the root causes for the appearance of multiple skin ageing signs: wrinkles, sagging, loss of radiance, comprised texture, loss of skin elasticity, larger pores, loss of hydration and a swallow complexion.
Epidermal root cells generate new cells that serve as a reservoir for tissue replacement and the maintenance of normal tissue functions. In other words, epidermal root cells are the source of skin's new life. At the root of the skin renewal process and epidermal root cell activity is the production of lift-proteins - a critical factor in maintaining skin's structure and plumpness.
With age, skin cell activation declines, leading to the decline in the production of lift-proteins, the loss of skin's 'springy' structure and the flattening of the skin's basal layer. This is essentially how skin loses its 'radical firmness' from the source of skin beauty and is the root cause of multiple skin ageing.
SK-II Stempower
What is it:
Essential daily moisturizer designed to achieve radical firmness that will make you feel the youthful beauty of 10 years.
Featuring the breakthrough Stempower Acanax complex, SK-II Stempower helps rejuvenate the skin renewal process and restore a radical firmness from the source. Leveraging the groundbreaking Ageless Vector, SK-II Stempower has been shown to make you feel radical firmness in 10 days, improving skin's ageless vector by targeting the source of skin's beauty.
Its high active penetration formula targets the source of skin's beauty to improve 10 signs of aging (loss of firmness, dryness, fine lines and wrinkles, sallow complexion, lack of resilience, visible pores, sagging, lack of radiance, roughness and loss of tightened facial contours) in 10 days.
The new SK-II Stempower will be available at SK-II counters in Changi Airport from 1 June 2012.
Price: $149.00 (50g) and $219.00 (80g)
My thoughts:
Everytime when someone starts talking about cream-based products, I am most likely to frown at it because the first thing that comes to my mind would be that its very oily and that it might trigger breakouts. To my surprise, SK-II Stempower didn't felt oily nor sticky at all after application. It absorbs into my skin really fast! The best of all is that you only need a tiny pea size and that would be adequate for your whole face.
Tip from the SK-II beauty advisor that was helping Kristen and myself to try out the products at the event itself - dab eye cream on and for any other skincare, pat it onto your skin. Even when using toner/lotion with cotton pad, pat it on to ensure maximum absorption.
One of the biggest culprit behind dehydrated skin is - cabin air. Hence, SK-II Beauty Condultant expert, Nitiwadee Songrienchai has kindly shared some tips with us on how to deal with that.
Pre-flight, in-flight and post-flight tips:
1) Prep skin with a rich and powerful moisturizer and avoid applying foundation on the day of your flight to avoid clogged pore
2) Wear glasses instead of contact lens during flight to avoid eyes showing signs of fatigue. Use eye cream to eliminate puffiness and reduce dark circles around eye area (pat from inner to outer corner). Before landing, apply essence (equivalent of lotion) to ensure skin receives the moisture it needs.
3) Bring travel-sized skincare that is suitable for the climate of the country that you are flying to. Just before or after landing, slap on some toner/lotion and moisturizer to get your face glowing.

She also shared some facial massaging techniques which you can watch in the video below.


I hope you like this post. Thanks for reading!
Love,
Patricia
You might be interested in these posts:
☮
SK-II Cellumination Blogger Challenge
☮
SK-II Empower Me Campaign Launch Event with Sheila Sim
☮
SK-II 10 day Stempower Challenge
☮
My experience with SK-II Facial Treatment Essence
☮
[New] SK-II Stempower
☮
SK-II Stempower Essence review
☮
Brand New Year, Brand New Skin
☮
The SK-II Magic Ring Test and SK-II Whitening Spots Specialist
☮
Using the SK-II Whitening Spots Specialist
☮
How to take care of your skin Post-CNY